Dry, scorching California summer heat on Monday plagued more than 12,000 firefighters battling 17 wildfires that have burned a quarter-million acres of the state, killed at least eight people and destroyed more than 1,000 structures, most of them homes.
Firefighters worked overnight to build lines to control the biggest of the fires, the Carr Fire in Shasta County, about 150 miles north of Sacramento, which started July 23, according to the California Department of Forestry and Fire Protection, or Cal Fire.
Shifting winds, dry timber and other fuels hampered crews fighting the fire, which had charred more than 103,000 acres at and around Redding, a city of 91,000 people. Cal Fire said the blaze had destroyed more than 800 homes by Monday evening, along with more than 300 other structures.
Among those whose homes were destroyed was Redding Police Chief Roger Moore, who remained on the lines around the clock, even as he was losing his own home.
"I saw everything around it ignite, and I go, 'It's gone,'" Moore told NBC Bay Area.
The fire was reported to be 23 percent contained on Monday night. But the high temperature in Redding reached 105 on Monday in a heat wave that the National Weather Service said would persist through the first half of this week. Those conditions "will only exacerbate the ongoing threat," it said.
Redding police and Shasta County sheriff's officials said five people had been arrested on suspicion of looting as almost 40,000 residents have been evacuated from the county.
"Law enforcement is in full force and looting will not be tolerated," the sheriff's office said Monday.
The Carr Fire has been blamed for the deaths of six people, including two firefighters and three members of a Redding family.
Melody Bledsoe, 70, and two of her great-grandchildren, James and Emily Roberts, 5 and 4, died last week while Bledsoe's husband, Ed, was at the store to buy supplies.
Ed Bledsoe told NBC affiliate KCRA of Sacramento that he talked to James on the phone until he died.
"He said: 'Grandpa, come get me. The fire is coming in the back door,'" Bledsoe said. "I said, 'I'm right down the road.' He said, 'Come and get us.'"
"Poor babies and my wife — what did I do wrong?" he asked. "Just wonderful, wonderful people. My wife was the greatest woman in the world, and my grandkids were excellent."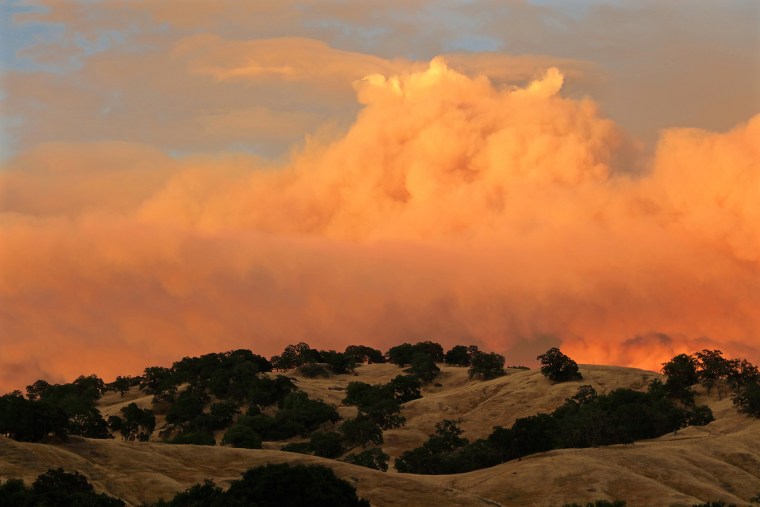 Two firefighters have also been killed in the Ferguson Fire near Yosemite National Park, which started July 13 and had burned more than 57,000 acres by Monday night, when it was reported to be 30 percent contained, authorities said.
"Everything is extremely dry," said Amy Head, a spokeswoman for Cal Fire. "It's like the perfect recipe for a major fire."
The Mendocino Complex, two fires only 30 miles apart in Mendocino and Lake counties that started on Friday, reached 45,000 acres Monday night and was only 5 percent contained, authorities said Monday afternoon.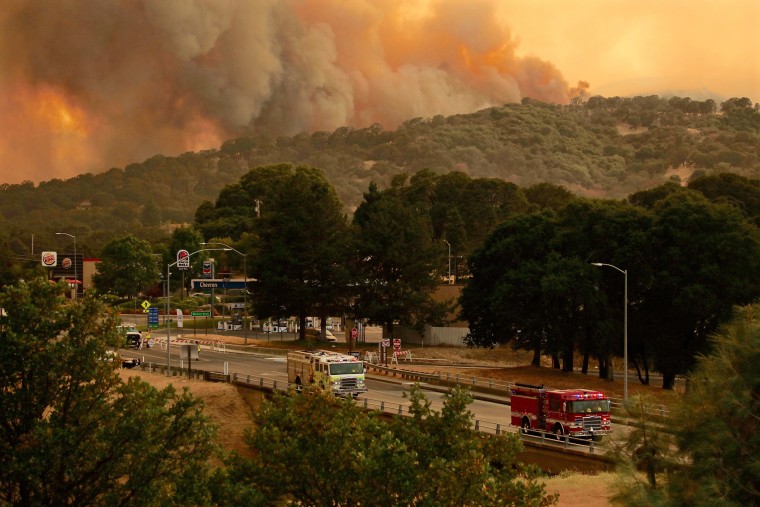 Seven structures, six of them homes, had been destroyed, and more than 10,000 others were threatened, according to Cal Fire. Worse, the agency noted, "weather conditions will continue to challenge firefighters as hot, dry and windy conditions persist."
Fourteen other smaller fires span the state from Susanville in the extreme north to central San Diego County about 40 miles from the Mexican border. No deaths have been reported.