Thick, heavy smoke blanketed large areas of British Columbia and churned across the border Monday — leading to health advisories across the U.S. West and Midwest— as firefighters battled 89 new wildfires across the province, Canadian officials said.
The new fires, all of which have started since Friday, brought to 184 the number of active blazes across the western province, the B.C. Ministry of Forests, Lands and Natural Resources Operations said Monday.
One of the fires, dubbed the Elaho Valley fire, in the Pemberton Valley north of Whistler, had grown to cover more than 77 square miles by Monday afternoon, the B.C. Wildfire Service said.
"This fire is displaying a vigorous and aggressive rate of spread, the service's Wildfire Management Branch said in a statement. "This type of fire behaviour consumes timber completely through to the tree tops, and ... poses a safety risk for ground crews and aircraft conducting fire suppression efforts."
Much of the province is under an "extreme" fire rating, Forests Ministry said, and more than 800 homes have been ordered evacuated.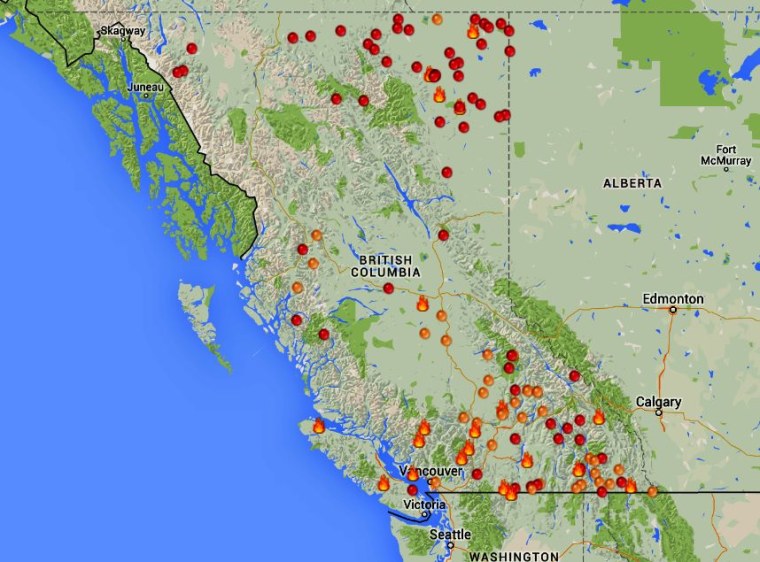 Air quality warnings spread across British Columbia south to Colorado and east to Minnesota as the smoke drifted across North America.
The National Weather Service in Seattle said a smoke plume covered a large part of Vancouver Island down the west side of Washington state's Olympic Peninsula.
Various levels of air quality alerts attributed specifically to the Canadian fires the covered the entire state of Minnesota; large parts of North Dakota, South Dakota, eastern Nebraska, Iowa, Illinois and Missouri; northeastern Colorado; and much of western and central Washington.
"The smoke from these fires has risen above 20,000 feet, and the jet stream has been acting like a highway and transporting that smoke all across the country," said Dustin Bonk, a meteorologist for NBC station WILX of Lansing Michigan.
The National Weather Service smoke from Canada had been recorded all the way to the U.S. Atlantic Coast. While it hasn't been heavy enough that far out to cause health concerns yet, it has blessed residents with some fiery red sunrises and sunsets.
Because the smoke was moving primarily east-southeast, the biggest U.S. impact is in Minnesota, where the state Pollution Control Agency said that "fine particle levels had reached unhealthy levels in a diagonal band across the state," which is "expected to continue to move across the state Monday evening and into the early morning hours Tuesday."
B.C. Forests Minister Steve Thomson said at least 40 of the provincial fires were human-caused. So far, the province has spent $80 million fighting the fires, with no end in sight, he said.