Four firefighters suffered burn injuries while battling a new wildfire in California that broke out Saturday and quickly grew, authorities said.
The firefighters were injured while working to put out the so-called Valley Fire in Lake County northwest of Sacramento, which swelled from 400 acres to 10,000 acres in a matter of hours, the California Department of Forestry and Fire Protection, also known as Cal Fire, said.
By Saturday night the fire had grown to 25,000 acres, Cal Fire said. Ash was reported to be falling in Sacramento, about 90 miles away, the Sacramento Fire Department said.
Hundreds of firefighters were working to protect homes. The community of Cobb, an area of about 1,600 people, was under mandatory evacuation orders.
All Cal Fire personnel were called back into duty late Saturday because of fire activity statewide, and all days off were cancelled, a fire official said.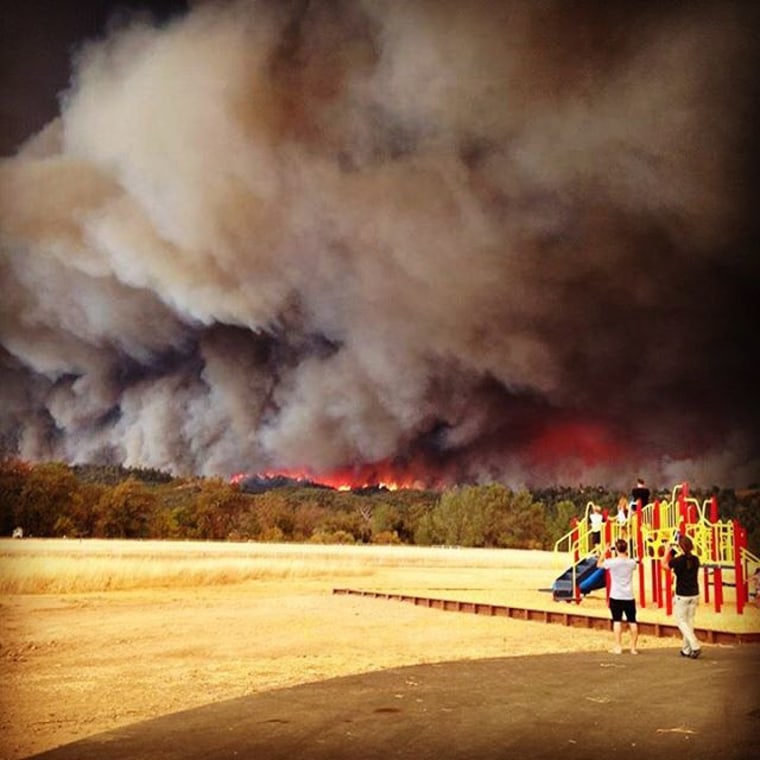 The injured firefighters suffered second-degree burns and were in stable condition at UC Davis Medical Center, Cal Fire spokesman Daniel Berlant said.
The Valley fire experienced rapid growth after it broke out at about 1:30 p.m. (4:30 p.m. ET) Saturday in Lake County, around 90 miles northwest of Sacramento.
The fire had grown from 50 acres to 400 acres just before 4 p.m. (7 p.m. ET), and nearly three hours later Cal Fire said it had grown to 10,000 acres, Cal Fire said. By 10:30 p.m. local time (1:30 a.m. Sunday ET), the fire swelled to 25,000 acres, or 39 square miles, Cal Fire said.
The Valley fire is one of at least 13 wildfires burning in California, prompting the National Weather Service to issue air quality alerts for a large swath of the middle of the state as thick smoke clouded the region. California is in its fourth year of drought, exacerbating wildfire conditions.
Elsewhere in California, more than 3,000 firefighters were battling a huge wildfire east of Sacramento that has destroyed 86 homes homes and threatens around 6,400 other structures.
The explosive Butte Fire in Amador and Calaveras counties was at nearly 65,000 acres Saturday, and has been spurred on by "unprecedented fire conditions" and steep terrain that has helped the blaze spread, Cal Fire said. The fire was 15 percent contained by Saturday evening, the department said.