The death toll in a large California wildfire has risen to four, after searchers found a body in the aftermath of a fire that has burned more than 118 square miles and destroyed nearly 2,000 buildings, officials said.
The Lake County Sheriff's Office said the discovery was made at around 6:30 p.m. local time (9:30 p.m. ET) on Tuesday in the community of Cobb, which was one of the areas burned by the fire that broke out on Sept. 12.
The body is believed to be that of Robert Fletcher, 66, who was one of two people reported missing, the Lake County Sheriff's Office said. An official identification has not yet been made.
Robert Litchman, 61, of Middletown, remains unaccounted for, The Lake County Office of Emergency Services said.
In all, at least seven people have died in three recent wildfires in California. The state is in its fourth year of a historic drought, creating bone dry conditions that allow blazes to quickly spread, officials said.
The Valley Fire is considered to be the third-most destructive wildfire in state history. The bodies of three other people — Bruce Beven Burns, 65, Leonard Neft, 69, and Barbara McWilliams, 72 — were found in the rubble last week, NBC station KCRA reported.
The fire, in Lake, Napa and Sonoma counties, north of San Francisco, have forced some 12,000 people to evacuate their homes. The fire was 82 percent contained as of Wednesday evening, fire officials said.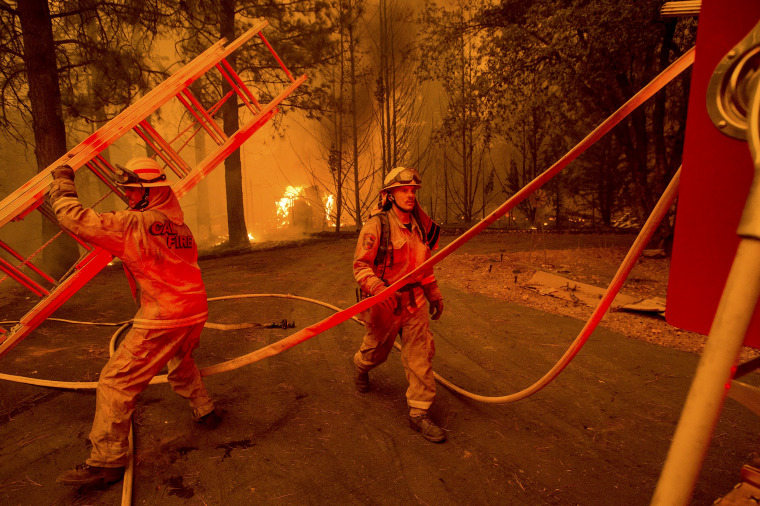 On Tuesday, Barack Obama declared a major disaster for the area, a move that allows the release of federal funding to help with the disaster.
Two people have been killed in the Butte Fire, which covered around 110 square miles and was 84 percent contained Wednesday after breaking out on Sept. 9, according to the California Department of Forestry and Fire Protection, also known as Cal Fire. That fire is located in Amador and Calaveras counties, about 50 miles southeast of Sacramento. It has destroyed 475 homes.
And one person was killed in the Tassajara Fire, which covered over 1,000 acres in Monterey County and was 81 percent contained Wednesday after breaking out on Saturday, Cal Fire said. Twelve homes have been destroyed in that blaze.