Crews fighting Los Angeles' largest wildfire on record made major progess Sunday, allowing hundreds of people to return home.
The so-called La Tuna fire was holding steady at about 5,865 acres in the San Fernando Valley, the Los Angeles Fire Department said. Mandatory evacuation orders that gad been in place for the cities of Glendale and Burbank and parts of Los Angeles were lifted Sunday night.
Interstate 210, one of the major arteries through the traffic-choked Los Angeles area, was reopened in all directions as containment estimates jumped from about 10 percent to about 25 percent in just a few hours Sunday afternoon, fire officials said.
Earlier, Gov. Jerry Brown declared a state of emergency in Los Angeles County.
The fire burned three homes and damaged another, Los Angeles Fire Chief Ralph Terrazas said Sunday. Four firefighters were treated for non-life-threatening injuries, the fire department said.
Terrazas said he expected cooler weather and possible showers to aid the more than 1,000 firefighters who were battling the blaze, although he cautioned at a news conference: "There is a lot of fuel out there left to burn."
The fire, which was threatening thousands of homes in Glendale, Burbank and Los Angeles, started Friday afternoon north of the 210 Freeway during a heat wave baking much of the state. Erratic winds helped it quickly spread. The Los Angeles Fire Department said Sunday that the cause was under investigation.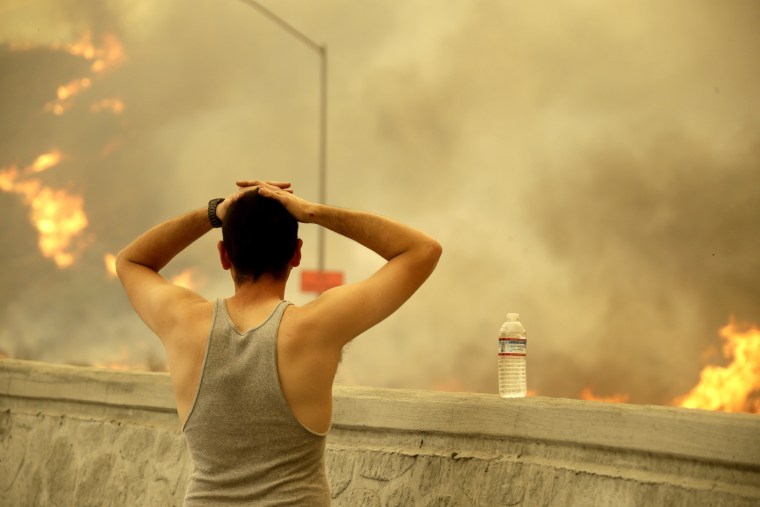 Residents described a restless night as they watched flames and smoke approaching from the valley's surrounding hillsides overnight Saturday. Giovanni Dal Monte, a Sun Valley resident, recalled just how close the fire was to his home.
"It came all the way down to the fence," Dal Monte told NBC Los Angeles.
Burbank resident Tracy Goldman, whose home sits at the base of the Verdugo Mountains, told NBC News on Saturday that she saw her worst fears materializing with the descending flames.
"Everything was on fire," she said Sunday. "This was like something I've never seen before."
But by Saturday afternoon, she said, a break in the brush helped the flames fizzle about 150 feet from her home.
"There was no vegetation left to burn," she said.