More than 1,500 emergency personnel were on the scene of a raging wildfire burning in Southern California Wednesday that forced tens of thousands to flee — a blaze that veteran firefighters said is unlike anything they've seen.
The size of the so-called Blue Cut fire in the Cajon Pass near San Bernardino, around 60 miles east of Los Angeles, was revised late Wednesday from 30,000 acres to just over 25,600 acres, or about 40 square miles, fire officials said. More accurate mapping led to the revision.
Fire officials also said the wildfire was 4 percent contained Wednesday evening.
"In my 40 years of fighting fire, I've never seen fire behavior so extreme," San Bernardino County Fire incident commander Mike Wakoski said.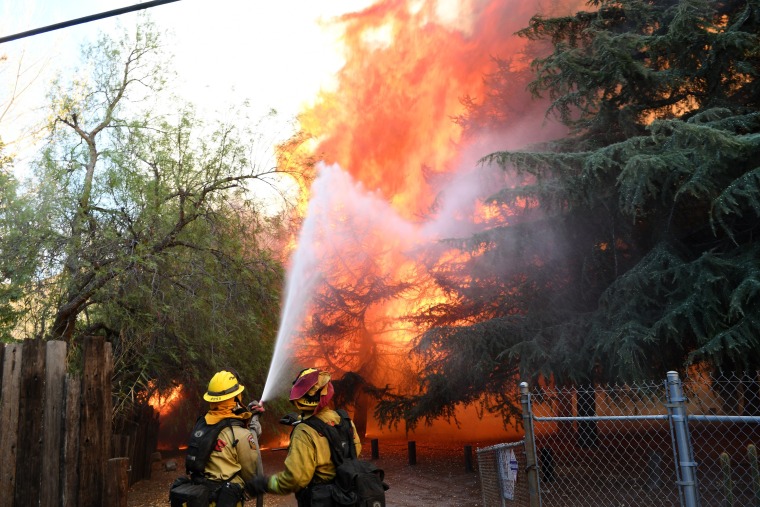 The fire, which broke out Tuesday morning, led to mandatory evacuation orders covering 82,000 people and burned "numerous structures," according to the California Department of Forestry and Fire Protection, or Cal Fire.
PHOTOS: Crews Fight to Contain 'Explosive' Blue Cut Fire
Around 34,500 homes are under the evacuation orders, fire officials said. The fire began in the Cajon Pass near an exit off of Interstate 15, officials said.
"Right now we are seeing very, very strong winds that are just fanning this fire," Cal Fire public information officer Daniel Berlant said at a briefing Wednesday.
No deaths have been reported but two firefighters were were hurt and briefly hospitalized when they became trapped while defending homes and assisting evacuations in the Swarthout Canyon area, the San Bernardino Fire Department said.
Gov. Jerry Brown declared a state of emergency. The California Air National Guard on Wednesday activated two C-130J Hercules air tankers to help firefighting efforts. Each can drop 3,000 gallons of water or retardant, the guard said.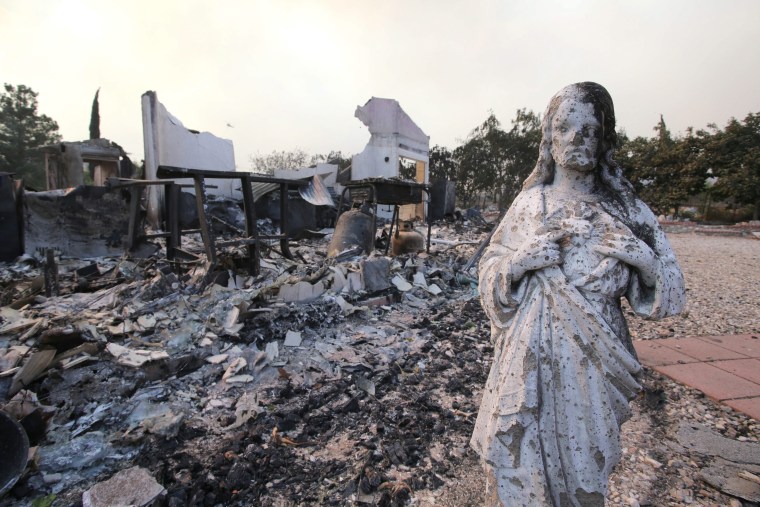 Officials did not release a number of homes that have burned, but warned the number could be high.
"It hit hard. It hit fast, with an intensity that we've never seen before," San Bernardino County Fire Chief Mark Hartwig told reporters. He warned that many families will return home "to nothing."
San Bernardino National Forest spokesman John Miller described the conditions as "explosive."
California is in its fifth year of a historic drought, exacerbating wildfire conditions. There were eight major wildfires burning in the state Wednesday, Cal Fire said.
In addition to the air tankers, the California National Guard said it activated hundreds of soldiers to serve as hand crews at fire lines in Monterey County, where the Soberanes Fire is burning.
That fire near Big Sur has burned a little more than 76,680 acres, or more than 119 square miles, and destroyed 57 homes, Cal Fire said. It was 60 percent contained Wednesday, the department said.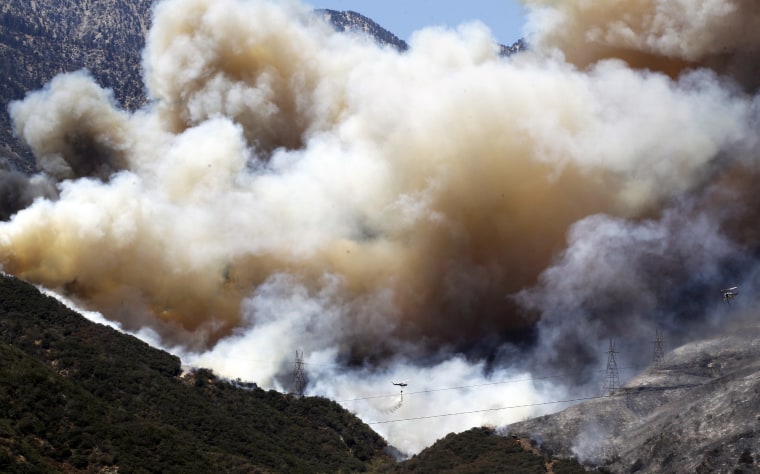 The fire, which broke out the morning of July 22, has been blamed on an illegal campfire. A bulldozer operator was killed in a rollover accident while fighting the blaze.
Meanwhile, more progress was made containing the Clayton Fire in Lake County. The fire, which has burned nearly 4,000 acres since it broke out Saturday and was 50 percent contained, Cal Fire said.
Evacuation orders for a portion of Lower Lake were lifted Wednesday, but an updated damage assessment revealed that 268 structures were destroyed, including 175 homes, Cal Fire said.