Firefighters in California made more progress Thursday battling a massive wildfire west of Sacramento that has burned for more than a week.
But for some who were able to return to their homes, the damage had been done.
"All of it is gone, it's so surreal," Layna Rivas told The Associated Press through tears in a phone interview just after she discovered her home in Clearlake Oaks had burned to the ground.
"It looked like a bomb went off everywhere, it's all black."
The Rocky Fire has destroyed 43 homes so far as it chewed through around 69,600 acres of bone-dry brush and vegetation in eight days, the California Department of Forestry and Fire Protection said. It is now 45 percent contained, up from 30 percent contained Wednesday.
"Weather conditions are significantly improved from what they were last week," Cal Fire spokesman Daniel Berlant said.
The fire has been burning since July 29 — and it is just one of 19 major fires burning across the state, which is in its fourth year of a historic drought that has exacerbated wildfire-spawning conditions. Cal Fire estimates the Rocky Fire will be contained by Aug. 13.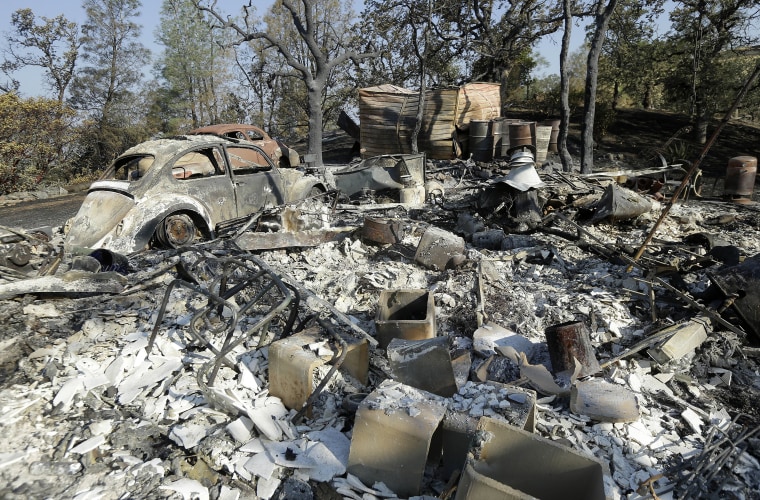 Around 800 people were allowed to return to Lake County Thursday, NBC affiliate KCRA reported. Evacuation orders remained for other parts of the region, mostly near the Spring Valley area.
Cassandra Raffaelli is one of around 13,000 people that were either ordered or warned to evacuate ahead of the fire. She left her home in Spring Valley on Monday.
"To go home, to go to your house, see it [burned] and stuff, that's my major fear," she told the AP.
Around 11,000 firefighters were battling wildfires across California on Thursday.
Gov. Jerry Brown on Thursday toured the Rocky Fire area and issued a challenge on climate change to Republican presidential candidates ahead of the debate scheduled for that night.
"California is burning. What the hell are you going to do about it?" Brown said in response to a question. "And it's not just California, it's extreme weather events throughout the country and the world."
"It's not a game of politics, it's an existential threat to our well being and our way of life," he said.
While cooler temperatures have aided firefighters in many areas, thunderstorms over the next few days have the capacity to produce lightning that could spark more fires, Berlant said. Large parts of northern California are under a fire weather watch.