More than 1,200 firefighters worked to hold back a wildfire Friday advancing toward the coast of Santa Barbara, California, ahead of a heat wave and strong winds that could fan its flames over the weekend.
The so-called Sherpa Fire more than doubled in size overnight to around 4,000 acres, forcing mandatory evacuations and threatening about 140 homes and ranches, officials said at a news conference. By Friday night, the blaze was more than 5,800 acres in size.
While no homes were in immediate danger, officials warned that wind gusts of over 40 mph could return Friday night and give rise to "fire tornadoes."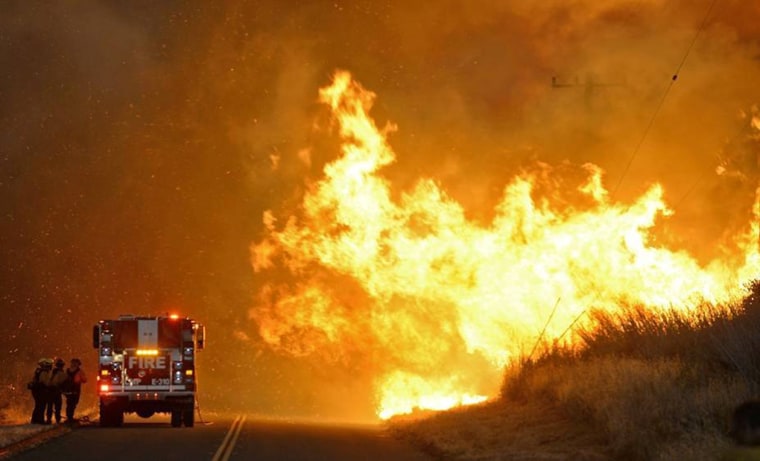 "We do not want residents that are living in or adjacent to this area to be complacent," Santa Barbara County Sheriff Bill Brown said.
Firefighters had contained about 20 percent of the fire as of Friday night and was 5,886 acres in size, the U.S. Forest Service said. Officials said earlier that fire crews were concentrating on a "defensive strategy" to keep the blaze in check and keep it away from the coast, which is home to popular beach destinations.
PHOTOS: Sherpa Wildfire Threatens Santa Barbara
Hundreds of homeowners were being called to evacuate late Thursday in the communities of El Capitan, Refugio, Venadito and Las Flores canyons, the Santa Barbara County Sheriff's Office said.
"If you are in any of these areas, you should leave immediately," the sheriff's office said in a statement early Friday.
Authorities could not estimate exactly how many people were forced out as a precaution, but said campsites along the beach had been cleared.
The Sherpa Fire began Wednesday afternoon and is being driven by winds gusts of 40 to 50 mph at night and fueled by hot and dry weather, officials said.
Meteorologist Eric Boldt of the National Weather Service warned that triple-digit temperatures are threatening to roast the region. Parts of the Santa Barbara area could be in the 90s on Sunday, and then hit over 100 degrees on Monday before temperatures cool down Tuesday.
Excessive heat warnings will be in effect in a large swath of the U.S., affecting about 70 million people in much of Southern California, southern Arizona, a slice of southern Nevada and then as far East as Savannah, Georgia.
Wildfires, meanwhile, have also broken out in Arizona and New Mexico.
In New Mexico's Bernalillo and Torrance counties, flames have swallowed 16,000-plus acres and burned 24 homes and 21 other structures as of Thursday night in so-called Dog Head Fire, reported NBC affiliate KOB.
The fire was so intense it blanketed Albuquerque, New Mexico's largest city, in a thick haze. More than 600 firefighters were battling the blaze Friday, officials said.
That fire was expected to continue moving east and northeast and posed an imminent threat to the small community of Chilili, the Tajique area, and the Ponderosa Pine residential area, according to U.S. Forest Service officials.
In Santa Barbara County, firefighters had struggled to reach the narrow, brush-choked coastal canyons to attack the flames. A fleet of aircraft had better luck Thursday but nightfall brought a rise in gusty, erratic winds that had pushed the blaze Wednesday night.
For a second night on Thursday, the U.S. 101 freeway was closed in the area, but was reopened early Friday.
Officials warned it could be closed again Friday night because of high winds.
Hundreds of people were forced from campgrounds after the fire first erupted in a scenic area of the California coast that was in the spotlight last year when a major oil spill hit.
Riley and Yvonne Keith were staying at a ranch in El Capitan when they were told to evacuate. They packed up their pets and Riley Keith, 65, grabbed his mother, and the family slept in their car in a supermarket parking lot.
Riley Keith described the flames as "hell — an inferno."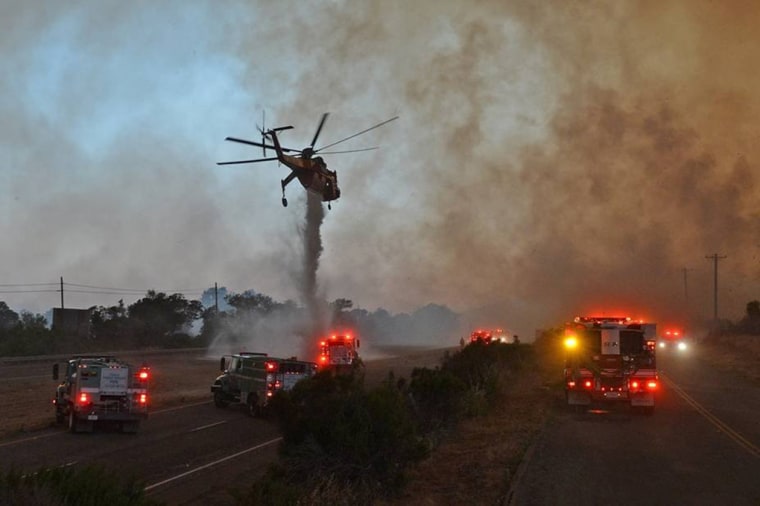 "It was at night. It was really nasty looking," he told NBC News on Friday after the family found temporary shelter.
"By the second day, there's ashes coming down," Yvonne Keith, 67, added. "It looks like it's snowing."
Charlie and Elizabeth Hatten spent the night at a shelter after a park ranger woke them as they camped at El Capitan State Beach.
"The flames looked so close. You couldn't see the moon anymore," Charlie Hatten told the Los Angeles Times.
There were no immediate reports of injuries to firefighters, officials said. A cause of the blaze was under investigation, but authorities don't believe arson is involved.