A fire burning in Southern California for more than two weeks has become the largest wildfire in California history, fire officials said Friday evening.
The so-called Thomas Fire has burned 273,400 acres in Ventura and Santa Barbara counties since it broke out on Dec. 4, according to the California Department of Forestry and Fire Protection. Hundreds of homes have been destroyed and the fire is blamed in two deaths.
The previously largest wildfire in California since reliable records have been kept was the Cedar Fire that burned 273,246 acres in San Diego County in 2003, according to the department, also known as Cal Fire. That fire killed 15 people and destroyed more than 2,800 homes and other structures.
Firefighters have had some success battling the Thomas Fire. Mandatory evacuation orders in Santa Barbara County and nearly all of the mandatory evacuations in Ventura County have been were lifted, although officials warned residents to be cautious, and as of Friday evening the fire was 65 percent contained.
"We've definitely turned the corner; the weather has really been great for the most part," Brandon Vaccaro, an information officer for the Thomas Fire response, said Friday.
Photos: California battles massive Thomas Fire
The Cedar Fire had been called the largest in terms of acreage in California since 1932, according to Cal Fire. The agency says that large fires burned before then but records in those blazes are less reliable.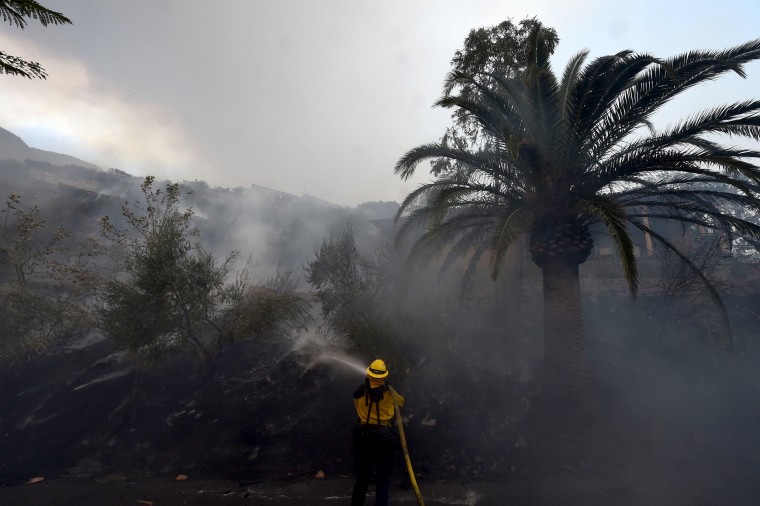 The Thomas Fire, fueled by Santa Ana winds, was one of several wildfires that broke out in Southern California in December. The huge blaze comes around two months after wildfires in northern California killed more than 40 people and destroyed over 8,000 homes or other structures.
The two deaths blamed on the Thomas Fire include a 70-year-old woman who was killed in a car crash along an evacuation route and a firefighter killed battling the blaze.
The Thomas Fire has destroyed 775 single-family homes and damaged over 200 others, according to Cal Fire. The total cost of fighting the fire is estimated at $177 million so far, the agency said.
The cause of the fire is under investigation. There has been no rainfall over .1 inch in the area since February, fire officials said. The fire could be fully contained by Jan. 7, Vaccaro said.
Around 63 percent of the Thomas Fire is on federal lands, the U.S. Forest Service said.