More than 27,000 people were evacuated overnight Tuesday after a massive wildfire stoked by high winds and feeding on tinder-dry conditions roared through a Southern California county just north of Los Angeles.
No fatalities were reported from the blaze, dubbed the Thomas Fire, which has devoured around 55,000 acres and damaged or destroyed more than 150 structures in Ventura County, officials said.
"We had a very rough night," Ventura County Fire Chief Mark Lorenzen said. "We were leap-frogging along, protecting structures."
One firefighter was injured but he has been released from the hospital, officials said.
Photos: Southern California wildfire devours homes as residents escape
The Ventura County Fire Department tweeted that residents should expect the blaze to increase as powerful Santa Ana winds, which carry hot, extremely dry air from inland, gust from 40 to 60 mph.
The flames were marching ever closer to the cities of Santa Paula and Ventura, which have a combined population of about 140,000, Lorenzen said.
About 20 million people in the region could be at risk from the fire, said "TODAY" weather anchor Al Roker.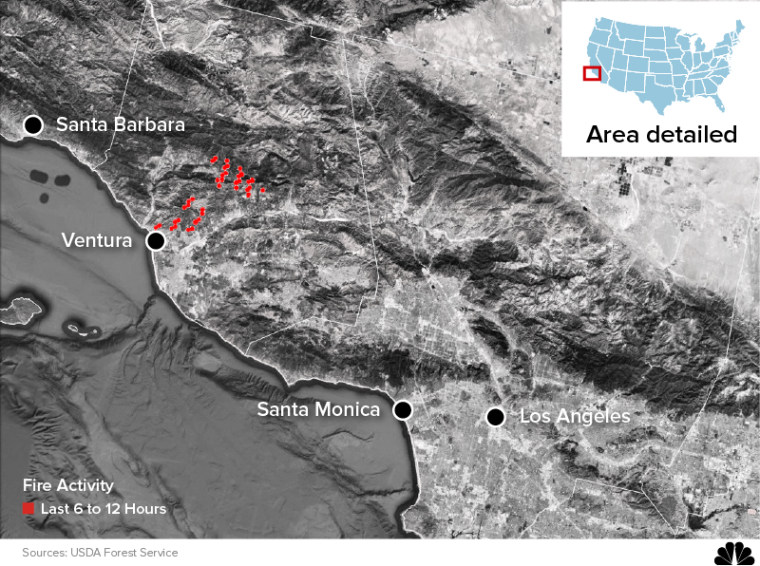 Thomas Aquinas College, which is within the affected area, evacuated its students as a precaution, reported NBC Los Angeles. The college said on Twitter Tuesday afternoon that while the flames at one point came up to a campus access road they subsided and no major structures have been harmed.
The inferno erupted Monday night east of Santa Paula, which is about 60 miles northwest of Los Angeles.
What sparked the blaze is not known, but officials said the ongoing drought has left the area "ripe for fire spreading."
Rodrigo Rivera, 22, a resident of Oxnard, went to Ventura to check on a friend and ended up helping evacuate residents early Tuesday morning. He said a firefighter approached and asked them to help.
"When he came running towards us that's when I realized this is not controlled at all," Rivera said in a phone interview. "You know it's a serious moment when a firefighter comes running to you asking for help."
Rivera and said he and his friend knocked on doors of houses to get people out, and amid flaming debris from trees on fire helped elderly residents leave their homes. "Embers were just flying everywhere — the winds picked up and more houses started catching on fire."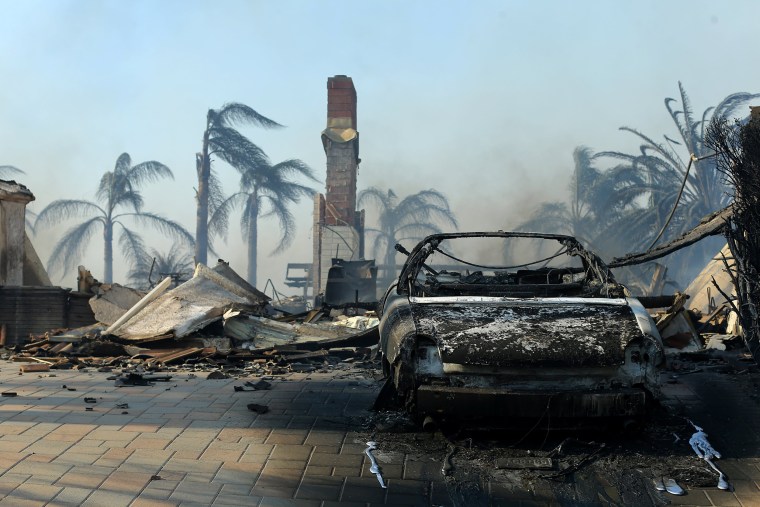 The 500 or so firefighters battling the blaze were reinforced by more than 100 deputies, Sgt. Kevin Donoghue of the Ventura County Sheriff's office said. By Tuesday afternoon there were 1,100 firefighters on scene and more resources were en route, officials said.
Related: Disappearing Arctic ice could make California droughts worse
Fixed-wing aircrafts and helicopters attacked the blaze from the sky, dropping water and fire retardant.
Southern California Edison said nearly 180,000 customers in the Ventura County area were without service, according to The Associated Press.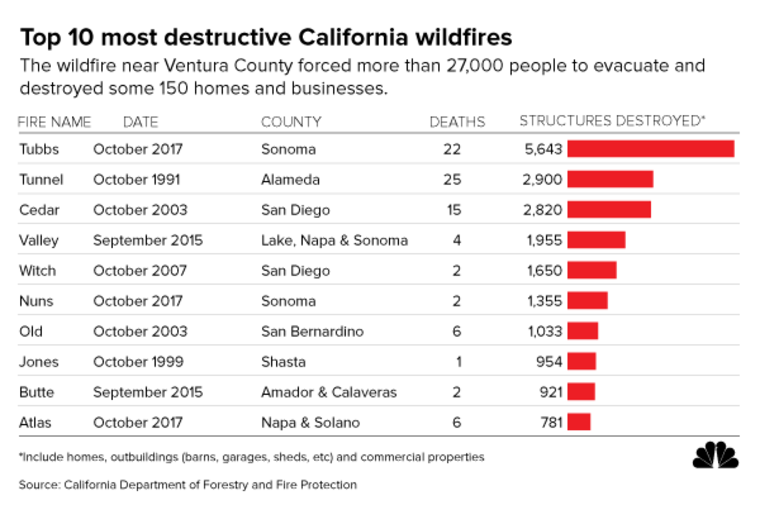 While some residents reported being trapped on social media, Ventura County spokesman Bill Nash said officials on the ground were unable to confirm the reports.
Some nearby residents rushed to the area of the fire to try and help. John Bain, 24, and two friends drove from Camarillo, two towns away from Ventura, after their power went out Monday night and they learned about the fires and evacuations.
"As soon as we parked the car, this woman who was evacuating the area ran over to us, she looked super distraught and told us she thought there were still people in the houses," Bain said in a phone interview Tuesday.
They immediately started banging on people's doors, making sure no one was inside. Before long they grabbed garden hoses and with a ripped shirt over their faces for protection began hosing down houses, garages and palm trees.
"The most frustrating thing was the winds. It kept changing direction and whipping back flames," Bain said. "We tried to hose down as much as we could," he said.
Bain said they worked for around four hours. "We just wanted to make a difference," he said.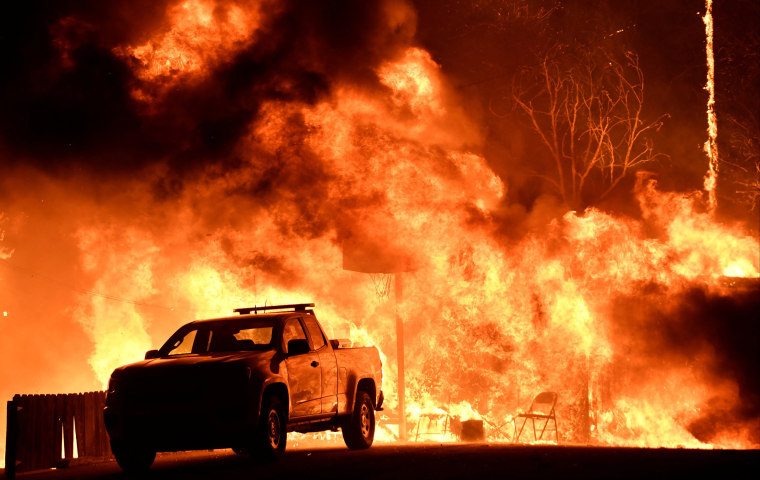 The Santa Ana winds that created some of the explosive fire growth is forecast to subside somewhat Tuesday night and Wednesday, but will be back in strength with 35 mph to 50 mph gusts by Wednesday night and Thursday morning, National Weather Service meteorologist Rich Thompson said Tuesday evening.
Ventura Fire Chief David Endaya said that 27,000 people were safely evacuated over a period of a few hours Monday night.
Another wildfire was burning near Sylmar in northern Los Angeles on Tuesday. The so-called Creek Fire was at 11,000 acres Tuesday afternoon and mandatory evacuation orders were in place for some areas on the southwest side of the Angeles National Forest, fire officials said.
The Creek Fire was spreading rapidly and "numerous structures are threatened," the U.S. Forest Service said on an interagency wildfire website. Firefighting efforts were being hampered by wind gusts of 40 to 70 mph, it said. The fire started at around 3:44 a.m Tuesday.
Approximately 30 homes have been destroyed in the Creek Fire, Los Angeles County Fire Chief Daryl Osby said at a late afternoon news conference Tuesday. "We are having extremely erratic winds and fire behavior," he said.
States of emergency were declared in Los Angeles County and in the city of Los Angeles. Los Angeles Fire Chief Ralph Terrazas said that the high winds are expected through Friday. Two firefighters suffered injuries but they are doing fine and there are no reported civilian injuries or deaths, Osby said.
High wind speeds meant that fixed wing aircraft have been unable to fly, but helicopters have been attacking the fire and aggressively working to protect homes, Terrazas said.
"This has only just begun so you have to be constantly vigilant," he said, and urged anyone who spots a fire to call 911 so that fire crews can get a jump on fires.
Another fire burning near Santa Clarita, north of Los Angeles, was at 5,000 acres on Tuesday, the California Department of Forestry and Fire Protection said. The fire so-called Rye Fire was at 5 percent containment. It broke out at 9:33 a.m. Tuesday, Osby said
Production of the CBS show "S.W.A.T." and HBO's "Westworld" was suspended due to the wildfires, Reuters reported. Both series films near Santa Clarita.