VENTURA, Calif. — Six major wildfires continued to rage out of control Friday morning, fed by erratic winds that have blanketed parts of Southern California in thick smoke and blown hot embers onto rooftops, turning communities to ash.
Residents of Ventura County, where the so-called Thomas Fire has scorched about 132,000 acres since Monday, described the panic overnight as flames marched closer to their homes, leaving them little time to flee.
"I saw it circling, spiraling up the valley right here, and that was the most terrorizing feeling I've ever had," Eric Allison said early Friday in front of the remains of his charred home.
He described trying to use a garden hose to wet down his house, but being stymied when strong winds torched trees and rained down embers. The water to the house was eventually cut off.
A neighbor, David Magdaleno, a firefighter with the Ventura County Federal Fire Department, was off duty at the time and said he watched neighbors fruitlessly try to dump buckets of water onto the hot spots, but the 60 mph winds were doing little to stop the "ember storm."
Photos: Southern California wildfire devours homes as residents escape
At that moment, all Magdaleno could think about was protecting his family, who were able to escape unscathed.
"I got my wife and my daughter — I can't leave them," he said, choked with emotion.
The Thomas Fire was only 10 percent contained as of Friday afternoon, and officials counted 401 structures destroyed and 81 others damaged, said the California Department of Forestry and Fire Protection, known as Cal Fire. In total, more than 15,000 structures remain threatened.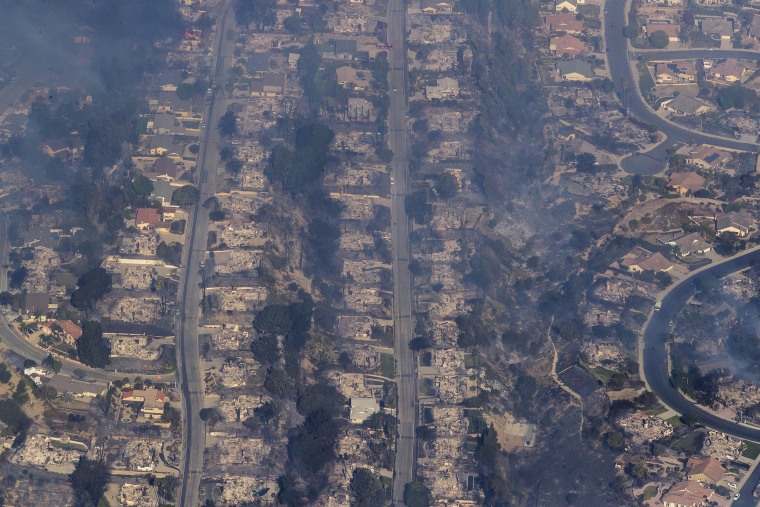 Nearly 200,000 residents have been ordered to evacuate near the various fires, including as far north as Santa Barbara County, where the flames where threatening to jump freeways.
Related: Man who saved rabbit from California wildfires explains his decision
As far south as San Diego County, the Lilac Fire began Thursday from a small grass blaze, eventually burning across 4,100 acres and sending hundreds of racehorses at a training center in Bonsall galloping for safety as palm trees incinerated around them. At least a dozen thoroughbreds were killed, The San Diego Union-Tribune reported.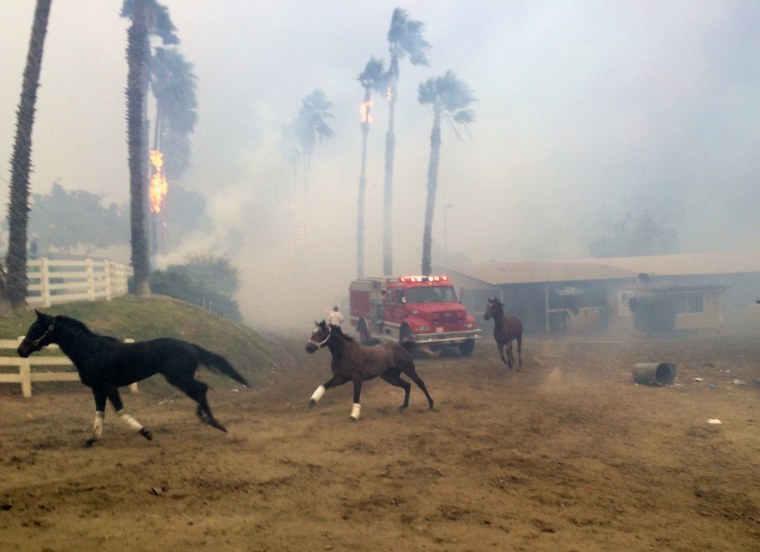 The fire was headed for the heavily populated community of Oceanside and Camp Pendleton, where the Marine Corps Base continued normal operations Friday morning. At least 1,000 homes and other structures were in imminent danger, officials said.
Already, more than 80 structures, mostly homes, were destroyed, and county officials said at a news conference Friday that "catastrophic losses" were being tallied. They could still not provide a reason for how the blaze began and said it remains uncontained.
President Donald Trump on Friday declared a federal emergency in Southern California to help free up federal assistance, coming after Gov. Jerry Brown declared a state of emergency in San Diego, Los Angeles, Ventura and Santa Barbara counties.
Photos: Wildfire tears through San Diego County
There have been no confirmed deaths, although Cal Fire tweeted early Friday that two firefighters were injured. Three people had also suffered burns.
Los Angeles officials began allowing residents back in some areas on Thursday after the Skirball Fire forced the closing a day earlier of Interstate 405, a major freeway. That fire burned several multimillion-dollar mansions in the Bel-Air neighborhood and threatened the Getty Center arts complex.
Perhaps granting some relief, the powerful Santa Ana winds — carrying hot, extremely dry air from inland — are expected to weaken into Sunday. But they may become even more erratic, forecasters say, pushing the flames into different directions.
Miguel Almaguer reported from Ventura. Erik Ortiz reported from New York.