LOS ANGELES — Tens of thousands in Southern California went to bed uneasy or not at all late Wednesday as fire officials warned of powerful winds overnight that could whip up a series of wildfires that have already devoured a large swath of the region.
The National Weather Service was predicting near hurricane-force winds for Thursday morning in the mountains and canyons of Ventura County and northwest Los Angeles County — winds that make for rapid, unpredictable fire spreading, officials said.
Late Wednesday, fire officials ordered new evacuations affecting several thousand people as the massive blaze known as the Thomas fire encroached upon the town of Ojai, an arts community with an upscale, rustic charm northwest of Los Angeles.
Several fires also menaced the nation's second-largest city, including a 450-acre blaze that burned several multimillion-dollar mansions in the tony Bel-Air neighborhood and threatened the Getty Center arts complex and its priceless collection. The so-called Skirball fire forced officials earlier Wednesday to close down part of Interstate 405 — a key north-south artery.
"These are days that break your heart, but these are also days that show the resilience of our city," Los Angeles Mayor Eric Garcetti said, thanking firefighters from Los Angeles and other agencies and all city personnel.
Gov. Jerry Brown, who had earlier declared a state of emergency in Ventura, was monitoring the Los Angeles fire while hundreds of homeowners in Bel-Air and the nearby Sherman Oaks neighborhood joined the tens of thousands of other Southern California residents who have already fled the infernos that have scorched more than 83,000 acres and reduced scores of homes and businesses to ashes, NBC Los Angeles reported.
The massive blazes showed no signs of stopping as roaring winds fueled flames that feasted on the tinder-dry conditions in the region. And by midmorning Wednesday, the Skirball fire had already consumed a half-dozen mansions and 150 acres of some of L.A.'s most expensive and desirable properties, The Los Angeles Times reported.
The L.A. Fire Department said at least four structures have been destroyed, and the fire was 5 percent contained. The 405 freeway was later reopened, transportation officials said.
While helicopters bombarded the blaze with water drops, firefighters armed with chainsaws struggled to clear away the thick brush that was feeding the fire.
Police ordered an evacuation of all homes between two of the city's most storied roadways — Mulholland Drive on the north and Sunset Boulevard on the south — as thick black smoke and swirling ash turned day into night.
Photos: Wildfire devours homes in Southern California
Bel Air resident Lori Arkin told NBC News the first inkling she got that something was wrong came at 5 a.m. Wednesday when her husband's secretary called their home and told them to look outside.
"My son went out, came in, and said, 'Mom, you gotta see this,'" she said. "The sky was bright orange."
Immediately, she said, they packed their cars with clothes and with family mementos like her sons' bar mitzvah videos, grabbed the family dog, Georgie, and a few other items they had accumulated in the 20 years they lived there.
"You look from room to room, you see what makes your house a home, and you realize it's the people and the animals," she said.
At the Getty, spokesman Ron Hartwig said they "feel confident we've done everything to protect the Getty and the art collection here."
"We have a very sophisticated filtration system that was built into the Getty and it literally reverses the flow of air," Hartwig said. "So it pushes air out of the building rather than allowing air filled with smoke and ash to come in."
Hartwig said the museum's travertine and metal skin should be able to protect the pre-20th-century European paintings, illuminated manuscripts and other treasures inside.
"I don't want to use the word confident," he said. "Until the last ember is out, I will continue to worry."
Still, Hartwig said, "this is the single best place for any art collection to be in the midst of a fire disaster like this."
Los Angeles Fire Chief Ralph M. Terrazas said the footprint of the Skirball Fire is the same as the 1961 Bel-Air Fire, which destroyed around 500 homes. In the wake of that blaze, brush clearing was required and water pressure was increased, he said.
"The thing that stopped that fire was the wind died down," Terrazas said. "Right now we're experiencing favorable wind conditions ... but we are anticipating a continuation of the red flag conditions throughout the week, at least until Friday."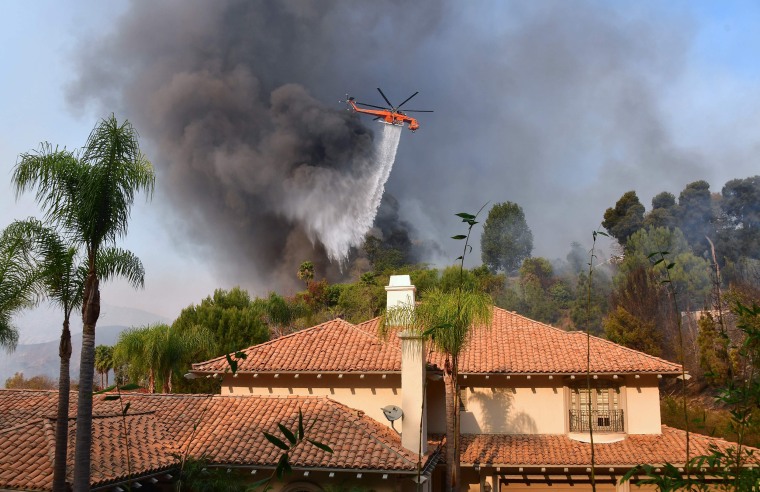 Among the homes threatened in the Bel-Air region is Moraga Estate and Vineyard, owned by media mogul Rupert Murdoch. The property was evacuated and there may be some damage to some buildings, but the winery and house are believed intact, Murdoch said in a statement Wednesday.
"Some of our neighbors have suffered heavy losses, and our thoughts and prayers are with them at this difficult time," Murdoch said in the statement.
Back in Ventura County, north of L.A., decreased fire activity aided firefighters in controlling the blaze in some areas Wednesday, but Santa Ana Winds carrying hot and dry wind from inland were expected to strengthen Wednesday night and Thursday, officials said.
By Thursday winds gusts should increase to around 30 to 50 mph along with low humidity, "which means very, very dry conditions, very windy conditions ... which is a recipe for explosive fire growth," Rich Thompson, an NWS meteorologist, said Wednesday evening.
More than 1,770 firefighters and police officers were waging war with the fire in Ventura County, according to the latest incident report. One firefighter was injured but has since been released from the hospital, officials said.
So far no fatalities or civilian injuries had been reported, but 150 structures have been destroyed and 12,000 more continue to be under threat, fire officials said. The Thomas fire swelled to 90,000 acres since breaking out Monday, officials said.
Rodrigo Rivera, 22, who lives in Oxnard, said he drove up to Ventura late Monday night to check on a pal and wound up helping a firefighter evacuate residents.
"When he came running toward us, that's when I realized this is not controlled at all," Rivera told NBC News. "You know it's a serious moment when a firefighter comes running to you asking for help."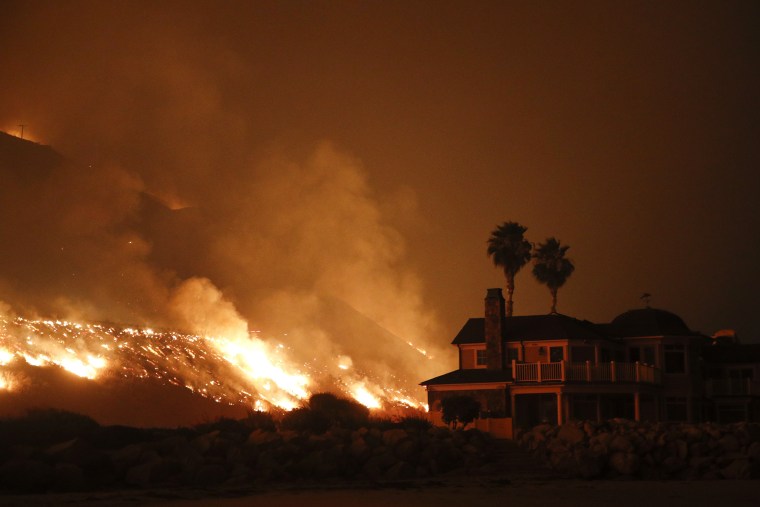 Late Tuesday, the fire in Ventura County jumped Highway 101 and began heading west to Solimar Beach, causing evacuation orders to be issued for the North Coast area of Ventura County.
Officials have still not stated what caused the fire, but some said the ongoing drought has left the area "ripe for spreading" and likely to get a whole lot bigger.
In the San Fernando Valley area in north Los Angeles near the community of Sylmar, the so-called Creek Fire has burned more than 12,600 acres and prompted 110,000 people to be evacuated from the area, officials said. Though nearly 1,700 fire personnel are actively combating the blaze, the fire is only at 5 percent containment and threatens approximately 2,500 structures.
At least 30 homes have been destroyed, and seven firefighters suffered minor injuries battling that blaze, which broke out as a brush fire at around 3:43 a.m. Tuesday and was whipped by winds gusting at 70 mph, fire officials said.
"Our big variable tonight is the wind, and the wind is expected to pick up in some places to 70 miles an hour — that's hurricane force winds," Los Angeles County Sheriff Jim McDonnell said Wednesday afternoon. "That can drive a fire in a way that is unimaginable to most of us. So please, take this serious, pack a bag, be ready to go."
Photos: Southern California wildfire devours homes as residents escape
Another fire, the so-called Rye Fire burning in the Santa Clarita area north of Los Angeles, has burned 7,000 acres since it broke out Tuesday morning and the blaze was 5 percent contained as of Wednesday afternoon, the Los Angeles County Fire Department said.
Those numbers were holding as of Wednesday night, according to Operation Section Chief Mike Webb.
"L.A. County Fire, Ventura County Fire and L.A. County Sheriff's Office did an outstanding job holding this fire and allowing us to get this work done today," said Webb, though he cautioned residents to remain vigilant. "At this point there's been significant wind on this fire and we've had no perimeter growth today."
Around 1,300 homes were evacuated, affecting around 5,000 people, the Los Angeles County Sheriff's Department said. Mandatory evacuations were lifted by Wednesday afternoon, the county fire chief said.