A third person has been found dead in the aftermath of a pair of destructive wildfires in California, officials said Wednesday.
The latest victim, Mark McCloud, was a 65-year-old disabled man who had refused orders to leave an area in the path of the Butte fire, NBC affiliate KCRA reported.
A neighbor, Donny Moore, told the station that the last time he saw McCloud, he was trying to clear brush from around a propane tank.
"I begged him to come out," Moore said.
The blaze has burned more than 200 homes and covered more than 71,000 acres in an southeast of Sacramento, the Calaveras County Sheriff's Office said.
Earlier Wednesday, authorities confirmed another Butte fire-related fatality, though the identity was not immediately released. Calaveras County sheriff's Sgt. Anthony Eberhardt said the discovery was made in or near a destroyed residence in Mountain Ranch at around 5 p.m. Tuesday.
RELATED: Firefighters Race to Keep Monstrous Fire From Growing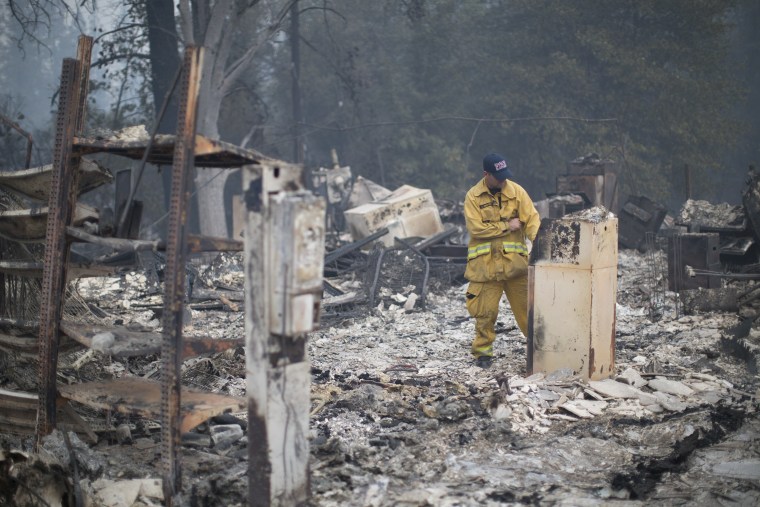 An autopsy is scheduled but the cause of death is believed to be related to the fire, and search teams were out examining other residences that have burned, Eberhardt said. The fire was 45 percent contained Wednesday, fire officials said.
The body of an elderly woman was found Monday after a different large wildfire in a different part of the state, the so-called Valley fire in Lake County west of Sacramento, officials said.
That fire, which broke out Saturday and quickly spread, destroyed 585 homes and devastated the town of Middletown. The fire forced around 13,000 people to flee their homes. Four firefighters suffered second-degree burns fighting the blaze Saturday and are recovering.
The Valley fire covered 70,000 acres and was 30 percent contained Wednesday. California is in the fourth year of a drought, which is making conditions even more susceptible to wildfires.