Two bodies were found near the scene of a southern California wildfire that has burned more than 7,600 acres since it broke out 10 days ago, officials said Wednesday.
The bodies were found Wednesday in an area that had been under mandatory evacuation in the so-called Border Fire, which is burning near the town of Potrero close to the Mexican border.
The San Diego Sheriff's Department said a cause and manner of death are pending. A couple was reported missing Sunday and the sheriff's office had been searching for them, but other residents who were also looking found the remains Wednesday.
The bodies were found as firefighters have nearly contained the so-called Border Fire near Potrero. The blaze was 97 percent contained as of Wednesday evening, the California Department of Forestry and Fire Protection, known as Cal Fire, said.
The remains were located in a remote area off a highway between Potrero and Campo, NBC San Diego reported.
The station reported that the couple had been missing since July 23, when hundreds of people were forced to flee their homes under evacuation orders. Five homes have been destroyed in the wildfire.
If the deaths are confirmed to be related to the fire, the Border Fire would be the second deadly wildfire to break out in California amid a recent heat wave and dry conditions in the state.
The so-called Erskine Fire in the Sierra Nevada mountains killed two people after it broke in the Lake Isabella area last Thursday. That fire has burned more than 46,600 acres, or nearly 73 square miles.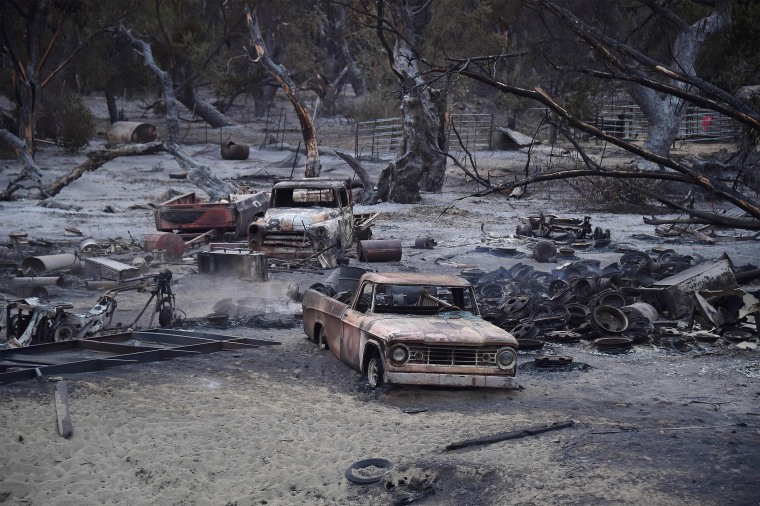 The Erskine Fire destroyed more than 200 homes. The fire was only 60 percent contained Wednesday, but the U.S. Forest Service said it expected to fully contain the blaze by Thursday. Mandatory evacuation orders have been lifted.
Barbara Tucker returned to what was once her home to find only wreckage. "It's overwhelming," she told NBC affiliate KGET of Bakersfield. Tucker only had time to grab her medication before she fled the flames.
"When I drove down this driveway ... the smoke was so heavy it looked like I was driving into the wall of a building, a blank wall of a building," Tucker told the station.
High temperatures and dry conditions left from California's five-year drought have exacerbated the risks of wildfires in the state.
By Wednesday fire crews had either completely contained or were close to fully containing several other recent wildfires, including one in the San Gabriel Mountains east of Los Angeles.
Meanwhile, another wildfire northeast of Sacramento that started Tuesday nearly doubled in size Wednesday, from 350 acres to 650 acres, Cal Fire said. By Wednesday night the Trailhead Fire burned 1,000 acres and was 12 percent contained.
"With triple digit temperatures today, humidity in the teens as well as possible gusting winds … the fire still has a lot of potential to grow," Cal Fire public information officer Daniel Berlant said.
The fire located in Placer County was in what was described as a remote area, but 2,600 structures were threatened, Cal Fire said.