California officials said Monday that 23,000 people have been displaced by two wildfires ravaging the state — including one believed to be the worst yet in a devastating fire season.
At least one person was killed, four firefighters were injured, and authorities said an unspecified number of other people were unaccounted for.
PHOTOS: Two Vicious Wildfires Destroy California Homes
A blaze known as the Valley fire, raging north of San Francisco, burned almost unchecked across 95 square miles. It had destroyed at least 400 homes and businesses and forced 13,000 people from their homes — some with only minutes to escape.
Besides the hundreds of buildings destroyed, the fire has burned up to 1,000 structures, including barns and sheds. The blaze broke out only Saturday, quickly spread and was expanding in several directions early Monday. It was declared zero percent contained.
On Saturday night, the fire claimed the first civilian fatality in the state this fire season — a 72-year-old disabled woman, California fire officials confirmed Monday.
A call for help came in, but officers could not reach the woman's subdivision because it was already engulfed, the officials said.
Her family identified her as Barbara McWilliams, a mother and grandmother, and said in a brief statement that "she was a retired teacher and true adventurer who enjoyed traveling the world. Within the last year, she had settled in Middletown, California, and had fallen in love with her new home and community."
Meanwhile, whole blocks were destroyed in that community. Middletown resident Teri Molini said she raced out of her house on Saturday with just the family dog, blankets and mementos.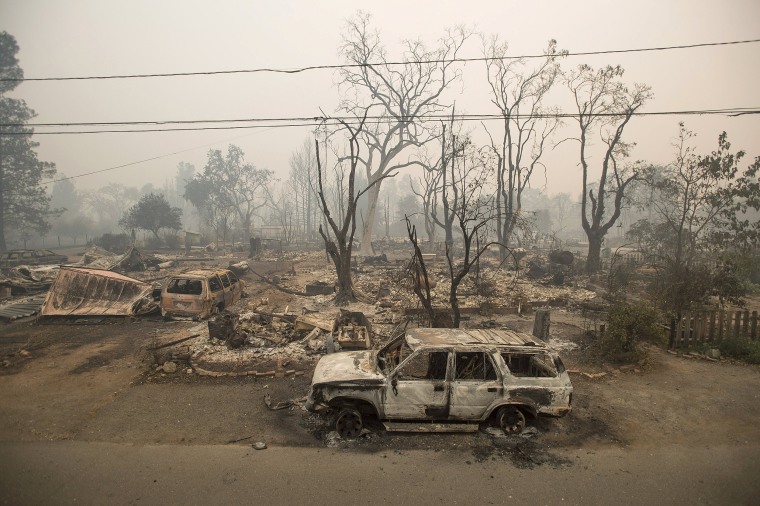 "We said, 'OK, this thing's a beast," Molini told The Associated Press.
A second blaze, known as the Butte fire, was burning southeast of Sacramento and was only 30 percent contained. At least 10,000 people have been displaced by that blaze, said Mark Ghilarducci, director of the state Office of Emergency Services.
Wildfires in California have been exacerbated by four years of drought. Gov. Jerry Brown on Monday linked the fires to climate change.
"This is damn serious stuff," he said. "This is the future from now on."