More than four months have passed since the devastating Valley Fire tore through Lake County, California, yet the cleanup is not over and rebuilding likely will not begin until spring.
The fire was the third most destructive in state history and burned more than 1,200 homes.
"The big picture is this disaster is larger than anyone could have ever imagined," said county supervisor Jim Comstock. "The recovery effort is going to be longer, slower and more frustrating than any of us want, but it will come back."
Samantha Wood's entire neighborhood on picturesque Cobb Mountain burned to the ground, including her dream house.
"All these people's homes are gone," she said with tears in her eyes. "And I don't know if they're coming back."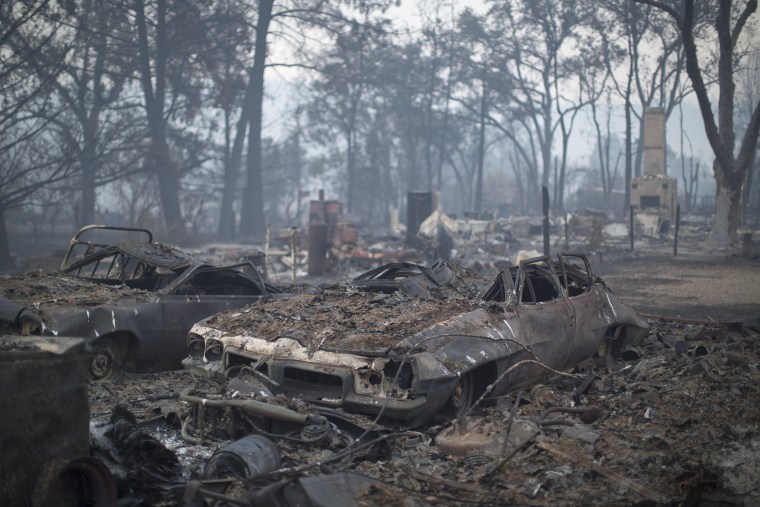 Wildfires ravaged much of the West Coast last year; 2015 was the costliest fire season on record, according to the U.S. Forest Service, with $7.1 billion spent on fighting wildfires. Nearly 10 million acres burned, enough land to cover Massachusetts and Connecticut.
Lake County homeowners are now bracing for a new challenge: rain. El Nino promises to bring a parade of storms over the next couple months that could cause mudslides on fire-scarred land. That is just adding to the workload for homeowners and officials. On top of the monumental cleanup, they are laying sandbags and inventing ways to channel the water away from their homes.
Through it all, the Woods plan to rebuild. After dropping off her kids at school each morning, Samantha Wood drives to her property to water plants untouched by the flames. Just weeks after the fire, she saw a few plants poking through surface.
"It brings a smile to my face when I come up here and see green coming back," she said. "It gives me hope."