Heavy winds whipped a brush fire in Southern California on Saturday into a near-1,250 acre blaze overnight, and while officials said it could take three days to completely control, firefighters were able to stop the fire from spreading significantly on Saturday.
About 600 Ventura County firefighters were attacking the rapidly growing fire on the ground and from the air, while part of a highway northwest of Los Angeles had to be shut down, Ventura County Fire Department Capt. Mike Lindbery told reporters.
Crews were able to contain 60 percent of the fire throughout the day Saturday, according to the Ventura County Fire Department. Earlier in the morning, the blaze had only been 10 percent contained, said Ventura Fire Chief Fred Burris.
The flames were sparked when a power line fell and were fed by overnight winds of 50 mph, according to the Ventura County Fire Department.
About 100 homes near the coast were evacuated Saturday due to the blaze, which exploded to 1,200 acres overnight and grew by an additional 38 acres Saturday, according to the Ventura Fire Department. Residents were allowed back into their homes Saturday afternoon.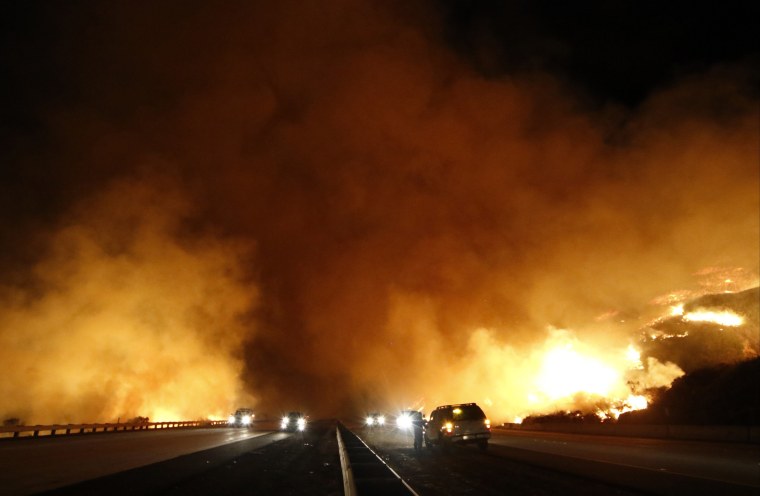 No structures had been damaged and none were immediately threatened, but mandatory and voluntary evacuations had been put in place because road closures would have make it difficult for people to flee if they needed to, said Ventura Fire Chief Fred Burris.
U.S. 101, between Highway 150 and Highway 33, was closed until about 2 p.m. (5 p.m. ET) Saturday because of the fire, cutting a major thruway in half during a holiday travel rush.
Cmdr. Norm Plott of the Ventura Fire Department warned before the highway was reopened that "any openings that do happen are subject to being closed again."
The fire likely wouldn't be completely under control until at least Tuesday, Burris said.
The county's lack of rain — less than a tenth of an inch in six weeks — and windy weather were making the fire battle difficult for firefighters, Burris said. And the fire is burning in "steep and broken" terrain, he added. By mid-afternoon Saturday, two firefighters had sustained minor injuries while battling the fire, Lindbery said.
Maaike Maks, who is visiting California from the Netherlands for the holidays with her family, was driving through Ventura from Los Angeles on Christmas night when they spotted the blaze.
"We already saw the fire 30 minutes before we actually passed it, but we didn't realize it was this big and frightening," she told NBC News after posting a video of the massive dancing flames on Twitter.
"There was nobody stopping us as we got closer and closer. So we thought it was totally safe for us to drive past it," Maks said. "Then all of the sudden all these sparks and a burning bush hit our car and we couldn't see anything of what was around us because of all the smoke ... We were very lucky, in worst case scenario our car could have exploded."