Firefighters in California have made more progress containing a large fire burning just south of another huge blaze, but a wildfire in Washington state has destroyed as many as 100 homes and forced a hospital to evacuate, officials said Saturday.
Lightning early Friday sparked at least four wildfires around Chelan in the north-central part of Washington state, the U.S. Forest Service said.
"We did lose structures out there," Chelan County sheriff's Sgt. Kent Sisson told reporters Saturday. He estimated around 20 structures have been destroyed in one of the fires, and fire officials said as many as 100 homes may have burned in all, NBC station KHQ in Spokane reported.
The Chelan hospital decided to move some patients to Central Washington Hospital in Wenatchee, about 40 miles to the south, Chelan County Emergency Management said. The hospital remains open.
Around 1,200 homes have been evacuated, KHQ said.
"There's just a real strain on all the resources we have right now," deputy incident commander Rob Allen said. Fire resources from the East Coast have been called in to assist, Alaska firefighters will send crews to the region, and the military will be activated and Canadian fire services will help, he said.
In California, firefighters completely contained the largest wildfire that state has seen all year — the so-called Rocky Fire, which has burned around 70,000 acres west of Sacramento — and made progress containing the Jerusalem Fire just to the south, according to the California Department of Forestry and Fire Protection.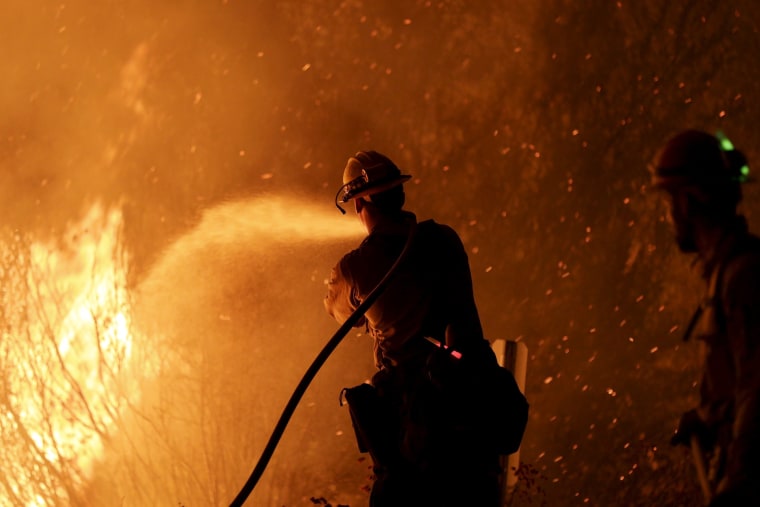 That Jerusalem Fire has burned more than 25,100 acres and forced around 150 people to leave their homes, the department, also known as Cal Fire, said. The fire, which broke out Sunday, was 78 percent contained and all those ordered to leave were allowed to return to their homes Saturday afternoon. Four homes were destroyed.
California is in the fourth year of a historic drought, causing tinderbox conditions that have increased the threat band spread of wildfires, Cal Fire officials said. Around 13,000 firefighters are battling 17 large fires are burning across the state.
A heat wave wasn't helping — with a high pressure system sending temperatures close to 100 degrees in some parts of the state, fire officials expect a greater risk of wildfires through the weekend.