Firefighters in Washington state were battling more than a dozen wildfires Sunday as concerns about building destruction and a lack of resources grew with the blazes.
Although the mass of smoke that has hung over some of the fires began to lift Sunday, easing fears over the state's unhealthy air, fire officials worried that new flames could now spread.
"It's like a flue opening in a fireplace," Suzanne Flory, a spokeswoman for the U.S. Forest Service and the Rocky Mountain Incident Management Team, told The Associated Press. "Smoke serves as a cap on the fire."
More than 275,000 gallons of water have been dropped in an attempt to quell the 16 large wildfires burning in the Evergreen State, according to the state's National Guard.
Hundreds of homes have already been consumed by the fires, and 12,000 more remain threatened, sending officials scrambling to increase firefighting assets to get ahead of the growing flames, according to Gov. Jay Inslee's office.
Thousands of residents responded to a state ad seeking "citizens with firefighting experience," NBC affiliate KING 5 of Seattle reported, and the number of National Guard troops battling the stubborn flames will swell by another 200, bringing the total to nearly 1,000. And at an Air Force base near Spokane, a new firefighting mobilization center is being set up, the governor's office said.
The additional resources came two days after President Barack Obama approved Inslee's request for a federal emergency declaration.
The state's Okanogan Complex fire near Twisp had spread at "rapid rates," according to an incident summary. Infrared mapping found that the fires grew about 19 square miles Saturday night.
Sarah Miller, a spokeswoman with Okanogan County Emergency Management, told the AP that residents have been warned to be ready to evacuate at any time. But some are reluctant to leave.
"One of the reasons that we stayed is to keep track of looters," resident Pat Coffey told KING 5. "Every disaster, they come out of the woodwork."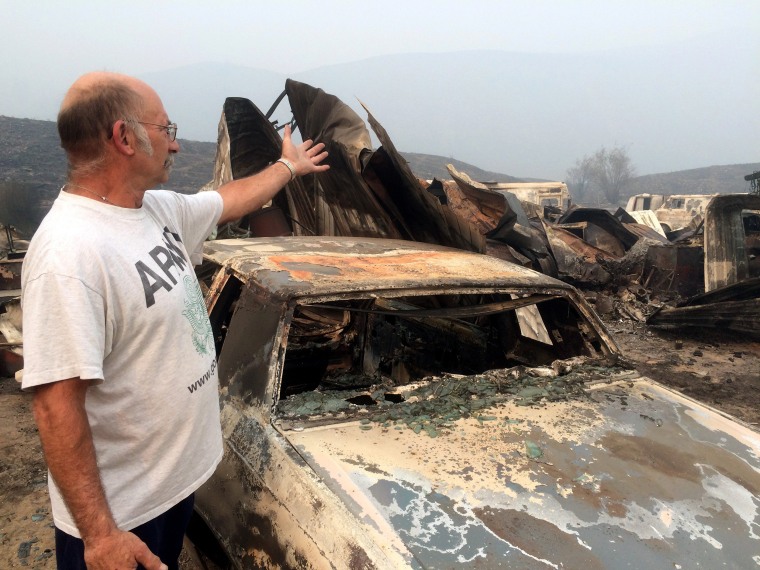 Three firefighters died fighting the blaze Wednesday when it changed course abruptly and their vehicle crashed.
"Our Andrew was a man that you could count on to do everything in his power to protect the people in the places that he loved," the family of one of the lost firefighters, Andrew Zajac, said in a statement Sunday.
The eastern halves of both Oregon and Washington were under air quality alerts because of heavy smoke lingering in the air, according to the National Weather Service. Idaho, Montana, Colorado and California were also struggling to keep wildfires contained as strong winds and low humidity fueled the flames.