More than 100 wildfires are burning across the West — destroying dozens of homes, forcing hundreds of people to flee and stretching firefighting budgets to the breaking point.
In Washington state, a fire was moving so quickly that authorities weren't sure how many homes were lost, but they feared it was roughly 75.
Firefighters face a triple threat of extreme heat, severe drought conditions and gusty winds. And they're doing it with dwindling resources: The U.S. Forest Service is spending $100 million a week on the fires, and next week it will burn through its annual budget.
On Sunday, fires forced evacuations in Oregon and California, left thousands without power in Washington and enveloped the San Francisco Bay Area in a thick gray haze.
In central Oregon, after the Warm Springs Fire swelled to 50 square miles, fire officials briefly closed the main highway between Mount Hood and Portland, and a popular resort, Kah-Nee-Tah, evacuated 500 employees and guests, NBC station KGW of Portland reported. Some residents of Warm Springs also fled.
"You could see the flames from our house," one woman told the station. "They jumped over the hill, and that's when we knew we had to go."
In Oregon, the massive Cornet Fire blazed across 137 square miles, KGW reported. Residents in a dozen communities were evacuated.
Farther north, hundreds of firefighters were battling half a dozen blazes around the popular Washington resort town of Chelan, between Spokane and Seattle, NBC station KHQ of Spokane reported. The fires, which were triggered Friday by lightning strikes, forced local hospital to move some patients and left 2,000 people without power. Nearly as many residents had also been evacuated from the area.
A woman described receiving phone calls from anxious neighbors and friends wanting her to check on their homes. But when she looked at the hillside surrounding her backyard, all she could see was fire.
"It's heartbreaking," she told KHQ. "You turn, there's fire over there. And then you turn, and there's fire over there."
Officials say more than 50 structures have been destroyed and the number is likely to go higher.
In California, 14,000 firefighters were grappling with 19 fires across the state, CalFire said in a Sunday update. Though firefighters had largely contained the most sprawling of them, the Jerusalem Fire, which spread across nearly 40 square miles of Lake and Napa counties, the blaze — along with six others — was still sending smoke south across the San Francisco Bay Area, NBC Bay Area reported.
Winds out of the north were producing such a thick haze in some areas that people believed the fire was nearby. So they dialed 911.
"It is startling," one resident Mary Askins, told NBC Bay Area. "When you see fire engines going up and down your streets patrolling, it gets even more scary."
Sections of eastbound state Route 60 were closed and residents of about 30 homes were advised to evacuate Sunday evening because of a brush fire that had burned more than 40 acres in the Southern California city of Montebello, the California Highway Patrol said.
Three people were being checked for injuries after a helicopter fighting the fire made a hard landing in a cemetery in Whittier, the Los Angeles County Fire Department told NBC Los Angeles.
Just after 5 p.m. (8 p.m. ET), a person of interest was detained in connection with the fire, said Dan Amador, deputy chief of the Montebello Fire Department.
Amid sweltering temperatures in Southern California, hundreds of firefighters were working to extinguish a nearly 1,500-acre brush fire in Angeles National Forest, just north of Pasadena.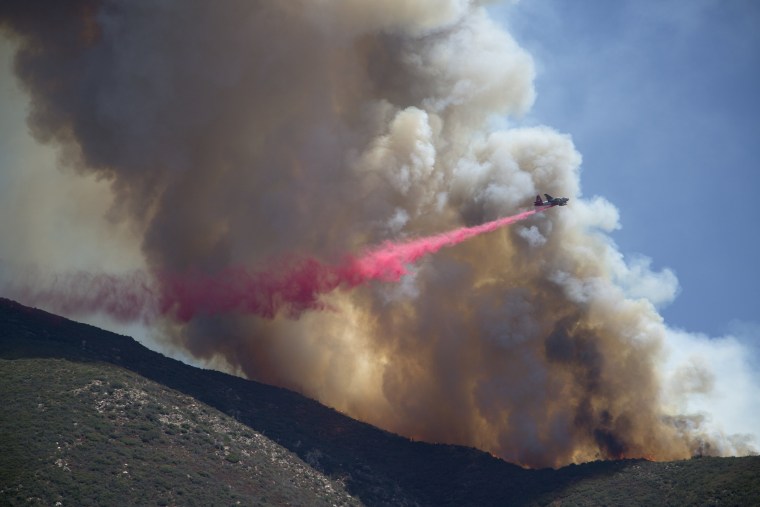 As of Sunday afternoon, the U.S. Forest Service reported, the Cabin Fire was 20 percent contained and 10 firefighters had been evacuated with minor injuries.
Meanwhile, wildfires were also raging in Colorado, Montana and Idaho.