As wildfires burn from Maine to Michigan, and California slowly recovers from last year's devastating — and costly — wildfire season, a debate has ignited over the use of private firefighting teams deployed by insurance companies and used to protect homes belonging largely to the wealthy.
The insurance companies offering this additional service are often for policyholders with properties valued at more than $1 million — and for homeowners with these insurance plans, having this extra protection can be the difference between their home surviving the fire and burning to the ground.
Fred Giuffrida and his wife, Pamela Joyner, were home at their hilly 16-acre Sonoma ranch late last Oct. 8 when, looking out from the family room window, Joyner saw an ominous pink glow in the distance. It was a gusty night in wine country, so she went outside to get a better look. She smelled smoke.
"Twenty minutes later, the whole hill was ablaze," Giuffrida told NBC News.
"There's only one way off the hill, so we said, 'We can't afford to stick around here,'" Giuffrida recalled in a phone interview. After banging on the door to alert a neighbor, they fled their home in the early morning hours of Oct. 9, not knowing what they would find when they returned.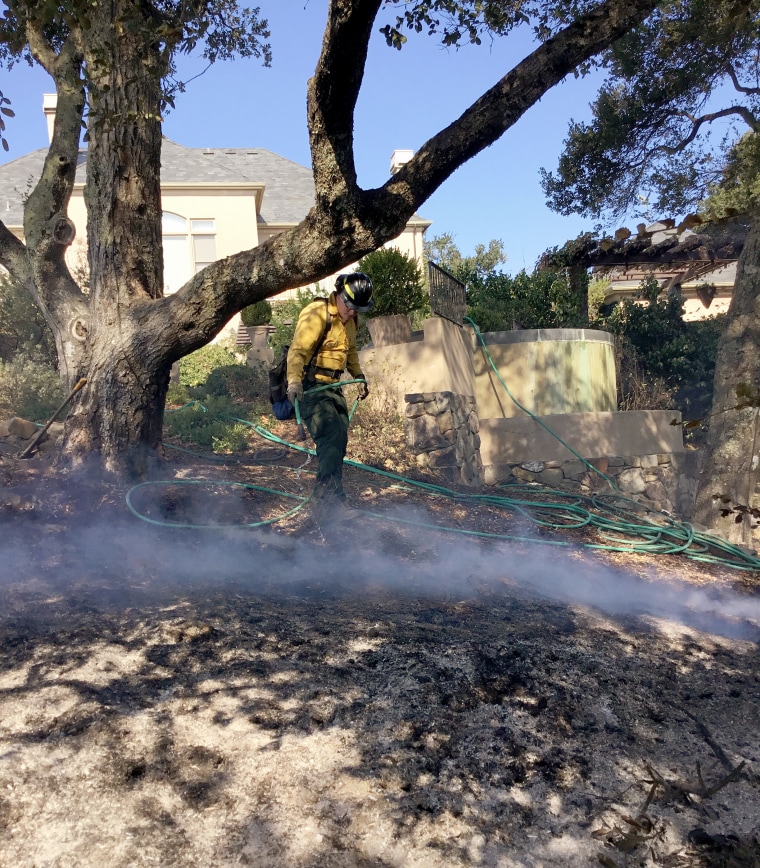 That night, and for the next several nights, multiple wildfires ignited across wine country. All told, the "October Fire Siege" would destroy more than 245,000 acres — the most destructive in the state's history. By month's end, 43 people had lost their lives, 100,000 residents had been forced to evacuate, and an estimated 8,900 structures had been destroyed, according to the California Department of Forestry and Fire Protection, known as Cal Fire.
"We really couldn't get much information," Giuffrida said. "Then we got a report from Chubb, who called us and said there were firefighters that were part of their program that had gone up and were looking at the property."
Chubb is Giuffrida's insurer, and though he's been a policyholder since 2006, he didn't realize the company even offered firefighting services.
Chubb's "Wildfire Defense Services" are available for properties in wildfire-prone areas in 18 states. The company automatically sends its own "professional firefighters" to help protect homes before, during and after wildfires.
Like a growing number of insurance companies offering similar services, Chubb's firefighters can trim trees and move combustible material away from a home, spray it with gel or water and cover vents to prevent hot embers from getting inside a home.
Global insurer AIG pioneered the idea in 2005, offering wildfire mitigation and protection from active wildfires as an optional service to the elite policyholders in their Private Client Group. Policies can run from "several thousand dollars to several tens-of-thousands," depending on location and home value, said AIG's Stephen Poux, the Group's Global Head of Risk Management and Loss Prevention. Members of the Group are affluent policyholders including 42 percent of the Forbes 400 Richest Americans, said Poux.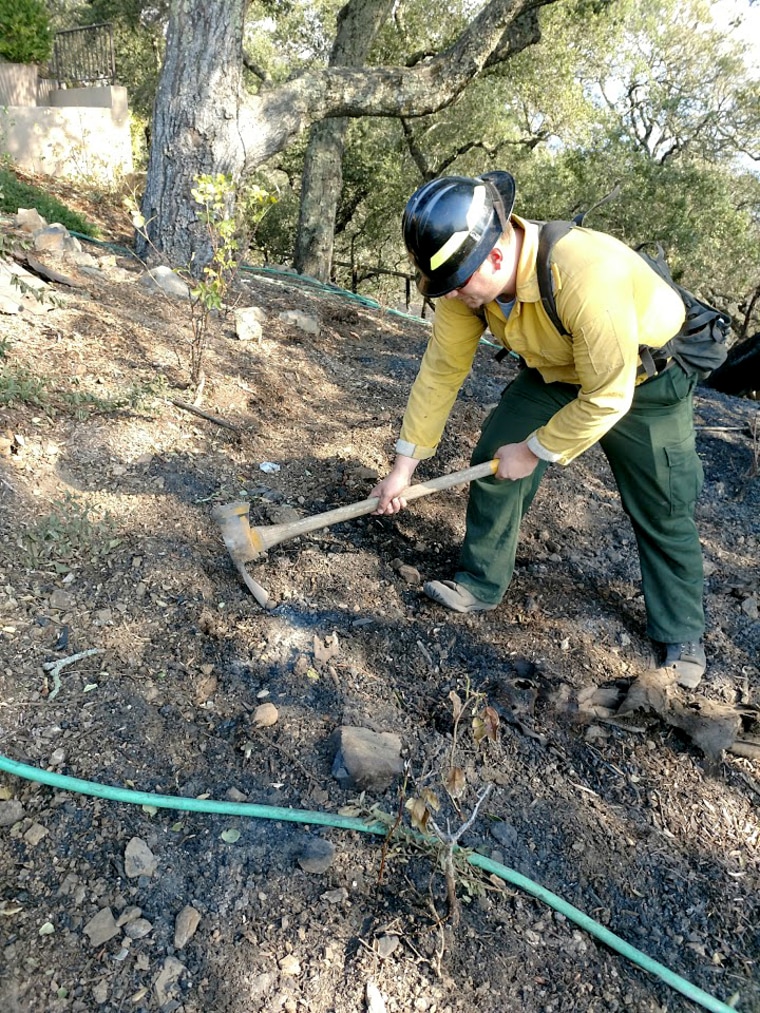 The PURE (Privilege Underwriters Reciprocal Exchange) Group of Insurance Companies operates in 49 states and has offered fire prevention for its policyholders in California since 2014. That includes monitoring active fires near client homes and spraying homes in the potential path of a fire with fire retardant, and every PURE member is offered the service.
"We have several members who were able to return to their homes because of this service and we are extremely proud of that," said Kevin Daley, president of PURE in the western region.
Although local firefighters were also on scene, this homeowner credits his insurance company's private firefighters for saving his house.
Over the course of five days when the fire threatened Giuffrida's property, firefighters from other public agencies were also on scene. But Giuffrida credits the firefighters Chubb sent and their focus on his insured home for it still standing today. These firefighters, actually responders from Wildfire Defense Systems (WDS) that are contracted with Chubb, even sent him photos while they were on scene hosing down the fire.
"We were literally surrounded by fires," says Giuffrida. "All the vegetation up to the pool area was burned, and they had stopped it before it got to the house."
David Torgerson, the President of Wildfire Defense Systems, says their goal is to supplement the efforts of first responders. In the case of Giuffrida's home, Torgerson says it is likely WDS was able to save it because they revisited the property across several days during the fire event.
"They were fighting battles in so many places, so I think the fact that this supplemented it really saved our house," said Giuffrida, noting that a few of his neighbors were not so lucky and did lose their homes.
"Our specific goal is to work with policyholder structures," Torgerson said. "We're only allowed to access the properties that we're given permission to access by policyholders," he said, meaning that unlike publicly funded fire agencies, WDS makes determinations about which homes in a neighborhood it will defend from fire.
Controversial approach
For some — including many firefighters from municipalities — protection from a deadly wildfire isn't something that some neighbors should be able to buy when others can't. Furthermore, many first responders express concern that a lack of oversight and communication with private firefighters could add risk in an already dangerous fire situation.
In October, as the state ramped up a response that peaked at 11,000 firefighters strong, Cal Fire led the resources and response to the multiple fires. And, as engines and firefighters poured in, according to procedure, every responding vehicle was required to check in with identifying documents at "incident command," where Cal Fire sets up and tracks all the resources involved in the fire fight.
"Everyone has to be accounted for and listed in the Incident Action Plan. You cannot just arbitrarily throw people at these incidents," Cal Fire Deputy Chief of Information Scott McLean said. "It comes down to accountability and safety."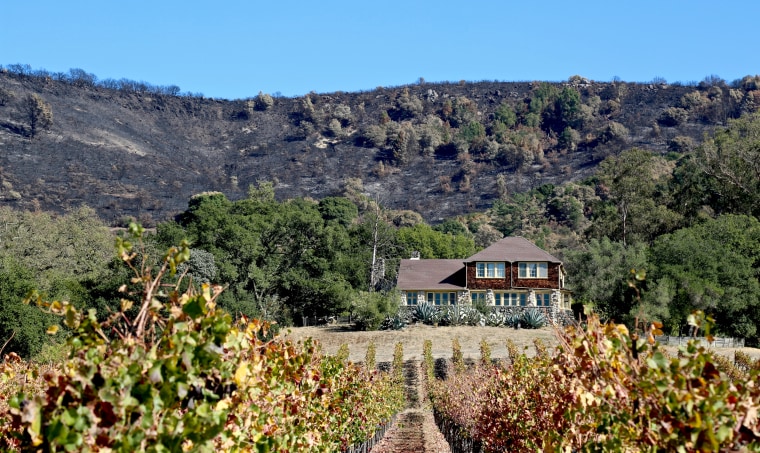 But that's not what Sonoma Valley Fire and Rescue Authority Battalion Chief Spencer Andreis and many other firefighters responding to these deadly fires saw.
Andreis hadn't yet gone to bed the night of Oct. 8 when the fires broke out. A native of Santa Rosa, Andreis, 38, has been fighting fires in California for 21 years.
He was tasked with protecting the southern area in the city of Sonoma, on the sloping hillsides and valleys that would later come under threat by fires burning in multiple directions.
"For most of us, this was like Armageddon," Andreis said. "As I was out there fighting the fires, it was burning in our own neighborhoods where our loved ones are. I hope we never see anything like it again."
Andreis fought on the frontline of what he calls the most devastating wildfires he'd ever seen, for five straight days. As he and his fellow firefighters headed into the battle, they came across something else they'd never before seen: "private" firefighters.
"With the southern LNU complex [fire], they didn't come to the morning briefing. I just happened upon them," recalled Andreis.
"They don't play well with us even though they'll tell you they do. They don't check in with us, they come and go as they please."
"They don't play well with us even though they'll tell you they do. They don't check in with us, they come and go as they please," said Andreis, referring to these outside forces entering the fire zone.
Cal Fire's McLean emphasized that the function of these privately funded forces is meant only to be preventative, not to enter evacuation zones or stay and "make a stand" to an approaching fire. Doing so would be grounds for Cal Fire to order these outside firefighters to leave the fire zone.
"Our primary function is to make sure the public is safe and taken care of. All these other external factors, as they come in, then we have to think about them," said McLean, noting that Cal Fire essentially treats these private firefighters as an "external component," like a homeowner would be.
Cal Fire's McLean says he is not aware of any specific incidents where private firefighters actually caused any "problems."
"They're a help because of the preventative aspects," said McLean. "We can work together, we just need to make sure we do work together."
AIG maintains that their "Wildfire Protection Unit," which was also dispatched to wine country last October, is also focused on prevention. Their program served 2,700 customers in California, Colorado and Texas last year, according to Poux. This includes surveying a policyholder's home and identifying risks that would make it more susceptible to burn down in a fire — like leaves in gutters, or flammable plants or mulch near the home.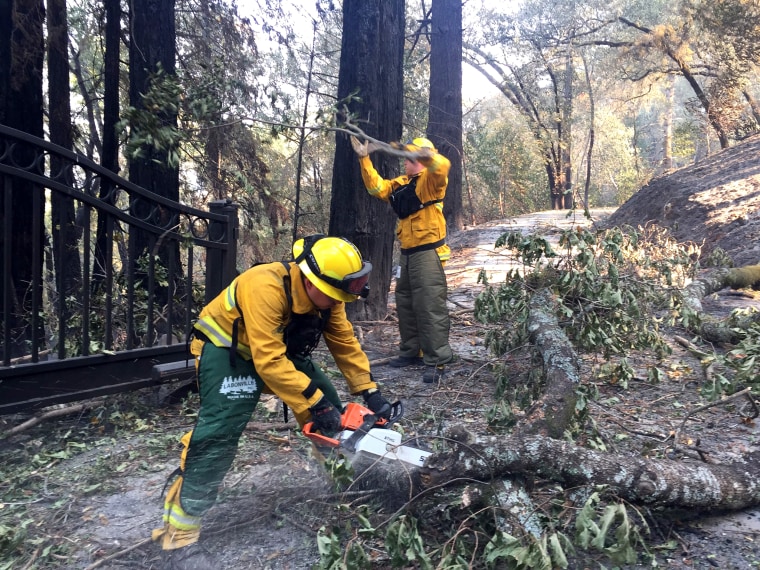 But, "of course, the sexy part is we can go in behind an active fire and lay down some fire retardant and that's fantastic," said Poux. The two-man teams that respond in the event of a threatening fire carry fire retardant and "hundreds of gallons" of water to protect properties.
"We check in at incident-command centers and say, 'Hi, we are AIG, we have all the safety equipment to be behind evacuation lines,'" he explained.
But in numerous cases, according to interviews with firefighters from multiple responding fire departments in the Sonoma fires, these "private" firefighters often did not check in with incident command.
"It's like: 'Who are you? Why didn't you check in?'" Andreis remembers thinking as he was responding to the fires. "How could we get aid to them if we needed to? It makes our job tougher in terms of knowing where resources are."
Sonoma Valley Fire Volunteer Batallion Chief Chris Landry, 41, also encountered private firefighters in October when he responded to the deadly Nuns Fire in the hills between the cities of Sonoma and Napa. At the time, fire was still tearing through dry grass on both sides of the road, downed powerlines and still-burning trees littered the roadway.
"I came across them on Trinity Road when I was checking on structures and said, 'Hey, have you checked in with the division?' and they said 'Yes.' Then I asked at incident command and they said 'No' [they had not checked in]," said Landry, emphasizing the importance of knowing where crews and personnel are at all times, especially in a dangerous, active fire.
"If I'm in charge of a division, I know all the engines working in my division because they are assigned to the incident. We have communications with them. If the fire is headed their way, I can call them [on the radio] and say, 'The fire's headed your way,'" said Landry.
But that's not necessarily the case with these private companies.
"I've never seen them check in," Landry said, not referring to any specific insurance company. "We don't have common communication. I don't know what they're qualified at. I don't know where they are, because I'm not supervising them. They report to the insurer."
Questions about training
There's also concern about the oversight and training of these outside firefighting forces. "We don't know their equipment capabilities, their training, their level of experience," said Landry.
According to AIG's Poux, all their responding personnel are former firefighters trained extensively in wildfire mitigation. AIG's "wildfire battalions," teams of two, conduct week-long training exercises annually to refresh safety procedures and protocols, according to the company.
The state of California has strict standards and guidelines for participating departments and agencies that respond to emergencies like wildfires — including the training of first responders and maintenance of equipment. But, according to Cal Fire, only the insurance companies oversee their firefighters, and Cal Fire has no oversight of their training or qualifications.
"We don't have their records or oversight of that. So who is watching? Who do they answer to?" asked Cal Fire Deputy Chief of Information Scott McLean. "The insurance companies are responsible for these individuals."
A representative for the California Department of Insurance declined to comment, but said that the agency has no authority over firefighters dispatched by insurance companies, and that they don't regulate them, either.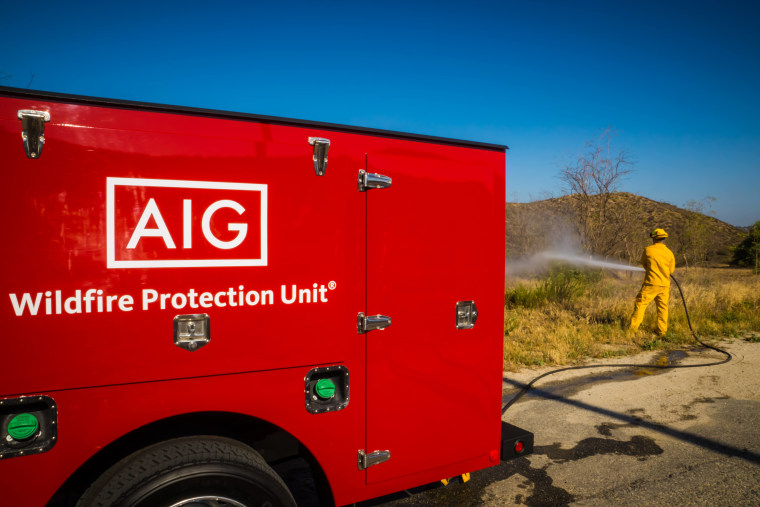 In response, AIG's Poux said, "I cannot overemphasize the importance of safety for our employees." When they are on an active fire scene, AIG's responders make an effort to check in at incident-command centers and coordinate their radio settings, according to the company.
As wildfires in California wreak unprecedented levels of destruction, private firefighting services are one way the insurance companies are trying to fight back. At last tally, the deadly California wildfires in October and December generated nearly $12 billion in claims, making them the costliest in California history, according to the California Insurance Department.
But for some — including many fighting these fires on the front line — there are greater costs at stake.
"I understand where the insurance companies are coming from," Landry said. "But we don't look at one house separate from another based on who the insurer is. I could care less who owns the house, I just want to save as many as possible — and do it safely without endangering my crews."