With the winds dying down, fire crews had gained ground by Monday morning as they battled the wildfires that devastated California wine country and other parts of the state over the past week.
Some mandatory evacuation orders were lifted overnight after wind conditions improved, said Jaime Williams, a spokeswoman for the California Department of Forestry and Fire Protection, or Cal Fire. Tens of thousands of people got the all-clear to return home.
The number of evacuees dropped overnight from about 100,000 to just under 75,000, thanks in no small part to the work of 11,000 firefighters battling 15 large wildfires burning over 217,000 acres across California, Williams said.
Related: Family Finds Beloved Dog Alive After Believed Lost to California Wildfires
Cal Fire reminded returning residents:
If returning home, secure your property and try to reduce hazards.
Be aware that crews are still working to extinguish hotspots and will continue to patrol the area.
Check for trees or brush that may have been weakened by the fire.
Walk around your property and check for burning embers.
Check your home's power panel to make sure it is still intact and not damaged.
Check inside your home and its venting system, where embers can travel and smolder sparking structural fires.
Keep away from burned trees that leave white ash piles that can cause severe injury if stepped on or into.
Of the 10 counties ablaze, Sonoma had the most fire related deaths with 22, while Mendicino had eight, Napa had six and Yuba had four, officials said. A total of 40 people have been killed.
On Saturday, Gov. Jerry Brown called the wildfires "one of the greatest if not the greatest tragedy California has ever faced."
Four more victims were identified during an afternoon press conference, bringing the total number of victims whose identities have been confirmed to 14.
The heavy smoke from the wildfires prompted an air quality alert to be issued for San Joaquin, Stanislaus, Merced, Madera, Fresno, Kings, Tulare and the valley portion of Kern Counties, the National Weather Service said. The alert is expected to stay in effect until Tuesday.
The National Weather Service says exposure to the smoke can cause serious health problems, aggravate lung disease, cause asthma attacks and acute bronchitis, and increase risk of respiratory infections.
"You can't explain and you can't tell somebody what it's like to go through this," Jan Amarillas, who lost her Santa Rosa home of 30 years in the fire, told NBC News Bay Area.
"You have to really experience it to feel the full impact of what it does," she said as she surveyed damage.
Related: Wineries at Risk as Wildfires Rage in Northern California
Amarillas said she made a harried escape on Monday and spent five days waiting to see what had happened to the house.
"By the time I pulled out, the flames were already eating the garage," she said. "It was like an oven."
Her house is now a pile of charred rubble.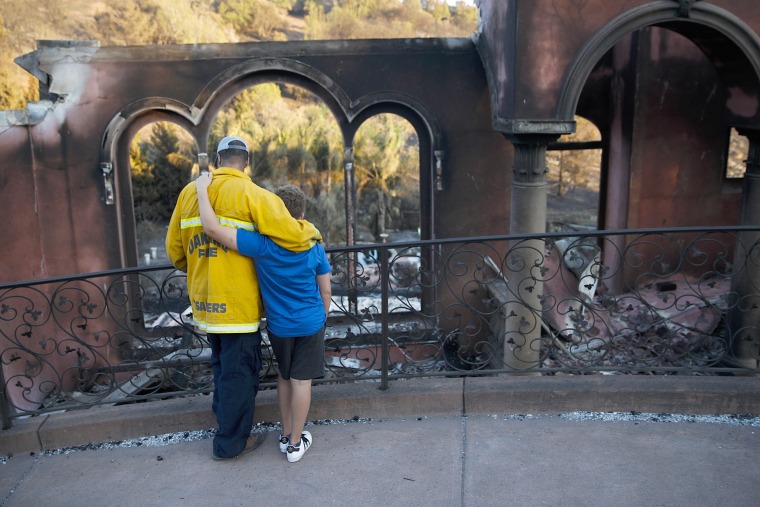 "It's scary," she said. "I'm 60 years old, and suddenly I'm without my home that I've had for 30 years."
Santa Rosa Mayor Chris Coursey said things finally seemed to be turning around with additional boots on the ground and winds dying down.
"We would like to to extend a sincere and heartfelt thank-you to everybody that has helped us this past week," he said.
Coursey said 1,200 city employees had been working night and day to extinguish fires — calling their efforts an "impressive display of teamwork."
The changing winds are helping to clear the air and the stress of the last week for the mayor.
"Today, finally we here in Santa Rosa are able to take a breath," Coursey said.