The deadly wildfires in California have put the country's prized winemakers in peril, destroying or severely damaging at least four wineries and threatening numerous others.
Anxious vintners were checking on their properties Tuesday — that is, if the roads leading to them had not been blocked by fire officials.
"I was looking at maps overnight, and they were saying the fire was coming this way. The smoke is pretty thick, but there are no big plumes of smoke and no flames," said Alison Crowe, director of winemaking for Plata Wine Partners, which makes wine for Garnet Vineyards and Picket Fence Vineyards, both in Napa.
Crowe spoke to NBC News as she drove to her vineyards. "So far, so good. We're just crossing our fingers," she said.
Fire officials say the wildfires, fanned by strong winds, have killed at least 17 people and destroyed about 2,000 structures.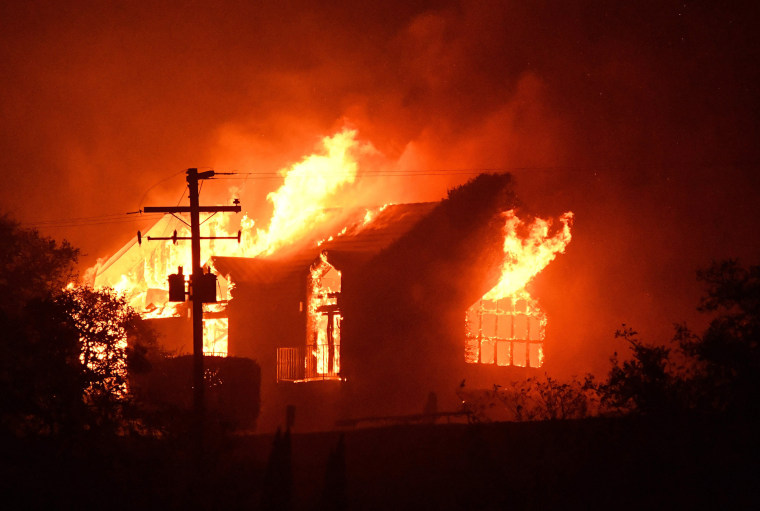 Napa Valley Vintners, the trade association for America's premier wine region, said four wineries "suffered total or very significant losses due to the fire." At least nine others reported some damage, said the association, which cautioned that it had yet to hear from some wineries in the most vulnerable areas of the valley.
The Associated Press reported that Signorello Estate in Napa County and Paradise Ridge Winery in Sonoma County were destroyed.
Related: Record High Temperatures Hurt California Wine Harvest
Industry experts said it was too soon to assess the total damage from the fires.
Napa and Sonoma counties are home to more than 1,100 wineries in total, according to the Wine Institute, a trade group that represents the wine industry in California. The state produces about 85 percent of all U.S. wine, with the Napa and Sonoma region accounting for anywhere between 8 percent and 10 percent combined of U.S.-produced wine, the institute said.
"Every year, we do a battle with Mother Nature. We just didn't realize we would be in such an extreme one this year."
The economic impact of that production is significant: Sonoma County alone generates $13 billion a year from its wine industry, said Karissa Kruse, president of Sonoma County Winegrowers, which aims to preserve agriculture for grape growers. And this time of year is when the grapes that produce the most expensive bottles of wine are made.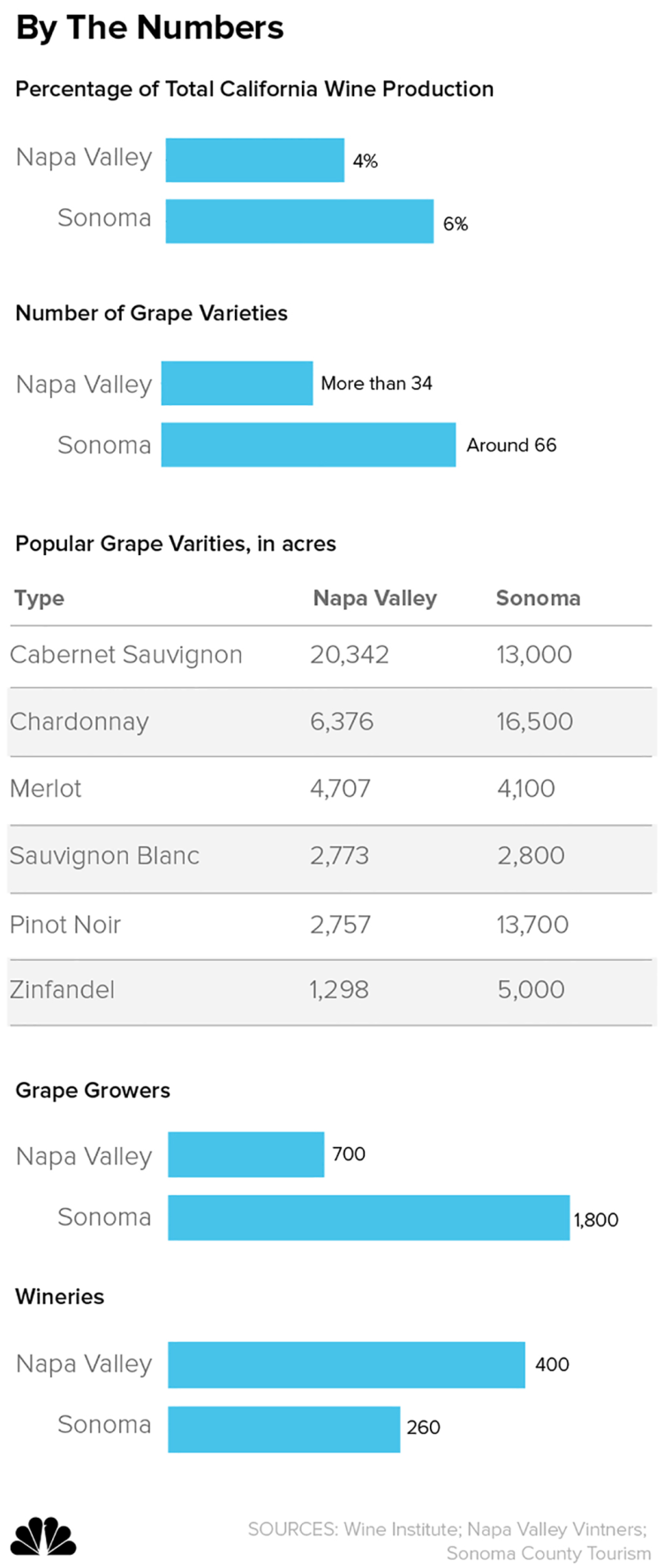 Both flames and smoke pose a danger to the vineyards, but it was still too early to determine how much of an effect they would have, said Kruse, whose own home in the Sonoma County city of Santa Rosa burned down.
"Every year, we do a battle with Mother Nature. We just didn't realize we would be in such an extreme one this year," she said.
With power and cell service spotty, winemakers used Facebook to check in on one another.
"The Napa Fire is still raging. Engine Number 7 saved our winery and house," the Fontanella Family Winery in Napa posted on its Facebook account. "We aren't out of the woods yet, we're still having flare-ups everywhere, but we are ok. Sending our prayers to our friends who haven't been as lucky."
The fires come during an already brutal harvest season for California vineyards, which baked in record-high temperatures this summer. With 12 days of temperatures over 100 degrees, many winemakers saw grapes shrivel into raisins before they had a chance to use them.
Related: Northern California Wildfires Claim at Least 15 Lives as More Than 100K Acres Burn
But the unprecedented temperatures had passed, and winery crews were doing their final harvest pick, set to spend the next 10 or so days collecting longer-ripening grapes that would be turned into Cabernet Sauvignon, Syrah and Merlot wines when the fires began, Kruse said. About 90 percent of grapes had already been harvested, she added — good news, since the grapes were already in barrels or tanks, safe from the effects of the blaze.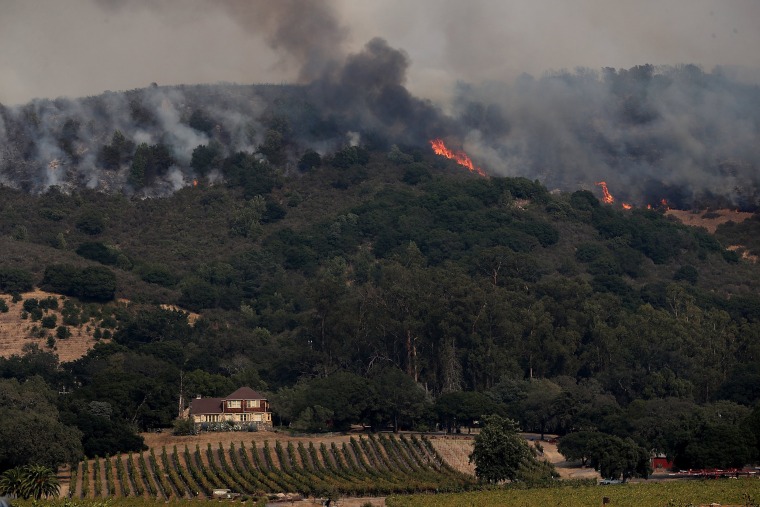 Maureen Cottingham, the executive director of the Sonoma Valley Vintners & Growers Alliance, said smoke taint, which would give grapes still remaining on vines an unwanted smoky character, was a possibility.
"The smoke today is 20 times worse than it was yesterday," she said. "We're not sure how that's going to impact [vineyards]."
Anita Oberholster, an extension specialist in enology at the University of California, Davis, explained that smoke contains volatiles that are absorbed by a grape's skin.
"These compounds can extract into your wine," she said. "At excess levels, that would be considered smoke taint."
Wind direction, according to Crowe, would determine whether smoke "just sits over the vineyard" or if it blows over.
"You have to accumulate enough hours of severe smokiness to have it show up in the wine, so it's still uncertain where we will be on that spectrum," she said.