Everyone expected TV's snarkiest host to bring his irreverence to the Nerd Prom on Saturday night. But, while Joel McHale can be charming when standing in front of a green screen holding Lou the mascot on "The Soup," the mood was different when his targets were seated in formal wear before him.
The 42-year-old comedian did deliver some well-received zingers -- most of them directed at either New Jersey Gov. Chris Christie or CNN. His best joke of the night, by far, was when he mocked Christie's handling of Bridge-gate:
"Governor, do you want bridge jokes or size jokes? 'Cause I've got a bunch of both. I could go half and half. I know you like a combo platter. Now, I get that. I'm sorry for that joke, Governor Christie. I didn't know I was going to tell it but I take full responsibility for it. Whoever wrote it, will be fired. But the buck stops here. So, I will be a man and own up to it, just as soon as I get to the bottom of how it happened because I was unaware it happened until just now. I am appointing a blue-ribbon commission of me to investigate the joke I just told and if I find any wrongdoing on my part, I assure you I will be dealt with. I just looked into it. It turns out I'm not responsible for it. Justice has been served."
He also was fearless in going after President Obama, and was especially successful with his Obamacare website jokes:
"Mr. President, you have to admit—and you already have--the launch of HealthCare.Gov was a disaster. It was so bad, it was bad. I don't even have an analogy because the website is the thing people use to describe other bad things. They say stuff like, "Ugh, I shouldn't have eaten that sushi. I was up all night healthcare.goving." "Boy, that latest Johnny Depp movie really healthcare.goved at the box office. Look at my new rug! Did the dogs healthcare.gov on it? You can't get healthcare.gov out of shag."
Although McHale never went as far as comedian and talk show host Stephen Colbert, who actually caused some people to walk out during his 2006 speech, he did deliver some low blows that were met with groans by the audience of politicians, celebrities and journalists.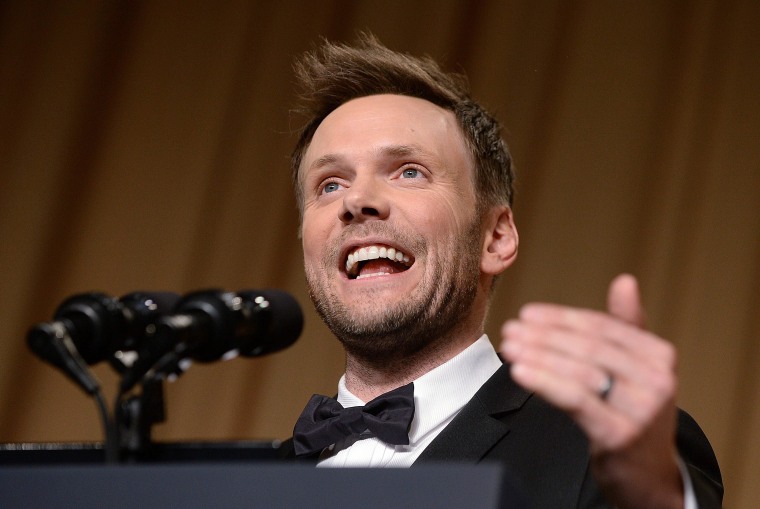 Here are his most notable eight low blows:
1) I'm a big fan of President Obama. I think he's one of the all-time great presidents, definitely in the top 50. Please explain that to Jessica Simpson.
2) Look, I know it's been a long night. But I promise that tonight will be both amusing and over quickly, just like Chris Christie's presidential bid. I got a lot of these tonight, so buckle up Gov. Christie. Excuse me, extender-buckle up.
3) The vice president isn't here tonight. Not for security reasons. He just thought this event was being held at the Dulles Airport Applebee's. Yes, right now, Joe is elbow-deep in jalapeño poppers and talking to a construction cone he thinks is John Boehner. Um, it's crazy to think that Joe Biden is only one heartbeat away from no one taking him seriously as president. Biden will likely be running for president in 2016 saying, "There is no obvious reason not to." He talks about his motivation for a presidential run as if he's deciding to finish a meatball hoagie. "Hey, it's there, isn't it? Look, all I'm saying is if the bread is toasty and the cheese is warm, I'm going to finish that thing. Jill, bring me my hoagie bib. No, not that one. The fancy one."
4) Hillary's daughter, Chelsea, is pregnant, which means in nine months we will officially have a sequel to "Bad Grandpa." It also raises the question: When the baby is born, do you give Bill Clinton a cigar?
5) Jeb Bush says he's thinking about running. Wow, another Bush might be in the White House. Is it already time for our every 10 years surprise party for Iraq?
6) And CNN is desperately searching for something they've been missing for months—their dignity. At this point, CNN is like the Radio Shack at a sad strip mall. You don't know how it stayed in business this long, you don't know anyone who shops there. And they just fired Piers Morgan.
7) I'm not going to spoil the shocking twist on "House of Cards," but just know that it was so surprising that Nancy Pelosi's face almost changed expression. Did you like that one, Nancy? I can't tell.
8) What's our biggest concern as Americans? TV show spoilers! In other countries a spoiler consists of, "Hey, I haven't been back to the village yet, so don't tell me who survived the drone strike. No spoilers!"