GANGNEUNG, South Korea — At these Winter Olympics, more than 2,900 athletes, 16,000 volunteers and tens of thousands of spectators are calling the PyeongChang region home for the next two weeks.
This sudden influx of guests has Jeon Won Hee holed up inside a small office at the Olympic Park here. She's just steps from the action at the hockey and skating venues, but her responsibilities are focused elsewhere: helping to combat sexual assault at these games.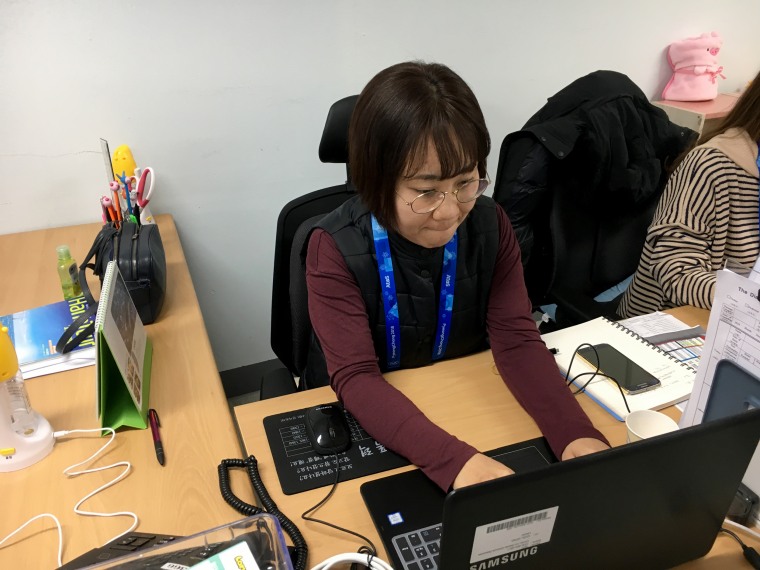 "I've been worrying about building a sexual violence counseling center at [the Olympics] because some people might not like it," Jeon, 42, said in Korean through a translator. "But this has a symbolic meaning."
The Olympics has long been considered a pinnacle sporting event meant to showcase the most talented athletes in the world — not the place for discussing sexual assault and abuse. But for the first time, a host city is hoping to change that by opening four counseling offices — referred to as Gender Equality Support Centers — scattered across the Olympic sites.
They are staffed with counselors, including those who speak English, who can greet visitors or answer phones to a hotline number. The staff is equipped to deal with medical treatment, legal measures and therapy in an anonymous setting.
"This is very meaningful, but the more important thing is knowing that sexual violence can occur anywhere at any time," Jeon said.
That could mean a crowded area, such as the Olympic Park, she added, or a private space, including the apartments at the athletes' villages.
Jeon's concerns are not unfounded. While the numbers of sexual assault cases at games are unclear, there have been some reported incidents:
At the 2016 Summer Olympics in Rio de Janeiro, a Namibian boxer was accused of forcibly trying to kiss a waitress at an Olympic Village hotel, while a Moroccan boxer was accused of sexually harassing two female cleaners at the village.
At the 2002 Winter Olympics in Salt Lake City, a Brigham Young University student volunteering at the games told police that an alpine skier at the Olympic Village sexually abused her in his room. A report compiled by the International Olympic Committee later found there were "cases of sexual harassment of village staff from residents."
At the 2000 Summer Olympics in Sydney, a Ugandan swimmer was reportedly accused of sexually assaulting a teenage girl.
The IOC said in an email that it has "been active in the field of prevention of harassment and abuse in sport for many years, and has developed a number of initiatives."
Those include the creation of a "safeguarding officer" at each games to review protecting athletes and others from harassment and abuse, a harassment and abuse hotline for athletes to report problems, and educational materials and a website.
The athletes' village at the Olympics has gotten a reputation as a free-spirited and uninhibited zone for athletes from around the world to find casual, sexual encounters. A 2012 ESPN the Magazine report highlighted some athletes' after-hours activities.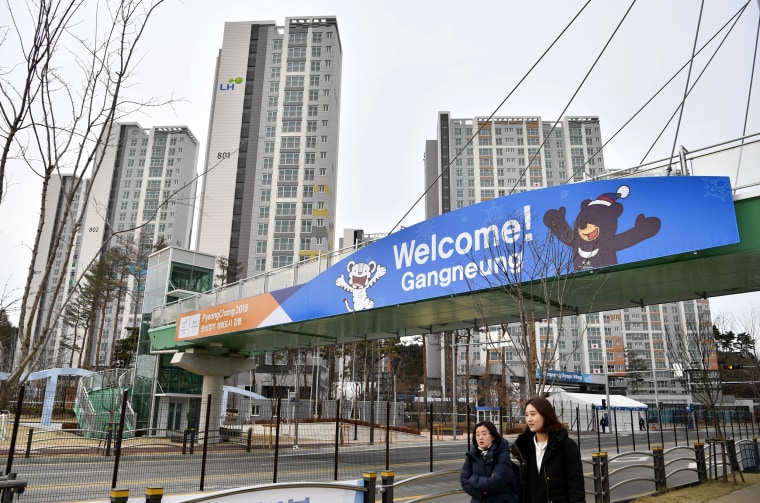 "With a once-in-a-lifetime experience, you want to build memories, whether it's sexual, partying or on the field," soccer star Hope Solo told the magazine. "I've seen people having sex right out in the open. On the grass, between buildings, people are getting down and dirty."
The article noted the growing number of condoms handed out at each games. PyeongChang set a record for a Winter Olympics in that regard, with 110,000 made available for free.
Nancy Hogshead-Makar, a three-time Olympic gold medalist at the 1984 Los Angeles Games, says while safe sex is certainly important, the idea of understanding consensual touching is a whole other matter that must be addressed.
"It's important to know how far is too far," she said. "Not everyone realizes when they're crossing a line."
She added that athletics institutions have a ways to go to ensure athletes are being protected, and said the uncovering of decades of sexual abuse by gymnastics doctor Larry Nassar shows the need to speak up immediately.
"We can't allow for silence," said Hogshead-Makar, a rape survivor who started the advocacy group Champion Women to support women and girls in sport.
Related: Olympic swimmer claims coach's manipulation, abuse dulled success
There's been a reckoning in recent months for women to speak up about sexual misconduct. In South Korea, that has also occurred with a similar #metoo movement known as "you are not alone," Jeon said, although it has yet to fully transform the culture.
In one instance, a public prosecutor named Seo Ji-hyeon, who accused a former senior justice ministry official of groping her at a funeral, managed to capture the nation's attention last month.
But the power of the Olympics can shine a light on preventing sexual misconduct, said Kwon Eun Jin, the head of women's welfare in the Gangwon-do Provincial Office.
"The ultimate goal is to make a safe Olympics, without any sexual assault cases," Kwon said.
She's hoping the IOC and media can help spread the word about the centers, although athletes and volunteers who spoke with NBC News at the athletes' village on Sunday said they did not realize the resource existed.
Rebecca Stenberg, an ice hockey player at her first Olympics, said her home country of Sweden has seen a similar #metoo push, and knowing that such a center is available is comforting.
Having the centers "recognizes that there has been a problem — and that's a good thing," she said.