PYEONGCHANG, South Korea — The International Olympic Committee on Sunday decided not to lift its ban of Russia's Olympic team over doping allegations, meaning that the country will not be able to march in the closing ceremony under its own flag.
The vote came Sunday local time, hours before the closing ceremony, The Associated Press reported. The decision by the IOC comes after two cases of alleged doping involving Russian athletes at the PyeongChang Games.
The nearly 170 Russian athletes won't get to parade in the white, blue and red of the Russian flag and be introduced as Team Russia. The athletes have been participating under the name Olympic Athletes from Russia.
The Russian athletes were punished by the IOC before these games in response to Russia's alleged state-sponsored doping program that marred the 2014 Winter Olympics in Sochi, Russia.
The athletes allowed in PyeongChang had to undergo rigorous testing to prove they are clean and agree to compete under the neutral team name, or OAR. Russian medal winners also witnessed the Olympic flag fly during their respective medal ceremonies.
Despite initial protests from Russian Olympic officials, Russian fans have made the most of the ban in PyeongChang, appearing in venues wearing Russia's tricolors and chanting pro-Russian slogans such as "Russia in my heart."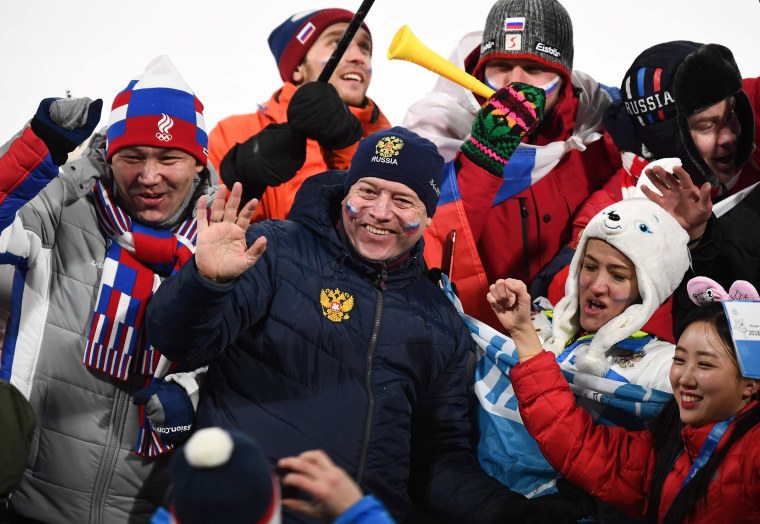 Russia's ability to regain its official Olympic status was in jeopardy after two confirmed cases of Russian athletes testing positive for banned substances.
Russian curler Alexander Krushelnitsky, 25, was stripped of the bronze medal he won last week along with his teammate and wife, Anastasia Bryzgalova, in the mixed-doubles competition. The fourth place team, Norway, was given that medal.
While Krushelnitsky didn't dispute the endurance-boosting drug, meldonium, being in his body, Russian curling officials have suggested it may have been slipped into his food or drink before the games began. The Russian curling federation said it was investigating.
Meanwhile, Russian bobsled pilot Nadezhda Sergeeva, 30, tested positive for the banned stimulant trimetazidine, a heart medication.
Related: Russian oligarch bankrolls lawsuit against Olympic doping whistleblower
Sergeeva and her teammate finished 12th in the two-man bobsled competition Wednesday. While training for the Olympics, she was photographed on Instagram wearing a shirt that said "I don't do doping."
Earlier this week, the IOC said Russia did pay a $15 million fine imposed after the scandal in Sochi. The money will be used to fund anti-doping initiatives.
Russia, typically a winter sports powerhouse, tamped down its medal expectations for PyeongChang. While the OAR captured 17 medals these games, it only won two golds — in ladies' figure skating and men's ice hockey.
The U.S. Biathalon team said Saturday they would boycott next month's World Cup Final in Russia as an anti-doping message.