Vice President Mike Pence vowed that the U.S. would protect itself from nuclear-armed North Korea's threats by taking whatever "action is necessary to defend our homeland."
In an exclusive interview with NBC News' Lester Holt on the sidelines of the PyeongChang Winter Olympics, Pence made clear that the U.S. was not ruling out military options as tensions continued to roil the Korean Peninsula.
"We're going to continue to put all the pressure to bear economically and diplomatically, while preserving all of our military options to see that that happens," Pence said.
"President Trump and, and our allies in the region have agreed to delay our, our military exercises until after the Olympics. And, you know, President Moon, has appreciated that," he added, referring to South Korean leader Moon Jae-in.
"But we're gonna make it crystal clear that our military, the Japanese self-defense forces, our allies here in South Korea, all of our allies across the region, are, are fully prepared to defend our nations and to take what is — action is necessary to defend our homeland," Pence said.
North Korea ramped up its nuclear and missile programs last year, testing its first three intercontinental ballistic missiles and most powerful nuclear weapon to date. This was met with international sanctions as well as a flurry of insults between President Donald Trump and North Korean state media.
Pence also addressed the White House's handling of former staff secretary Rob Porter, saying he was "appalled" when he first learned of the allegations against Porter, who resigned after his two ex-wives went public with accusations of physical and verbal domestic abuse.
"There's no tolerance in this White House, and no place in America for domestic abuse," Pence said.
After Pence sat down with NBC News, Trump spoke favorably of Porter at the White House Friday.
"We wish him well," the president told reporters. "He worked very hard. Found out about it recently and I was surprised by it. ... Obviously, tough time for him. He did a very good job when he was at the White House."
Pence reiterated the position of White House Principal Deputy Press Secretary Raj Shah, acknowledging that the administration "could have handled it better."
"When I return to Washington, D.C., I'm going to look into the matter and I'll share my counsel with the president directly," Pence said.
Meanwhile, the vice president's tough talk on the North stands in stark contrast to the most recent approach by South Korea, whose high-level discussions with its neighbor last month resulted in the two nations agreeing to participate together in the Winter Games. North and South Korean athletes even marched together during the opening ceremony in PyeongChang, just 50 miles from the North Korean border.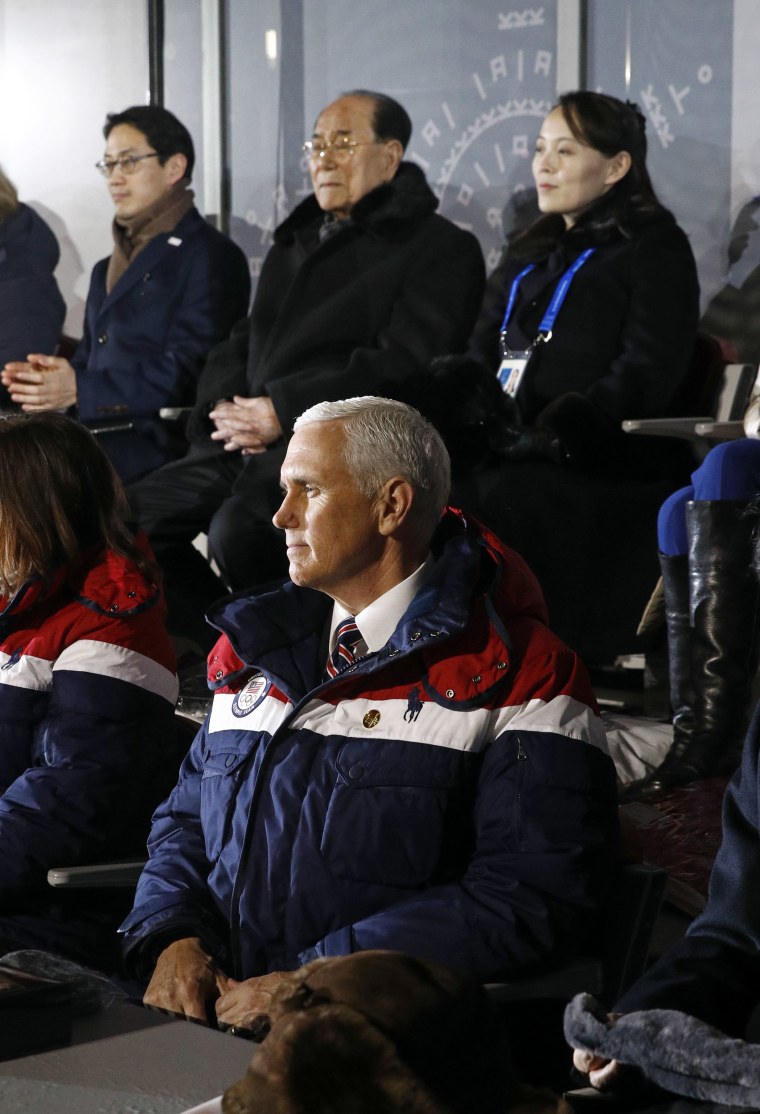 And despite the ongoing tension between the U.S. and North Korea, Pence could very well bump into members of the North Korean delegation — led by Kim Yo Jong, the sister of authoritarian leader Kim Jong Un, and his ceremonial head of state, Kim Yong Nam — at the games.
Pence and his wife, Karen, were seated adjacent to South Korea's President Moon Jae-in and only one row in front of Kim Yo Jong at the opening ceremony.
Pence repeatedly called for the North to end its nuclear ambitions and referred to the possibility that the U.S. could use military might to compel them to do so. But he also said, "We hope it doesn't come to that."
"All options are on the table. I mean, as you've got in North Korea a country that is threatening the United States of America with ballistic missiles and nuclear weapons," Pence added at another point in the interview. "But we really do believe there is a peaceable outcome here to the denuclearization of the North Korean peninsula, but it's going to take consistent and intensified pressure to do that."
He pointed to his belief that economic pressure "contributed" to the North's "outreach" to the South regarding the Olympics, and that a new round of sanctions might help the regime move toward a "future without nuclear weapons."
"But make no mistake about it. The United States of America has viable military options to deal with a nuclear threat from North Korea," he said.