PYEONGCHANG, South Korea — A dazzling display of swirling light and dance energized this sleepy rural corner of South Korea on Friday as the 23rd Olympic Winter Games opened amid an urgent message of peace.
Some 35,000 spectators witnessed a tightly choreographed performance unfold at the Olympic Stadium in near-freezing conditions at what could be the coldest opening ceremony in 24 years. The ceremony began with a spectacular show of lights in white, red and blue — the colors of the South Korean flag.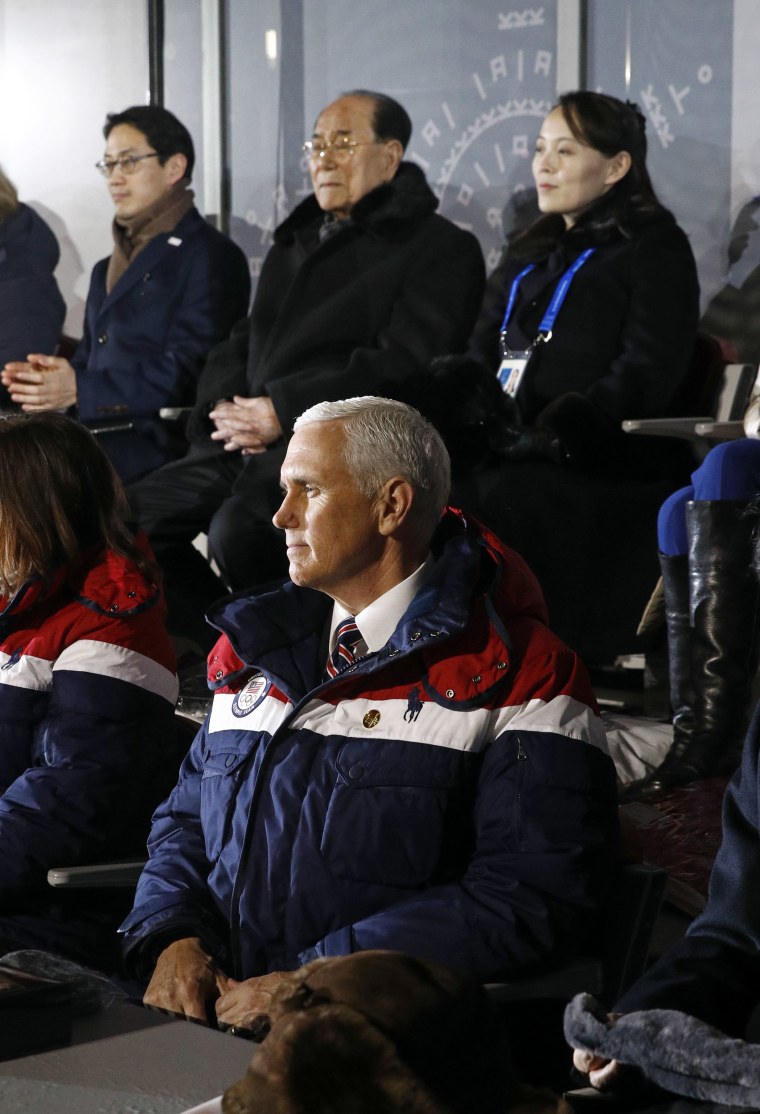 The escalating tension over the Korean Peninsula has temporarily subsided to allow North and South Korean athletes to march even as both nations technically remain at war. And for the first time, the two Koreas have sent a unified team, in women's hockey, to the Olympics.
Still, the eyes of the world were not only watching the traditional parade of nations. The United States sent Vice President Mike Pence, while North Korea has dispatched Kim Yo Jong, the sister of authoritarian leader Kim Jong Un, along with his ceremonial head of state, Kim Yong Nam, to represent the isolated nation.
The South Korean government was forced into a delicate position not to offend either VIP camp. Pence and his wife, Karen, were seated adjacent to South Korea's President Moon Jae-in and only one row in front of Kim Yo Jong. Her brother has repeatedly threatened to attack the U.S.
Before arriving, Pence warned the North Korean regime would try to steal the spotlight during the games for its own propagandist purposes.
And in an exclusive interview with NBC's "Nightly News," the vice president vowed that the U.S. would protect itself from nuclear-armed North Korea by taking whatever "action is necessary."
But the idea that these games — the first in South Korea since the 1988 Summer Olympics in Seoul — could bring goodwill and put the rival nations on a possible path to nuclear disarmament hasn't been overlooked by locals and visitors. PyeongChang is just 50 miles from the North Korean border.
"It's really hard to get the North and the South to get together. A lot of South Koreans are very happy they're getting together," said Young Hwang, a 51-year-old worker in Seoul, from inside the Gangneung Ice Arena.
Photos: Winter Olympics spectacle kicks off with signs of Korean unity
Security has been tight at these games, with roadblocks and checkpoints set up around each venue.
The ceremony featured 2,900 athletes from about 90 nations. Erin Hamlin, who is competing in women's luge, was the U.S. flag bearer. Marquee American names include skiers Lindsey Vonn and Mikaela Shiffrin, snowboarders Shaun White and Chloe Kim, and figure skater Nathan Chen.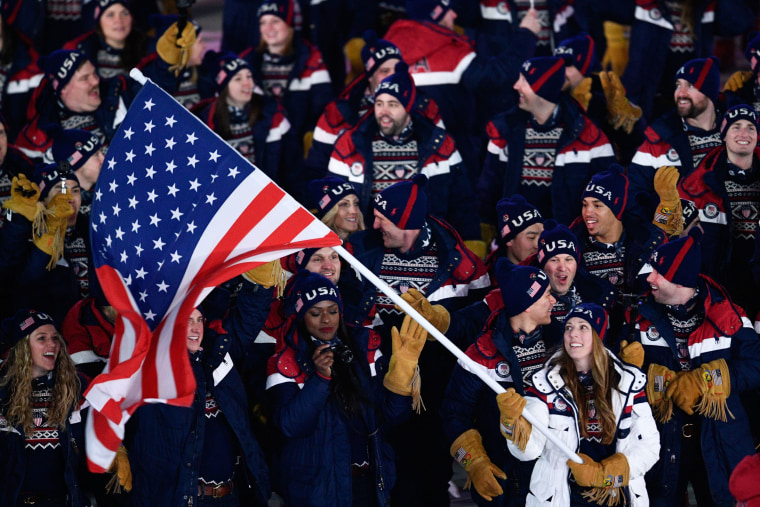 While competition had begun earlier in sports such as curling and figure skating, the first medal events are set to take place Saturday.
But there were already accolades for the U.S.; 19-year-old ski jumper Casey Larson was named the 100,000th man to compete in the Olympics in the 122-year history of the modern games. "It is pretty cool," he said.
Aside from North Korea, there was plenty of other drama before these games began, including whether Team Russia would be allowed to compete after the state-backed doping scandal that roiled the 2014 Winter Olympics in Sochi, Russia.
Just nine hours before the opening ceremony, the sports' highest court rejected appeals by 45 Russian athletes and two coaches who were banned from the games. Only certain Russian athletes not tainted by the allegations were invited to compete under a neutral Olympic flag.
At the PyeongChang Games, which lasts through Feb. 25, Olympic organizers have been scrambling to contain an outbreak of the norovirus, after nearly 130 confirmed cases forced the quarantine of about 1,200 staffers who are being tested for the nasty stomach bug.
Officials have also warned that the PyeongChang Games could be dangerously cold, and wind gusts of up to 35 mph are also threatening to postpone some of the downhill ski events this weekend.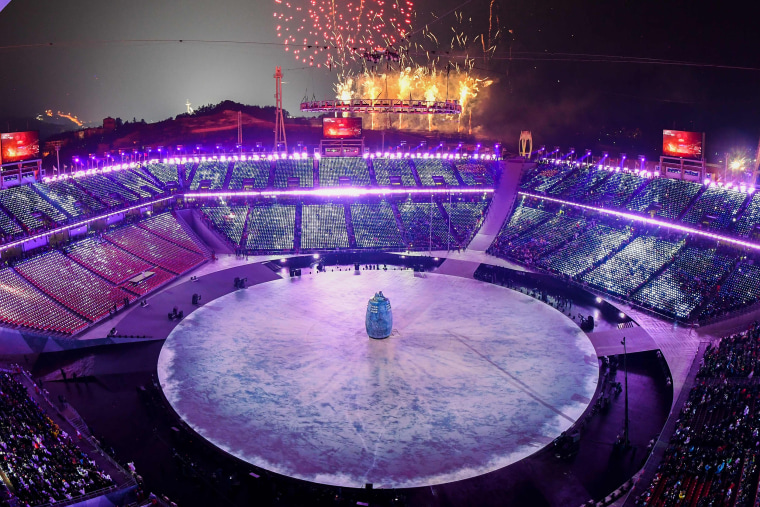 But these games, which are expected to cost South Korea about $13 billion, are a coming-out party for this region of the country — once a home to potato fields and now looking to transform itself into a premier international winter sports destination.
Ryan Dunbar, 34, a security consultant from New York, said he was excited about the Olympics, calling it one of the largest can't-miss cultural events in the world.
"It should be a bucket list thing for people," he said.
Alastair Jamieson contributed reporting from London.