GANGNEUNG, South Korea — Fans of curling at the PyeongChang Winter Olympics describe the sport as cerebral, calculating and generally genteel. If you're wanting feats of physicality, they say, head over to the mountain for freestyle skiing.
However, Monday's announcement that Russian curler Alexander Krushelnitsky — the winner of a bronze medal last week with wife Anastasia Bryzgalova in the mixed-doubles competition — is suspected of doping after failing a preliminary drug test has sent shockwaves through a sport not commonly associated with scandal.
"It's a little different than like cross country or something where you're going full whirl all the time. There's more finesse and you don't always need your brute strength," American curler Matt Hamilton, who beat Russia in a mixed-doubles round at these games but failed to medal, told "Today."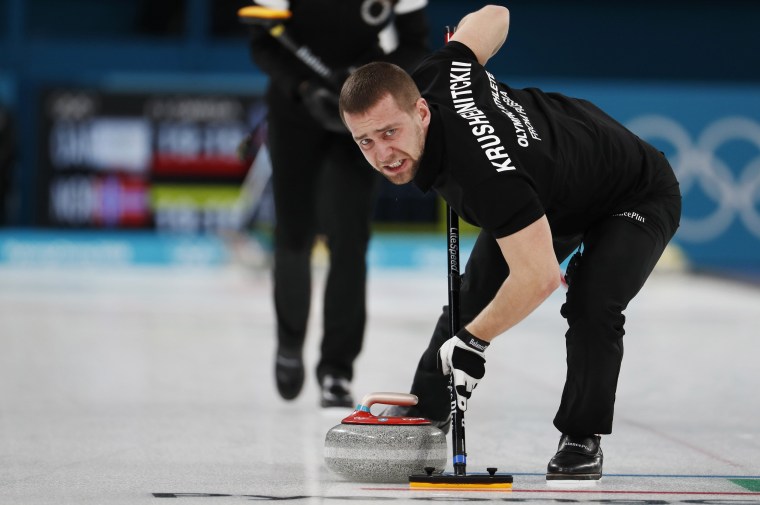 Athletes and fans say any possibility of performance-enhancing drugs must be fully investigated, but they're also wondering why a competitive curler would take a banned substance in a sport that doesn't project the same stamina as long track speed skating or a linebacker build as bobsled.
Curling requires the head curler, also known as a skip, to glide a granite stone of around 42 pounds down a lane of ice while teammates sweep furiously with a broom in front of it. The contest, which can last two hours or more, is part-chess, part-shuffle board, and all strategy.
Photos - Olympic Moments: Men's curling heats up and women's hockey battle for gold
"I believe 100 percent any sport is subject to this. There's so many different drugs out there," said Geoff Saalborn, a spectator from Puyallup, Washington, who was watching the men's curling competition at the Gangneung Curling Center with his son. "On the other hand, you think, 'Curling? Really?' You don't exactly have to have an Olympic body."
While curlers have previously tested positive for using banned substances in other competitions, those rare instances have not come under the glare of the Olympic spotlight when Russia is already facing questions about an alleged state-sponsored doping program.
Related: Russian fans spurn 'stupid' ban on athletes at Olympic Games
As punishment following positive doping at the 2014 Winter Games in Sochi, Russia, the International Olympic Committee required Russian athletes who wanted to compete in PyeongChang to undergo rigorous requirements to prove they have not used banned substances. And for the roughly 170 of them who were cleared, they aren't technically competing under the Russian flag, but as part of the neutral Olympic Athletes from Russia.
With less than a week left of the Olympics, the Russians — typically a winter sports powerhouse — have been stuck near the bottom of the medal standings, failing to win any golds. Krushelnitsky and Bryzgalova, however, have been a bright spot, giving the Russian athletes their first medal in curling mixed-doubles.
But the pair could be stripped of their medals if Krushelnitsky is found to have tested positive for meldonium, a Latvian-made heart medicine which increases blood flow and boosts stamina and has been banned since 2016. Some 170 cases have been discovered since the ban, The Associated Press reported, and most have involved athletes from Eastern European countries.
Krushelnitsky, 25, must undergo a second drug test after an initial routine urine sample was taken. He has not commented publicly after the Court of Arbitration for Sport confirmed its review, but Kremlin spokesman Dmitry Peskov told reporters on a conference call in Moscow that people must not rush to judgment.
"It's stupid," added Russian women's curling coach Sergei Belanov, according to Reuters. "But Alexander is not stupid, so I don't believe it."
Dmitry Svishchev, president of the Russian Curling Federation, suggested the athlete's food or drink may have been spiked with the banned substance.
Related: What is meldonium, the drug Sharapova admitted to taking?
Russian tennis star Maria Sharapova served a 15-month sanction for meldonium use after the 2016 Australian Open.
The drug, because it can aid an athlete's endurance, can have some benefits in curling.
"If you're strong and have endurance, you can sweep longer and harder," Hamilton said after competing in the men's team event Monday. "So you have more margin for error when shooting, so the better sweepers you have, the bigger window you have to miss."
"It stinks," he added. "I'm a little put out that someone would do it, but at the same time, I don't think it gave him that great an advantage."