GANGNEUNG, South Korea — Team Russia was most definitely in the building. Its official athletes were another story.
As their home country's pairs skaters took the ice Wednesday inside the Gangneung Ice Arena, Russian fans decorated in the colors of their flag packed the stands, whooping and whistling with approval.
The International Olympic Committee had banned Russian athletes from competing under their nation's delegation in PyeongChang as punishment for a state-sponsored doping scandal stemming from the 2014 Sochi Olympics in Russia. Instead, about 170 of them eligible here must wear nondescript white and gray uniforms and represent a team unceremoniously named the Olympic Athletes from Russia, or OAR.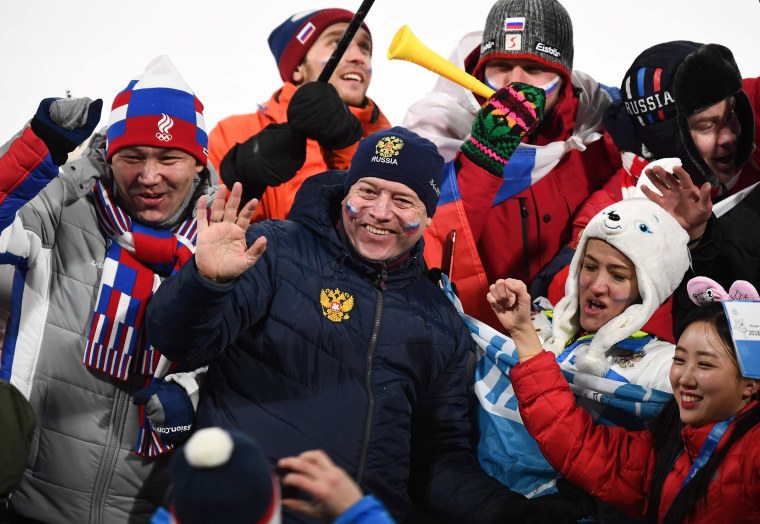 Russian spectators, thumbing their noses at the IOC, describe it as "humiliation," spurning the penalty by filling venues with colorful winter apparel in Russia's white, blue and red, chanting "Russia!" in unison and sporting pro-Russian slogans such as "Russia in My Heart" as their athletes enter arenas.
"More than stupid," Anatoly Yanochkin said of the ban on the Russian team after he watched OAR pairs skaters Evgenia Tarasova and Vladimir Morozov — the gold medal favorites — position themselves for a podium finish.
Should a Russian athlete capture gold at these games, they won't hear their national anthem play during the awards ceremony and the banner that is unfurled before them will be the flag of the Olympic rings.
Related: First athlete banned from Olympics for alleged doping
Yanochkin, a 71-year-old Muscovite, wore a cape of the Russian flag and tri-colored heart-shaped stickers under his eyes. He said his first Olympic Games was in Sochi, where the opening ceremony moved him. PyeongChang, he added, has been disappointing after realizing there would be no exception for Russian athletes who were cleared of doping by an independent panel to compete for Team Russia.
"Some Olympic athletes are absolutely guilty, but not these ones," he said. "Why make them pay?"
Russia's 11th-hour attempt to get another four dozen of its athletes and coaches to qualify for PyeongChang failed just before the games started. Officials with its sports program have denied any systemic doping.
Irina Dzidziguri, of Moscow, who has traveled to 14 Olympic Games as a pin memorabilia collector, said she has spoken with Russian athletes and chalked it up to politics — and jealousy.
"Russia is a very good team," she said outside of the ice arena. "You have countries like Germany, U.S.A., Canada, Great Britain, they know that [Russia] can win medals."
Russian athletes have been muzzled under orders from the IOC not to be outspoken about the ban, and among the Russian athletes' conditions is to refrain from posting national symbols and messages on social media.
At the Sports House outside the Olympic Village, a social hall created during the games for Russian athletes and fans to gather, Russian nesting dolls decorate the exterior and Soviet hockey stars are memorialized inside. Staff at the facility must ensure any visiting athletes aren't accidentally draped with the Russian logo.
Any discovered infringement could upset the IOC.
"In their heart, [Russian athletes] don't like it," Dzidziguri said.
Speed skater Semen Elistratov, who won a bronze medal on Saturday in the men's 1,500-meter short-track event, was reportedly vocal about his displeasure, telling reporters that he dedicates his win "to all guys that have been excluded from these games in such a hard and unfair way."
The IOC declined to say Wednesday whether it was investigating Elistratov, but noted a task force had been formed to monitor conduct by the entire OAR delegation.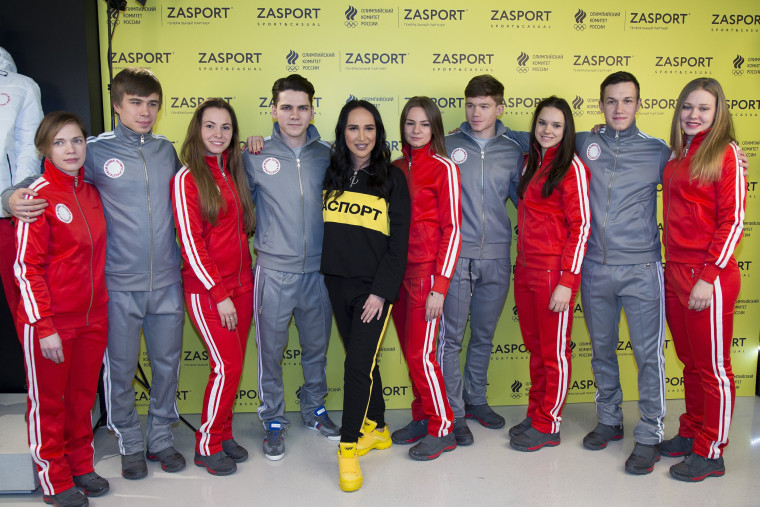 The Olympic's executive board will decide at the end of the games whether the Russian Olympic Committee's ban should be lifted completely — potentially allowing the Russian flag to officially return just in time for the closing ceremony.
But it's already too late to change public opinion in Russia, said Sergey Radchenko, a global fellow at the Woodrow Wilson International Center for Scholars in Washington. The narrative supported by Moscow continues to be that the ban was politically motivated by the West, which was in support of it because U.S. sanctions imposed last summer over interference in the 2016 election "didn't bring the Russians to their knees," he added.
Russians who want their athletes competing under the OAR moniker believe a strong showing would signify to the world something greater: "Russia, despite all adversity, despite 'unfair' scrutiny, despite the ban on some of its very best athletes, is still able to compete and outcompete," Radchenko said.
Russian athletes were stripped of more than a dozen medals because of the doping allegations after Sochi, although nine were later reinstated.
Pavel and Natasha Kuzlyakin, of Moscow, said they arrived to PyeongChang for a simple reason — that their 8-year-old son, Sergey, a figure skater, would be inspired to one day reach the Olympics. As his boy looked on, Pavel Kuzlyakin appreciated how everyone inside the ice arena was cheering, supporting teams from Russia, but also the United States, Canada and North Korea.
"Russia is in our heart, your country is in your heart," he said, "but we're not here for the politics. We're here to watch great athletes."