The 2018 Winter Olympics in PyeongChang is here and we're excited to see key athletes showcase their amazing talents for Team USA. From bobsled to hockey, these are some of the athletes who will be making #BLKHistory all month long.
Follow these athletes on their journey in the Olympic Winter Games as they compete for the gold for Team USA.
---
MAAME BINEY
Event: Short Track Speedskating
Handle: @BineyMaame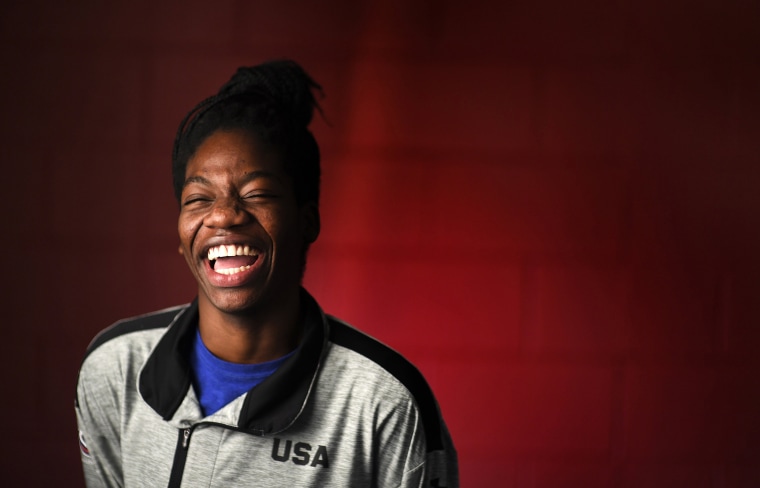 Biney made national headlines when she qualified in speedskating for her first Olympic team at the December 2017 track trials. The video of the 18-year-old high school senior in the final qualifying race went viral and was watched more than five million times on Facebook. Originally from Ghana, Biney is the first black woman to make the Olympic speedskating team and the second-ever African-born athlete to represent the U.S. in the Winter Olympics. Known for explosiveness off the starting line, Biney dominates the 500-meter races for short track skating. While training for the Olympics, the bubbly college senior studies online classes to graduate with her friends in the spring and apply to chemical engineering programs for college.
---
SHANI DAVIS
Event: Long Track Speed Skating
Handle: @ShaniDavis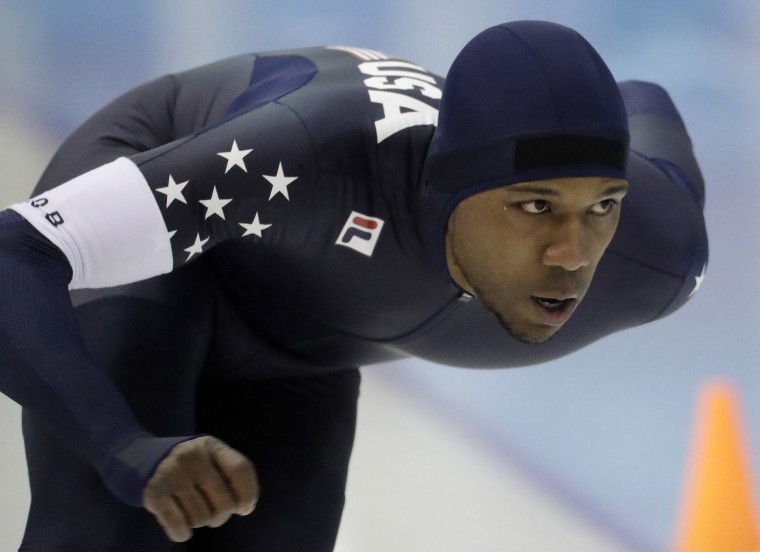 One of the most decorated athletes in long track speedskating, Shani Davis is a four-time Olympic medalist earning two golds. The 35-year old Chicago native even earned a phone call from a then-senator from his home state of Illinois, former U.S. President Barack Obama, after his historic win at the 2006 Torino Olympics. Davis, featured in the Smithsonian's National Museum of African American History, is recognized as a legendary sports icon among greats like Muhammad Ali and Jackie Robinson. This will his fifth Olympic games.
---
ERIN JACKSON
Event: Long Track Speedskating
Handle: @ErinJackson480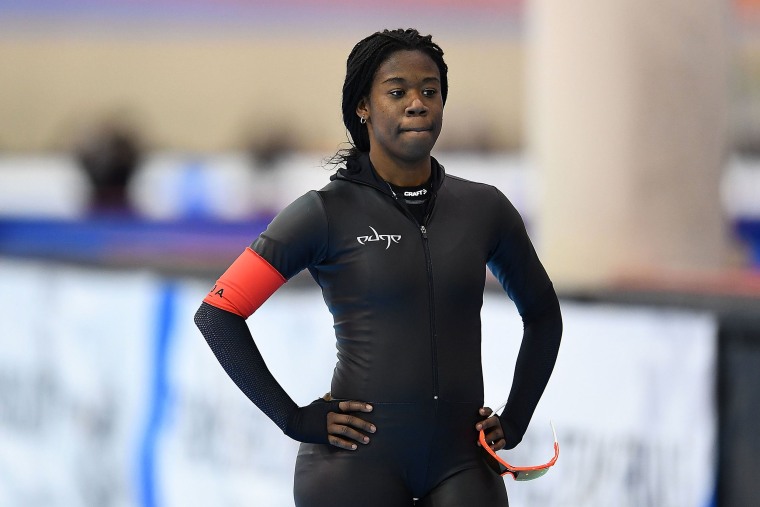 From amateur to Olympian, Erin Jackson made national headlines when she qualified for the 2018 Winter Olympics just four months after first picking up speedskating. Making history, she earned third place in the 500-meter race at the U.S. Olympic Speed Skating Trial, the first black woman to secure a spot on the long-track team. The 25-year-old central Florida native is a 10-time world-champion inline skater and is a former roller derby player competing with the New Jax City Rollers, switching to ice in February 2017. She also graduated cum laude with an undergraduate in materials science engineering from the University of Florida and hopes to return back to school to pursue her master's degree.
---
ELANA MEYERS TAYLOR
Event: Bobsled
Handle: @elanameyerstaylor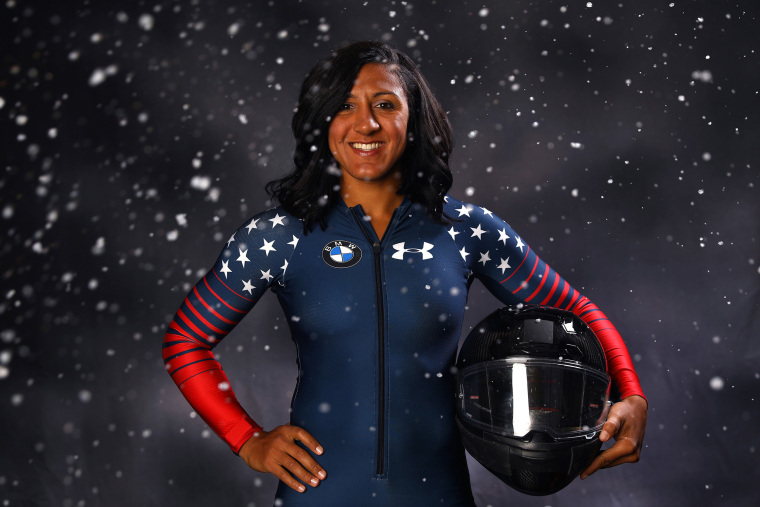 Daughter of record-setting NFL athlete, Eddie Meyers, Meyers Taylor inherited her father's discipline, athletic ability, and grit. She was offered college scholarships in four sports from a myriad of universities and ended up playing softball at George Washington University. Inspired by track athlete turned pusher Vonetta Flowers, the first African-American to win a gold medal at the Winter Olympics, she repurposed her athletic background and drive to become one of the most accomplished pilots in bobsled.
Beyond her incredible strength and velocity, Meyers Taylor is known for being the first American female bobsled driver in a world championship to earn a World title in 2015. She was also the first woman to break the gender barrier in four-man bobsled alongside Kallie Humphries in the 2014 World Cup competition.
In Sochi, Russia she regrets a mistake on her last run, losing the gold medal by a tenth of a second. She returns in her third Olympics with her husband, Olympic alternate for the U.S. Men's bobsled team, Nic Taylor, in the hopes of being worthy of redemption of the gold medal.
---
KEHRI JONES
Event: Bobsled
Handle: @misskehribaby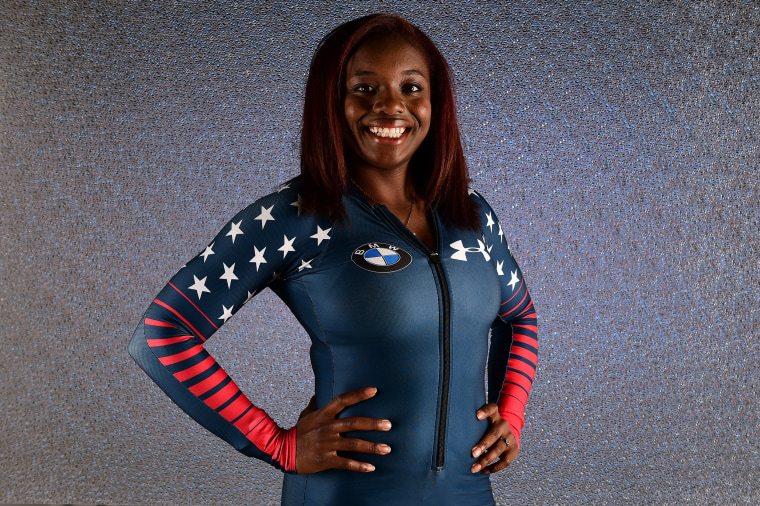 The 24-year-old former Baylor University track and field star athlete was personally recruited to join the U.S. Women's Team by star bobsled athlete, Elana Meyers Taylor. The 5-foot-1-inch sprinter broke the start record in her first World Cup appearance and never looked back. She later pushed Meyers Taylor to win the gold medal at the 2017 World Championships. Not only quick on the ice, Jones graduated from Ellison High School in Killeen, Texas at the age of 16, earned her undergraduate degree in education by age 20 and earned her master's degree in health and human performance by age 21. Like her father who served in the U.S. Army and was stationed for in South Korea, Jones is thrilled to represent the United States of America on one of the world's largest platforms.
---
AJA EVANS
Event: Bobsled
Handle: @ajalevans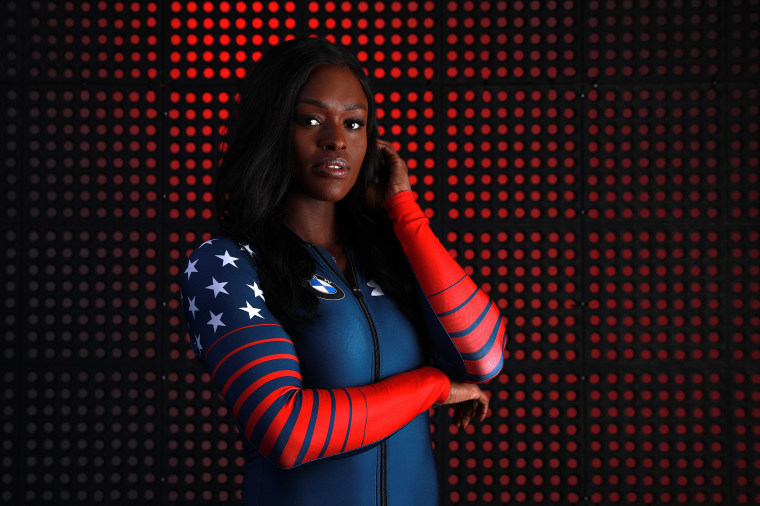 This is the Chicago Native's second Olympic Games. She took home a Bronze medal at the 2014 Winter Olympic Games. Before her bobsled career as a five-time college All-American track and field athlete as a shot putter and sprinter at the University of Illinois, Evans earned three Big Ten titles. She continued to train in track and field until an ACL injury ruined her chance to compete the Rio 2016 Olympics. Since she has concentrated her efforts solely on bobsledding. At the 2012 USA Bobsled National Push Championships, she set a start record. With the support of her brother Fred Evans, a former defensive tackle for the Minnesota Vikings, she trained with New York Jets running back Matt Forte. Coming from a long line of elite athletes, her family motivates her to excel. Her father, Fred Evans, is the first African-American swimmer to win a national collegiate title in swimming in 1975.
---
JORDAN GREENWAY
Event: Hockey
Birthday: 02/16/1997
Handle: @jgreenway12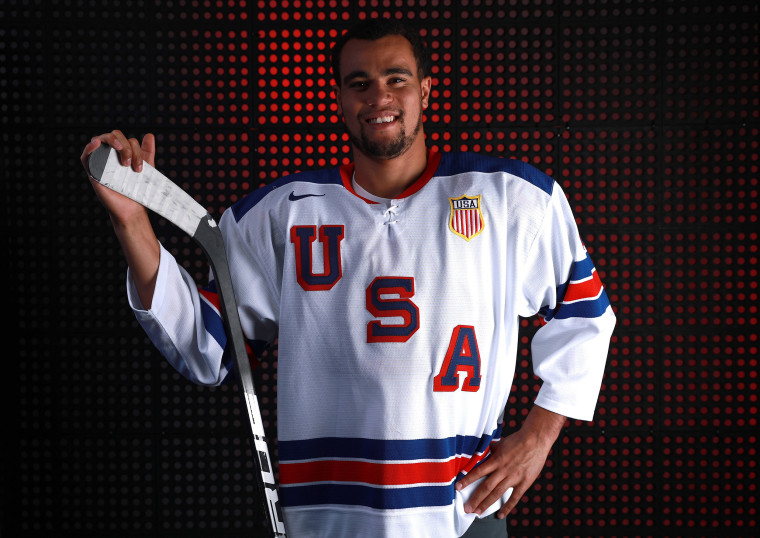 Greenway is the first African-American player to sit on the U.S. Olympic men's hockey roster. The 6-foot-6 inch, 230-pound forward helped Team USA win the gold at the World Junior Championships in 2017. The highly sought-after New York native was selected for the 2015 NHL draft by the Minnesota Wild, but the 20-year-old athlete (his 21st birthday is Feb. 16) decided to continue his collegiate career at Boston University.