At the 2014 Sochi Olympics, few thought Russian figure skater Adelina Sotnikova would win gold.
The reigning champion, Yuna Kim of South Korea, was the runaway favorite to repeat her triumph of four years earlier, and was leading after the short program.
But Sotnikova won after receiving the highest scores of her career — and skating off the ice and into the arms of a Russian judge. Her hug with the Russian, who was married to a leader of Russia's skating federation and was one of two Russians on the panel that gave her gold, fueled a worldwide outcry and demands for an investigation.
"Our jaws dropped," recalled U.S. skater Simon Shnapir, who was watching at the rink in Sochi with other competitors, "but at the same time, none of us are strangers to how skating works. … You either deal with that or you don't."
Watch Stephanie Gosk on Nightly News tonight for more
In the end, the International Skating Union, the sport's governing body, rejected complaints from South Korea's skating organization and Sotnikova kept her gold. And as the 2018 Olympics get underway in South Korea this week, some of those closest to the sport say they're worried about a fresh scandal, because they believe the system is biased and not enough has been done to fix it.
"Imagine an audience watching football, and a team getting a touchdown, but not getting points for that," said Chloe Katz, a former competitive skater who medaled in U.S. and international competitions. "I think that's the equivalent of what's happening right now in figure skating."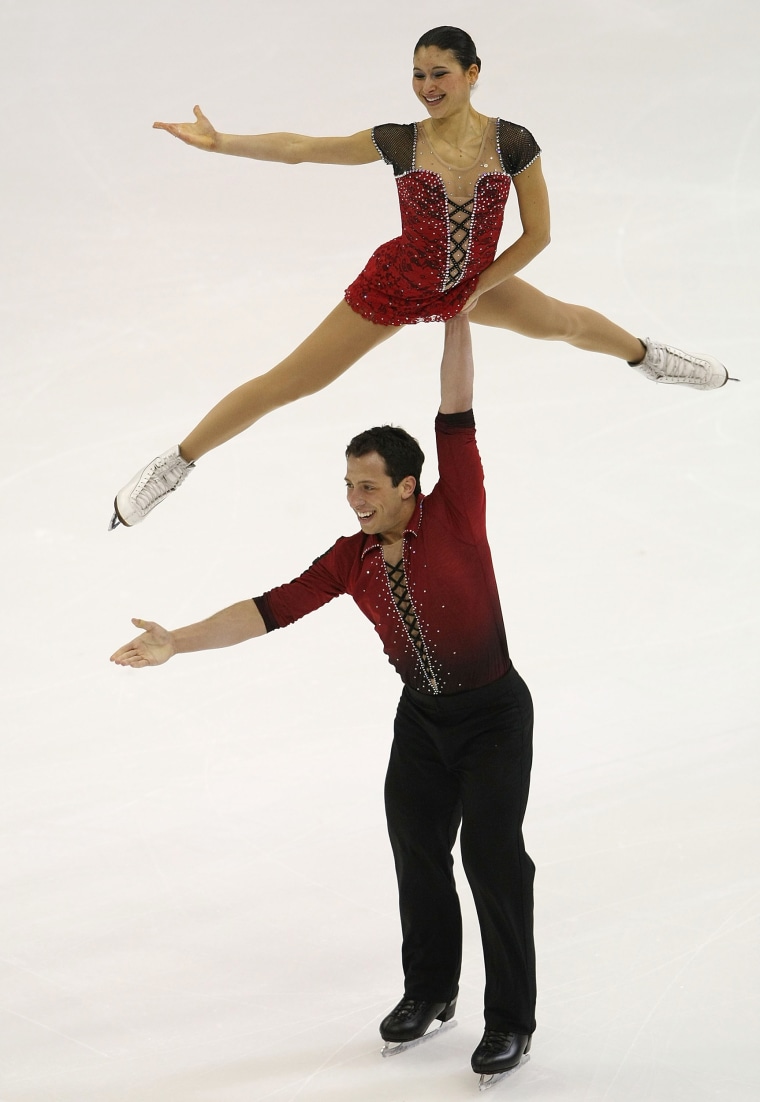 One of the most popular sports at the winter games, figure skating has long been plagued with controversy. The underlying cause is its unique judging system, say critics. Skating presents avenues for biased scoring that don't exist in other Olympic sports.
Perhaps most important, the national skating federations, not the international body, pick which judges will be sent to a competition — and judges are allowed to score athletes from their own country.
"This, in my opinion, is a clear conflict of interest," said Sonia Bianchetti of Italy, a skating judge at seven Olympics, "but the rules do not forbid it."
In addition, judges who have been sanctioned for cheating can regain their eligibility to judge. Those who serve in leadership positions at their national skating associations are also still eligible to judge.
NBC News found that the pool of 164 judges eligible for PyeongChang's figure-skating events, which start Friday, Feb. 9 (Feb. 8 in U.S. time zones), includes 33 judges — roughly a fifth of the total — who hold or have held leadership positions in their national skating federations.
The PyeongChang 2018 website includes what appears to be an official list of the 48 judges chosen for the Winter Games. Of those 48 names, 11 are current or former officials of their national skating federations — again, about a fifth of the total. The list also includes an Italian judge who was sanctioned for peeking at another judge's scores in 2010 and a Korean judge who told a newspaper prior to Sochi that she would make sure skaters from her country, like Yun Kim, were "not disadvantaged."
All of them could end up judging skaters from their own countries, and there is statistical evidence that they could then inflate their compatriots' scores.
Bias: What the numbers show
Dartmouth economics professor Eric Zitzewitz has been reviewing scores from international skating competitions for 15 years and says he has consistently found measurable bias. The data in studies that Zitzewitz published in 2006 and 2014 showed that judges from all countries, including the U.S., were more likely to favor their own.
Under the current "Code of Points" scoring system, in which a top contender at an elite event like the Olympics can have a cumulative score as high as 225, Zitzewitz found that in 2016 and 2017 judges added an average of more than three points to the cumulative scores of their compatriots.
So are the judges from any particular country especially biased? "I was finding that the countries that people thought were more corrupt in other dimensions also seem to have more biased figure-skating judging," Zitzewitz said. "I'm going to sound a little partisan as an American, but if you sort of start from America and go east — the nationalistic bias seems to go up."
Ukraine, Russia and South Korea topped Zitzewitz's list of countries with the worst offenders in competitions in 2016 and 2017 — but Canada and the U.S. also made the top 10. Zitzewitz cautions that the rankings are based on a limited amount of data and should be treated as approximate.
Zitzewitz believes that the national federations are feeding bias, because they pick the judges. "They certainly create incentives for the judges to be a little bit more biased," he said.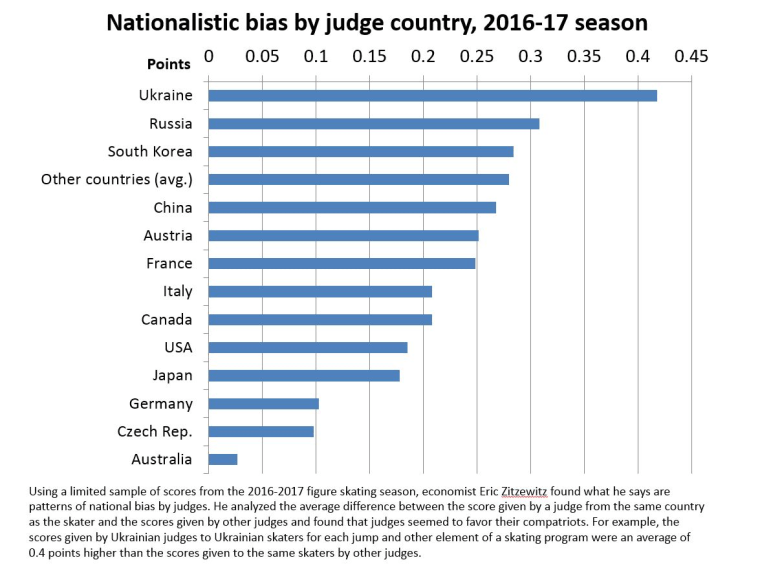 Zitzewitz started studying figure skating after a scandal at the 2002 Salt Lake City Olympics rocked the sport. The Russian mafia was accused of fixing a gold medal victory for Russian pairs skaters, beating out a Canadian team despite the Canadians' superior performance. A French judge and the head of the French skating association were suspended for three years for their alleged roles in the scheme. The Canadians were eventually awarded a gold medal.
The International Skating Union changed the scoring system after the Salt Lake scandal, making it more complicated and supposedly harder to rig.
One of the rule changes forced judges to report their scores anonymously. The international governing body thought the change would prevent nationalistic voting because federations wouldn't be able to see how their judges voted and judges would thus feel less pressure to please.
According to Zitzewitz, however, data from 2003 to 2009 shows that there was no change to the level of nationalistic bias in scoring.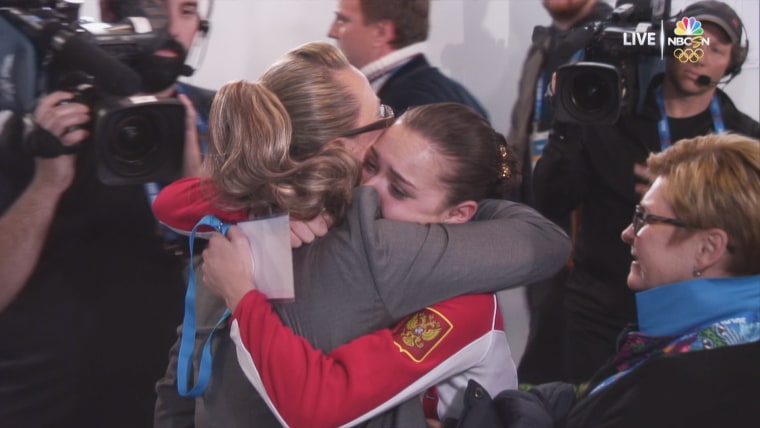 Chloe Katz, who skated in competitions before and after the rule changes, doesn't think they helped. "I think there are new forms of bias that are manifesting themselves in the system," she said.
When asked to comment on Zitzewitz's findings, the International Skating Union (ISU) said in a statement that it has an Officials Assessment Commission whose "role is to evaluate anomalies in the judges' scores and decisions taken by the technical panel."
A year and a half ago, the ISU made another set of rule changes, including a reversal of its 2002 decision on anonymity. Viewers of the PyeongChang Olympics will be able to learn which judges gave which marks.
"I think that's likely to make the judges more accountable," Zitzewitz said.
"It's going to allow [commentators] to talk about the scores that came from a particular judge for a particular routine," he said. "If some of the judges are outliers, it'll allow them to talk about that judge and why they gave those scores. And I think that'll change the calculus for a judge who's thinking about being biased or thinking about doing a deal with another country."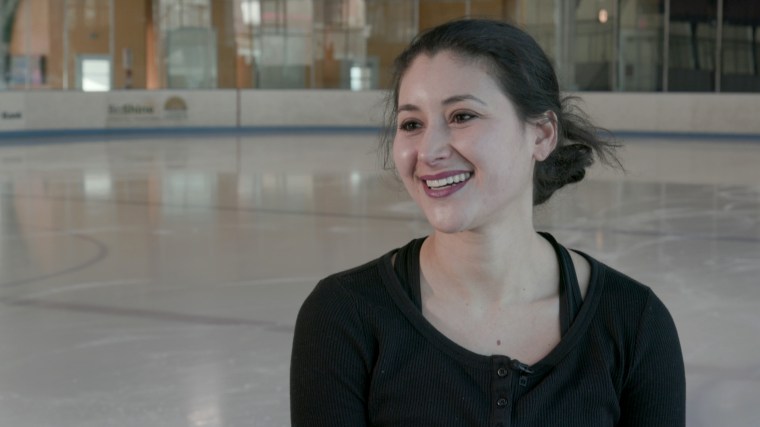 He still thinks, however, that "absolutely you will see judges from the same country give slightly higher marks to competitors for their country."
In its statement, the ISU told NBC News that it has a "robust" procedure for monitoring judges, including penalties for over-marking skaters. "The cancellation of anonymity makes it possible to trace not only the quality of judging," the union said, "but also any bias. Judges who make mistakes and/or are over marking skaters receive a warning and can be penalized by the ISU."
The union said it was a "priority to do its utmost to guarantee a fair result" during the PyeongChang Games.
The ISU responded to questions about national skating federation officials serving as judges and judges scoring skaters from their home countries by referring NBC to the rules in the ISU constitution.
Asked specifically about Sotnikova's scores in Sochi, the ISU referred NBC to its official dismissal of complaints about the judge whom Sotnikova embraced.
The judge herself told the ISU in 2014 that she wasn't the first or the only person Sotnikova hugged after winning: "She was very excited and she was hugging everybody around whom she knew."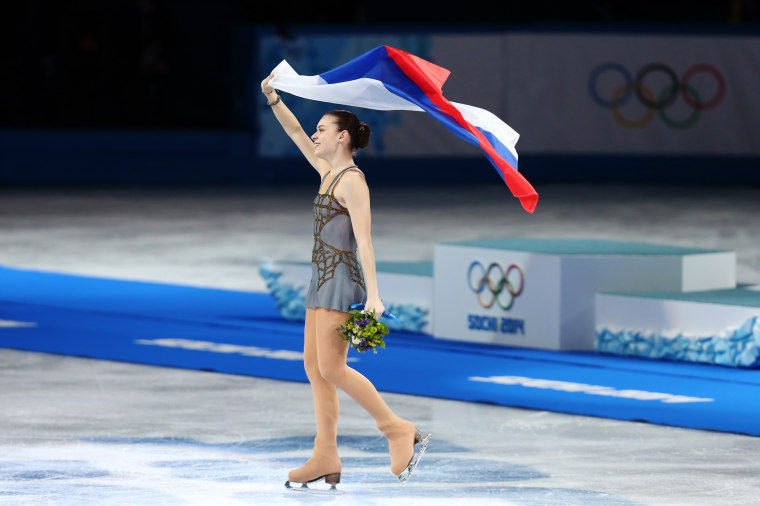 A spokesperson for the governing body for U.S. figure skaters, U.S. Figure Skating, told NBC News that the organization's president, Sam Auxier, had recused himself from judging in PyeongChang.
"ISU rules allow federation leadership to judge events," said the spokesperson, Barbara Reichert. "However, to avoid any conflict of interest, Sam Auxier voluntarily removed himself from consideration to judge senior ISU Championship events, the 2018 Olympic Winter Games and the U.S. Championships during his four years as U.S. Figure Skating president."
Auxier, who has been president since 2014, has judged lower profile events — and U.S. skaters — during his presidency. He was a judge at the Sochi Olympics in 2014 while a vice president of the U.S. federation.
Looking beyond PyeongChang
What else can be done to improve the scoring of figure skating? Among the fixes suggested by observers:
Ban judges from scoring skaters from their own countries.
Ban officials from national skating federations from serving as judges.
Have the International Skating Union choose judges based on merit, instead of letting individual countries decide who to send to the Olympics.
Ban sanctioned judges from ever returning to the sport. Currently a judge who's been sanctioned for cheating can rejoin the pool of Olympic-eligible judges within a few years.
Professionalize judging. Most skating judges are unpaid volunteers.
The ISU did not respond to a request for comment on the proposed changes.
"We work our entire lives for this," Katz, the former American competitor, said. "You give up so much, and you would hope that the judges are fair."
Ukrainian, South Korean and Russian skating federations did not respond to requests for comment, nor did the sanctioned Italian and Russian judges; the South Korean judge who said she would make sure her country's skaters were not disadvantaged; or the Russian judge hugged by Sotnikova.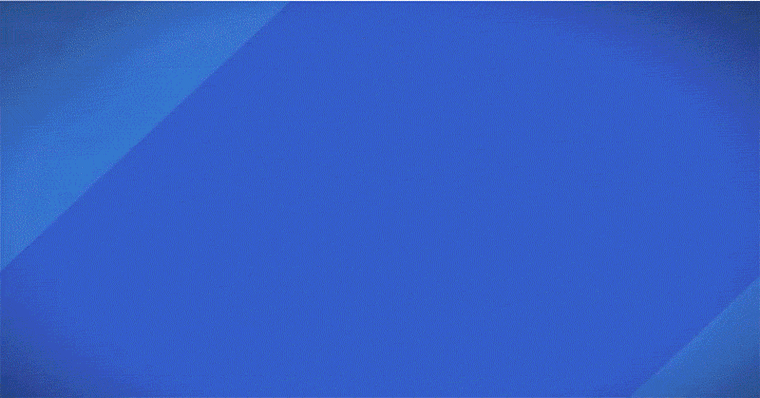 Canada's national skating federation, Skate Canada, said it "fully respects and supports the ISU regulations regarding the training, appointment, and eligibility of officials in all disciplines. … All officials who make it to this level are highly trained and scrutinized. Any questions related to eligibility to officiate at the Olympic Games should be directed to the ISU."
The Japan Skating Federation said that its director, Yoshiko Kobayashi, is participating only in minimal judging "to maintain her required ISU judge position, which is once every three years." She is not judging championships "to avoid the conflict of interest and to secure fairness to the skaters and to the sport."