North Korean leader Kim Jong Un's younger sister, Kim Yo Jong, apparently wears a lot of hats inside the secretive regime — propaganda guru, communications aide, administrative gatekeeper, personal confidant.
"She's a mixture of [White House press secretary] Sarah Huckabee Sanders, a chief of staff, Ivanka Trump, and whoever writes Trump's speeches these days," said Michael Madden, an analyst who tracks appearances by North Korean officials.
Kim Yo Jong will take on another key role on Friday when she attends the PyeongChang Winter Olympics as part of a 22-member government delegation. She plans to dine with South Korean President Moon Jae-in and attend the opening ceremony of the games.
Kim Yo Jong's trip, a rare visit to the South by a member of the North's ruling family, is a measure of her political clout, according to analysts. It caps off her rise from little-seen family wallflower to quietly influential politico who helps control the public image of the Kim dynasty.
"It's been very interesting to watch her ascend to prominence over the last few years," said Jean H. Lee, a former Associated Press bureau chief in Pyongyang. "There's not a lot of people Kim Jong Un can trust. But she's somebody he wants to keep close."
Kim Yo Jong, who is believed to be 29 or 30, is widely thought to be a top propaganda director for the ruling Worker's Party, according to Lee. In a totalitarian nation where information is tightly managed and closely guarded, that is a crucial job.
Photos: The tangled history of Kim Jong Un's family and North Korea
"She has a tremendous amount of power," said Madden, who runs the North Korea Leadership Watch website. "She runs a lot of the state media and culture, approves copy for official statements … manages parts of security arrangements, transportation, logistics."
If you have read an official North Korean government statement in the last year, Madden added, there is a good chance Kim Yo Jong edited or signed off on it. (That includes the bellicose statement in which Kim Jong Un blasted President Donald Trump as a "dotard," according to Madden.)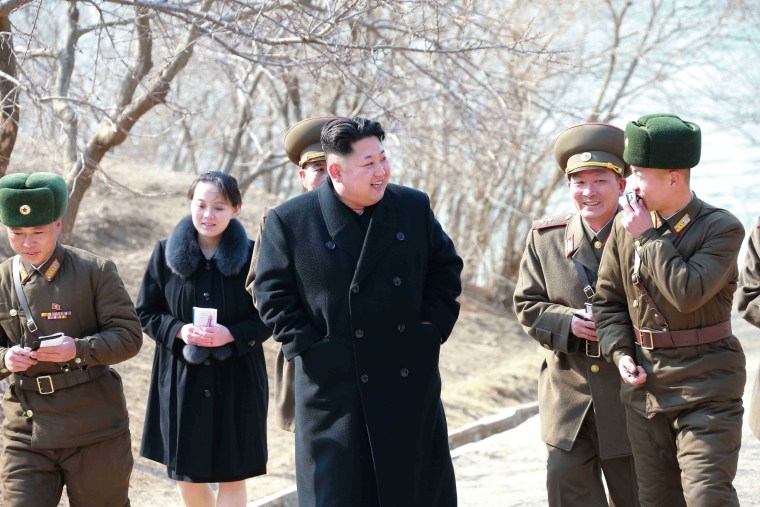 She is frequently seen alongside her older brother at public events, sometimes "dancing or prancing in the background," said Lee, a global fellow with the Woodrow Wilson International Center for Scholars. In contrast with the rigidity and stoicism of other North Korean elites, she "seems to have a playful personality," she added.
She also enjoys an unusually warm relationship with Kim Jong Un, a reclusive and unpredictable figure who famously ordered the execution of his uncle in 2013.
Kim Jong Un has a brother, Kim Jong Chol, whose last public appearance was at an Eric Clapton concert in Singapore in 2011 — the same year their father, Kim Jong Il, died. Kim Yo Jong, who spent part of her youth at school in Switzerland, made one of her first public appearances at her father's funeral.
Kim Yo Jong's stay in PyeongChang could include chance encounters with Vice President Mike Pence, who will attend the opening ceremonies, and Ivanka Trump, who will appear at the closing ceremonies.
Pence, who is slated to meet separately with Moon, has reportedly pushed South Korea to get tougher on its neighbor and warned against North Korean "propaganda" efforts at the Olympics. Moon, for his part, is reportedly keen to allay tensions over the North's repeated nuclear and missile tests.