As soccer's World Cup draws to a close in Brazil, Russia is about to spend billions on hosting the next tournament - expenditure that economists say could give Vladimir Putin an economic headache and leave his country with numerous taxpayer-funded "white elephant" stadiums.
Putin reportedly plans to spend $20 billion on Russia's hosting of the 2018 competition. His ambitious plan will see stadiums and infrastructure built over an area stretching 1,500 miles from the Baltic Sea in the west to the Ural Mountains that form the gateway to Asia.
The event is expected to follow the economic blueprint of this year's Sochi Winter Games - the most expensive Olympics in history with estimated overall price tag of $51 billion.
Professor Andrew Zimbalist, a sports economist at Massachusetts-based Smith College, is one of the leading experts in the economics of the World Cup and Olympic Games. He is unambiguous when issuing a report card for Sochi and predicting what that might mean for Russia's World Cup.
"Sochi was an economic disaster for Russia," said Zimbalist, author of books including "Circus Maximus: The Economics of Hosting the Olympics and World Cup," which is due to be published later this year.
Landmark sporting events are rarely good value for money for the taxpayer, he argues. Infrastructure improvements, such as glamorous subway systems connecting venues and hotels, often benefit short-term visitors rather than the long-term needs of residents. Morethan 15 million Russians live under the poverty line, according to World Bank figures.
While success stories can be found in the Olympics of Los Angeles in 1984 and Barcelona in 1992 where spending was smart and tight, Zimbalist said Sochi was one of the most egregious examples of waste.
"They've got a lot of white elephants on their hands in Sochi that they don't know what to do with," he said. "All the hotel firms there are currently trying to get the state to buy them out. It's not the right climate, and wealthy Russians would rather go to Davos [in Switzerland] or somewhere else in the Alps."
"Many Russians feel the country needs these big events to regain its prestige"
Governments often try to justify the big public-money spends that come with major tournaments by saying that the events get dormant projects off the backburner. But according to Stefan Szymanski, a professor of sports management at the University of Michigan, these claims are almost impossible to prove. "In fact, I am very skeptical," he said.
This does not bode well for Russia's 11 World Cup host cities, each of which will have at least one stadium built to the high-level requirements of FIFA, soccer's world governing body.
Not only do these stadiums cost a lot of money – usually between $200 million and $800 million – but critics question how much they'll be used after the tournament ends. While modern venues may be warranted in soccer-crazy Moscow and St. Petersburg, the justification for the planned expansion of the stadium in the eastern city of Yekaterinburg is less obvious.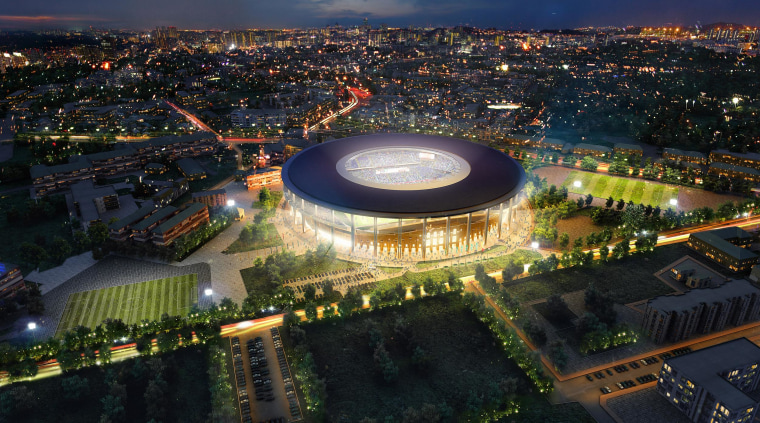 To comply with FIFA regulations, the city is increasing its 27,000-capacity stadium to more than 43,000 seats. For fans who venture to the city - which lies as far east as Pakistan and as far north as Latvia - these facilities will no doubt be welcome for one month in 2018. But with an average attendance of 13,188 for local soccer team Ural Yekaterinburg last season, there might be more than a few empty seats at future games.
Similar criticism was leveled at FIFA and the organizers of Brazil 2014 after the construction of projects such as the Arena da Amazônia, a stadium in the Brazilian city of Manaus. This over-budget, $220 million venue in the middle of the Amazon jungle hosted just four World Cup games – and now the city is left with a 41,000-seat stadium despite having no established soccer team.
However, research suggests that many Russians may not care about what it costs to have a global sporting spectacle on their own doorstep.
Szymanski has conducted research at the London School of Economics, measuring the happiness index of cities before and after they have hosted major events. "There is undoubtedly a spike in the feel-good factor during these events and the World Cup is the jackpot," he said. "Although it is quite ephemeral and does not last long, Russians will be delighted to have the tournament."
Putin certainly tapped into the emotive idea of Russia's people rising to the challenge when he spoke about his hometown of Leningrad being bombed in World War II after the country's successful bid was announced. "There was no electricity, no heat and no food during winter, but there was football," he recalled.
Orysia Lutsevych, a Russia expert at the London think tank Chatham House, agrees. "Many Russians feel the country needs these big events to regain its prestige," she said. "Of course you can find some expert who picks holes in these things, but this does not reflect the views of most people."
Following his annexation of Crimea in March, Putin's popularity has scarcely been higher. And eyeing presidential reelection in 2018 he may see the World Cup as an opportunity to increase his reputation as rebuilder of the Russian Empire and warrior against perceived historical injustices.
"After the fall of the Soviet Union, Russia is trying to reinstate itself as a true global leader and this makes the case for hosting these big events," Lutsevych said. "The country is quite outward looking in terms of caring what other countries think about it, despite what the West might think."
Close behind the Russian leader in terms of the tournament's main beneficiaries are likely to be his private-sector allies in construction, insurance, and investment banking industry who will oversee the country's transformation into a World Cup-ready state.
Corporations have had close and often shady ties to Russian politics since the carve-up of the Soviet Union. According to a report by Transparency International, firms with strong political connections make up a "staggering" 80 percent of Russia's publicly traded companies, compared to 40 percent in the United Kingdom.
Out of 177 countries globally, Transparency International ranks Russia at a dire 127th in terms of positive perceptions of corruption - far worse than the U.S. at 19th and putting it in the same boat as countries like Pakistan and Lebanon.
And there will be ample opportunity to make money over the next four years in Russia.
"The World Cup is basically the product of private-sector interests that have a great deal of political power, and it will be the same story in Russia," Zimbalist said.
Others, like veteran investigative reporter Andrew Jennings, say Russia's disregard for transparency made it the perfect setting to host the tournament from FIFA's perspective.
The controversial governing body is currently under investigation for bribery allegations relating to its widely-maligned decision to award the 2022 World Cup to Qatar, a country which the International Trade Union Confederation has called a "slave state." Qatar's soccer culture is almost non-existent and summer temperatures hit 110 degrees. Despite calling itself a non-profit organization, FIFA currently has more than $1.4 billion in the bank and has been criticized for its demands that any country hosting a World Cup give tax exemption to itself and its sponsors.
"When you look at what FIFA is demanding for this tournament it is clear why they did not give it to somewhere in the European Union or the United States," Jennings said. "Legally, with the tax breaks and suspension of labor laws they are calling for it just would not happen - there is just too much scrutiny in America."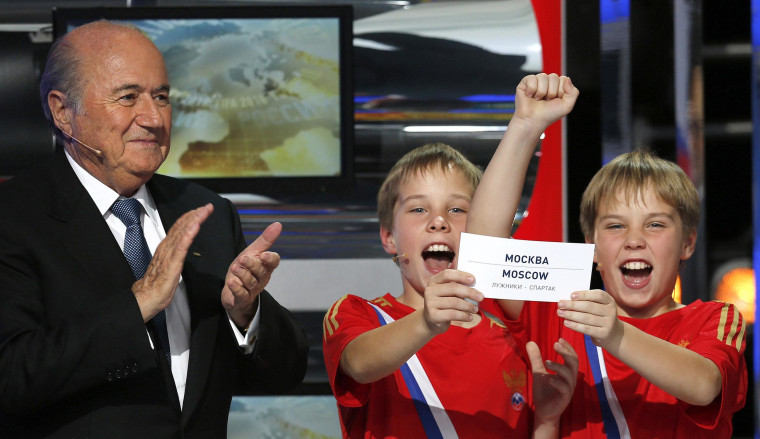 Others, like Szymanski, say corruption is no more prevalent in football than in other industries where state ties to construction firms are well known. But he does describe FIFA and the International Olympic Committee [IOC] as "the villains of the piece," because they pit developing nations against each other, encouraging them to spend above their means and offer tax exemptions in their desperation to host tournaments.
"You do not want to get into a situation where you say only rich countries can host these tournaments, but the correct way to it is to follow the example of Los Angeles and not go overboard on spending," he said.
If Sochi was anything to go by, such restraint looks unlikely in Russia.
"World Cups are the biggest events in the world in terms of what people want to think about, but in GDP and nuts and bolts they are not big at all," Szymanski said. "Although Russia's economy is stagnating, the World Cup is a drop in the bucket compared to something like its oil and gas industry."