BANGKOK -- It has been a long (and sleepless) few days in soccer-mad Thailand, where Thais have been handed an unexpected gift by their new military rulers, who are keen to show a more friendly face: free World Cup soccer.
The rights to broadcast the tournament had been bought by a private company that was demanding $50 for a decoder from those wanting to watch all of the games. But the generals who took power in a coup last month intervened at the last moment and prevailed upon the firm to make the matches available to public television free of charge.
Sign up for breaking news alerts from NBC News
The private company will be compensated, they say, but this is seen by the junta as a small price to pay in its campaign to "return happiness to the people."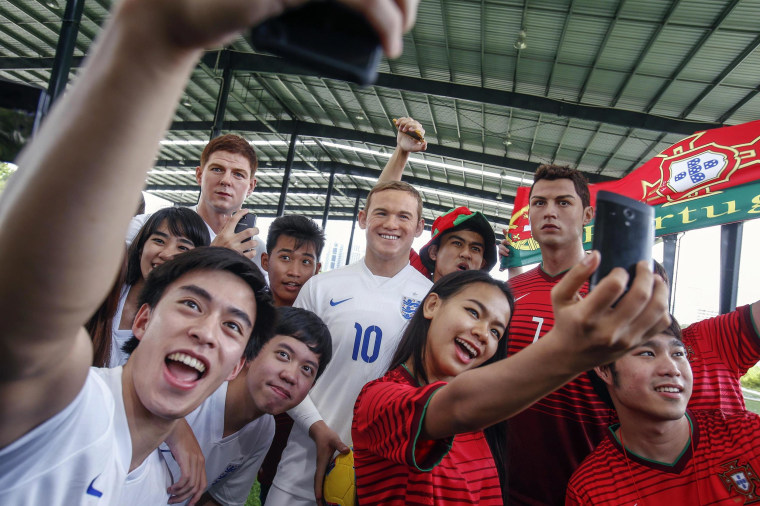 The "Happiness Campaign" has also included free haircuts, concerts, and dancing groups of young women clad in khaki mini-skirts. On Sunday, a group of entertainers impersonated the country's former and feuding political leaders outside one of Bangkok's biggest shopping malls, ending their show with them all holding hands in a show of reconciliation and unity.
And 160 cinemas across the country are offering free screenings of the "Legend of King Naresuan," a nationalist epic about a 16th-century Thai king, revered for having freed Siam (as Thailand was then called) from Burmese rule. Extra screenings have been provided for government officials.
Two military leaders star in the film, which one said "showed our Thai-ness" and would remind the Thai people of how their ancestors protected the nation.
When reality raises its less-than-happy face, it is simply denied. Take the recent brief blocking of Facebook. The Junta blamed this on a gateway overload, even though the (foreign) owner of the Thailand's second-largest mobile phone operator and its government regulator both said they'd been ordered to do so by the generals.
The junta has stuck by its version of the truth, but in a sinister turn has sacked the regulator and launched an investigation into foreign shareholdings of the operator, which came up with a groveling apology for embarrassing the generals (but didn't withdraw its original claim of having been ordered to block Facebook, which is used by 28 million Thais, whose happiness was not enhanced by its loss).
When the junta lifted a countrywide curfew Friday night, this happy event was marred by a grenade explosion at a busy Bangkok junction. Nobody was hurt, but cars were damaged.
Unable to deny there had been an explosion, the deputy police commissioner came up with some priceless verbal gymnastics. He told the Nation newspaper that the explosion might not be related to politics since the Russian-made grenade may simply have been discarded at the roadside in a act of carelessness and then accidentally run over by a car – as if this was perfectly natural for a Friday night in Bangkok.
On the surface at least, Bangkok appears to be returning to normal. You'd be hard-pressed to see any soldiers on the streets. Most of the hundreds of politicians, academics and activists detained after the army seized power have now been released on promise of good behavior.
It is easy to be a little cynical about the double-speak and charm offensive, which at times seem less Orwell or Kafka and more Monty Python or Woody Allen. But it does point to where the generals would like to take their coup, and it is a worrying destination, unlikely to have a happy ending.
One military official described the "Happiness Campaign" – and its stress on unity, patriotism, and loyalty to the king – as no less than an effort to rebuild the country's foundations.
It appears that coup leader General Prayuth Chan-ocha would like to return Thailand to an idealized era of hierarchy and paternalism, where everybody knew their place and were happy with their lot, under the benevolent direction of the royalist elite.
In this respect, the generals are also attempting to resuscitate a policy called "sufficiency economy." Ill-defined and dreamed up a few years ago by royal courtiers, it's been parodied as "you farmers grow sufficient rice, and we the elite will drive sufficient Mercedes."
In reality, Thailand has changed enormously over the past decade. A series of populist governments run by former Prime Minister Thaksin Shinawatra, his cronies and family – most of them removed by coups or pliant courts – have empowered the country's poorer and rural north and north east in a way not seen before.
Whatever one might think of Thaksin himself – and most accusations of corruption and misrule have substance – he changed Thailand, raising the political awareness of a rural poor that had been marginalized, but now demand a bigger say and a bigger share of the cake.
That genie cannot be stuffed back in the bottle.
A refusal by Bangkok's traditional urban and royalist elites to accept that shift has been at the heart of a decade of political struggle in Thailand.
When Miss Universe Thailand renounced her title last week over social media remarks that supporters of ousted prime minister Yinluck Shinawatra should be "executed," there was shock at her language, but no great surprise at the broader sentiment. This sort of middle-class disdain towards the north is not uncommon.
General Prayuth says the Thai politics needs "reform" before power can be handed back to the people. Yet his idea of reform appears to be to further to rig the system against the return of the Thaksinites, who would likely win any free and fair election. That suspicion has been reinforced by his appointment as junta advisers of retired military figures -- staunch royalists and anti-Thaksin -- widely seen as being the power behind the pre-coup anti-government protests.
The "Happiness Campaign" is just the first step, but the generals may be dangerously deluding themselves if they believe the clock can be simply turned back, effectively stripping the north and north east of their franchise, to an idealized age of quiet – and happy - compliance.
That seems a certain recipe for a far bigger explosion in the future.