After seven years of planning and 31 days of competition, the most expensive soccer tournament in history — likely to exceed $14 billion when all the bills come in — is over in Brazil. For much of the infrastructure built up across the country, the question is: What now?
For a country with an estimated shortage of 5.2 million homes, could the massive new stadiums built around the country be transformed into housing? For Axel de Stampa and Sylvain Macaux, architects based in France and Chile, the idea is worth considering.
The collaborators, part of the whimsical 1Week1Project, have a mission to solve global problems using unique (and occasionally far-fetched) architecture. They're the same guys who designed a hypothetical halo-shaped retirement home for Pope Benedict XVI back in 2013.
Their newest idea imagines building tiny, affordable modular housing units inside World Cup stadiums, leaving the playing fields for locals to enjoy and for events in the future. Like the duo's other projects, the design is purely conceptual, an intended thought experiment that will likely never get built.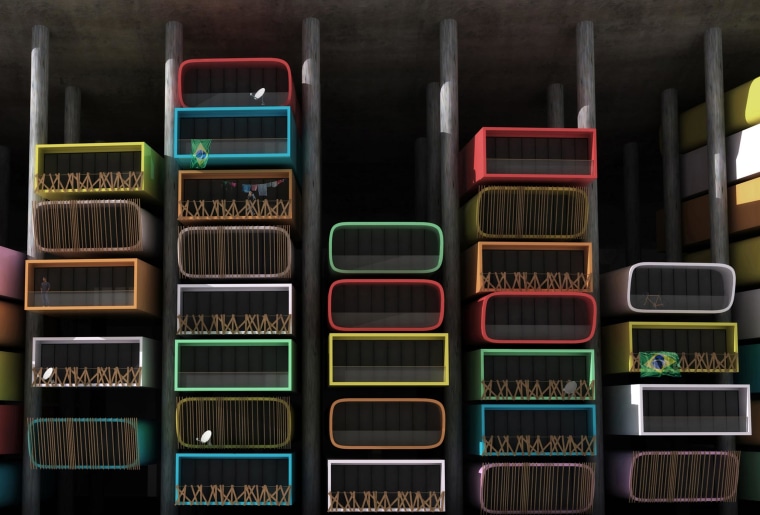 But in Brazil, many of the stadiums are at risk of becoming white elephants. Of the 12 stadiums that Brazilian cities built or renovated for the World Cup, four have dismal futures. Arena de Amazonia is in the rainforest town of Manaus, Arena das Dunas in Natal and Arena Pantanal in Cuiaba have no top-level soccer teams, and Estádio Nacional de Brasília Mané Garrincha in Brasilia will end up costing $900 million, according to auditors, making it the most expensive venue ever built after Wembley Stadium in London.
"The stadiums are so absurdly big, and the housing issues in Brazil are so real," Macaux told NBC News. "This is just a concept and an example of what people could do with these stadiums after the World Cup. It's not the only answer, but we think it has real potential."
Macaux and de Stampa have calculated that the exterior column structure on the stadium in Brasilia (pictured at the top of the page) includes 7 to 8 meters (appx. 23-26 feet) between each column, enough to insert a modular housing structure that could host a family of two or three.
Just using that exterior structure, they're imagining 350 modular units to house more than 1,000 people, varying in size from 50 to 150 square meters (164-493 quare feet). By taking up some seats inside the stadiums, that number could double with each arena.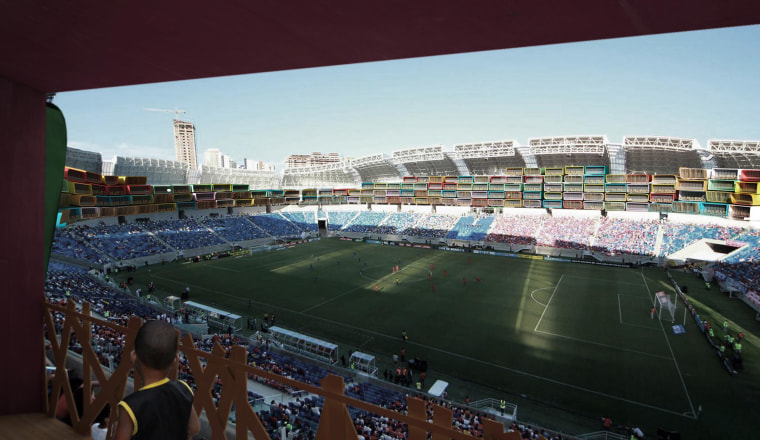 Jose Maria Marin, the president of the Brazilian Football Confederation, has said several times that finding uses after the World Cup would "all depend on the creativity, the imagination of the owners and the operators of these stadiums."
That has not been in the case in other recent host cities of the World Cup and the Olympics, where stadiums now sit like hulking, empty skeletons.
"We've read about all of the stadiums that are not being used, and we think this is a concept that could clearly be applied around the world," de Stampa says.
As an example, the $600 million crown jewel of the 2010 World Cup in Cape Town, South Africa, has hosted just seven soccer matches in four years. The symbol of Beijing's 2008 Olympics, the Bird's Nest's stadium, sits as what Rio de Janeiro Mayor Eduardo Paes recently called "a mausoleum to honor wasted public money."
So while the 1Week1Project team's concept in Brazil may be a bit far-fetched and currently is not being considered by local officials, perhaps it's an idea in sustainability for these stadiums that really is worth a thought.