We'll get 'em next time.
Sadness mixed with pride engulfed the nation as the United States men's soccer team was defeated 2-1 in the World Cup Round of 16 by Belgium on Tuesday in Salvador, Brazil — moving the "Red Devils" into the World Cup Quarter-Finals and sending the Yanks home.
Sign up for breaking news alerts from NBC News
After a closely contested 90 minutes that ended level at 0-0, the dream run for America in the 2014 World Cup ended on the foot of winger Kevin De Bruyne in the opening minutes of overtime.
Belgium's Romelu Lukaku then scored again in the 104th minute of overtime, putting a dagger into the collective heart of the country.
"It was a disappointment, but ... we were here, we made it — we made it through the group of death, we proved ourselves, we showed our worth," said Tyler Reavis, who watched the loss at a bar in Manhattan. "As Americans, I can tell you, we are proud of what our boys did."
Forward Julian Green scored the U.S.'s lone goal in the 105th minute — stoppage time in the first overtime period — and there was a flurry of late dangerous activity around Belgium's young keeper Thibaut Courtois, but it was too little, too late.
Earlier, U.S. striker Chris Wondolowski had an excellent chance to win the game for America in the 72nd minute of regular time, but sent a shot sailing wide.
The U.S. could get another chance at a World Cup run four years from now in Russia.
"I'm proud of the U.S. team," said Bill Foshay, 20, of Mendham, New Jersey, who was also watching at a Manhattan bar. "It was a great effort. They could have just folded in extra time ... To go out there and get as far as they did was awesome."
"This was a great run," said his buddy Dan Kimmel, also 20. "I expect them to be even better next time."
Tuesday's game was expected to be one of the most-watched in U.S. soccer history, and free viewing parties sprouted from coast to coast as fans crammed into sports bars and restaurants.
Showing love across various sports and teams, the home of the NFL's Dallas Cowboys — AT&T Stadium in Arlington, Texas — invited fans to watch on one of the biggest video screens in the world; some 28,000 watched at Soldier Field, home of the Chicago Bears; and U.S. captain Clint Dempsey's major league soccer team, the Seattle Sounders, called supporters to a viewing party at the city's CenturyLink Field.
"This is the way this game should be watched. We need a big screen for a big game," said Evan Grant, 23, in Dallas, who had an American flag draped over his shoulders and a blue Mohawk with red and white stripes painted on the side of his head.
In Atlanta, several hundred fans gathered in mid-90's humid temperatures to cheer on the U.S. squad from Piedmont Park. Jeff Coffey, 28, called the game "bittersweet."
"I'm disappointed the U.S. lost, but excited by how the team has rallied so many Americans around the sport of soccer for the first time in memory."
The software engineer and lifelong soccer fan said he "hopes the excitement about the team's performance carries over into the future."
One New Jersey town was watching to cheer on its hometown hero, goalie Tim Howard, who emerged as an American hero despite the loss after a number of stunning saves.
Before the match, North Brunswick Mayor Mac Womack declared Tuesday "Tim Howard Day," and the high school auditorium hosted a viewing party.
Meanwhile on Twitter — and in bars across the nation — there were shouts of "Tim Howard for President!"
Howard himself called the loss "heartbreaking."
In New York, even Belgian supporters were rooting for the USMNT underdogs.
"I love Belgium but I am in the U.S. so I root for the U.S.," said Uriel Feuillard, who is from France originally but manages the Belgian-themed bar "BXL Cafe" in Times Square. He was decked out in a U.S. national soccer team jersey.
"I guess I am the black sheep of Belgium," Feuillard told NBC News. "NYC gets slow in the summer so this has been amazing. Everyone is very into it. And the Americans are a fun team to root for."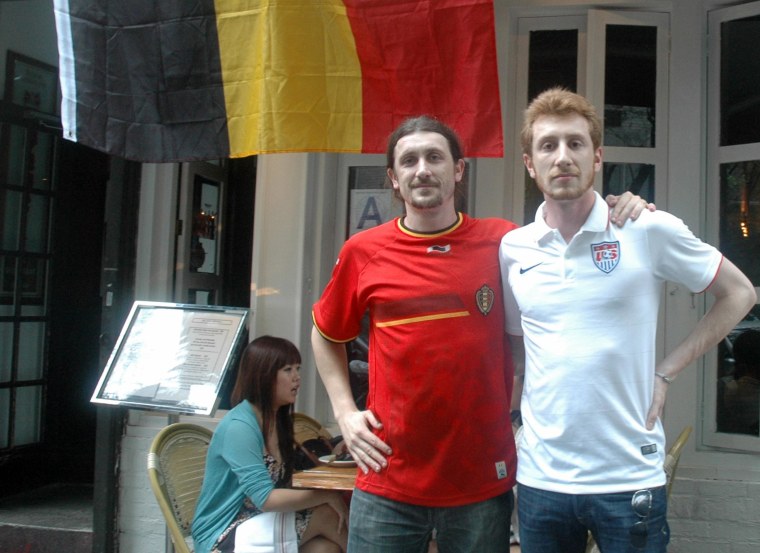 Chris Nobbs, 29, from Brussels, said the U.S. getting good at soccer is "dangerous for everyone else."
Elsewhere in Manhattan, several hundred people, many draped in American flags, and many of whom looked to be on their lunch breaks, streamed into a humid Bryant Park for the start of the game amid chants of U-S-A! U-S-A!"
Elliot Hollander, 17, a huge USMNT fan from Weston, Connecticut, came into the city with two friends, all with red, white and blue face paint on.
"This team has had so many up and downs, coming into the World Cup, they really just remind me of America (itself)," said Hollander.
Belgium has not reached the quarterfinals since 1986, and the U.S. team had already exceeded expectations by emerging from a tough opening group.
Belgium finished first in Group H with nine points from three wins. The U.S. finished ahead of Portugal and Ghana, taking second place in Group G behind Germany.
In Austin, Texas, Jon Watson sat sweating in heat with thousands of other soccer fans watching the U.S. play in the World Cup.
"And I'm not even a soccer fan. I'm a tennis guy. I should be watching Wimbledon," Watson said. "But I wanted to get out and be part of the community, to come together and cheer for the same team."
Belgium will next have to go through Lionel Messi and the Argentine team, in a match to be held in the Brazilian capital of Brasilia on Saturday July 5, at 12 p.m.
— with Emmanuelle Saliba, Doug Stoddart and Abigail Williams
Watch the World Cup live in Spanish and find complete Copa Mundial Rusia 2018 coverage on TelemundoDeportes.com.