Of the thousands of American soccer fanatics who have traveled to the World Cup, there's one U.S. supporter who can be found in the most unlikely of places: Iran's locker room.
That man is Dan Gaspar, who was born in South Glastonbury, Connecticut, and is now the assistant soccer coach for Iran - the nation Washington once included in the "axis of evil."
Sign up for breaking news alerts from NBC News.
While the dueling politics of his birth and adopted countries might befuddle some, Gaspar told NBC News it is not a problem for him and that he has nothing but support for his homeland.
"I feel absolutely no conflict and I wish the U.S. the very best of success on the world stage," he told NBC News on Monday, before both teams had kicked off their opening matches. "Their recent win against Nigeria [a 2-1 victory in a tune-up game earlier this month] was impressive and I am sure that has given them the confidence and belief that they can do something special here in Brazil."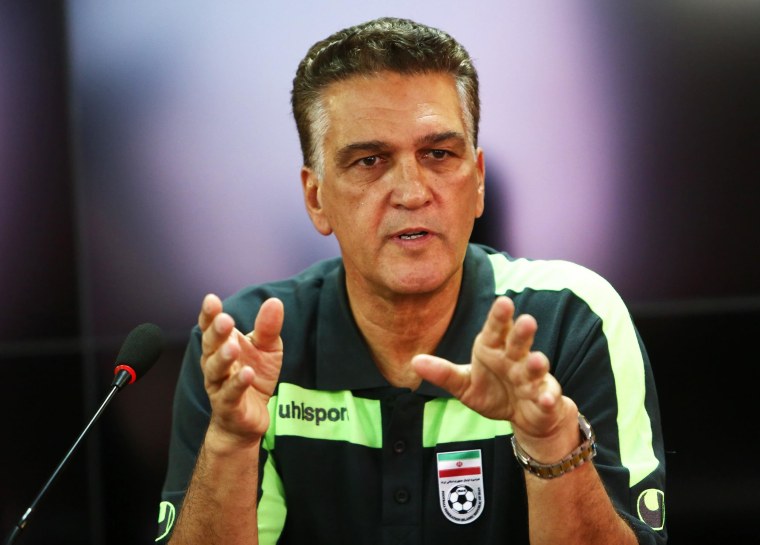 More World Cup tickets have been sold in the U.S. than in any other country outside Brazil - some 150,000 - and Brazilian media reports suggest that as many as 20,000 American fans could show up to the national team's first match, a tough game against Ghana in the eastern city of Natal at 6 p.m. ET Monday.
Gaspar, who holds both American and Portuguese citizenship and began coaching in Connecticut in the 1970s, says he has seen a shift in U.S. attitudes towards the game.
The widespread purchase of tickets was "a great sign that the U.S. is falling in love with the world game and their national team," he said.
Three hours before the U.S. faces off against Ghana, Gaspar will be coaching him team through Iran's first game - some 1,600 miles southwest in Curitiba - against Nigeria, widely considered to be a more challenging foe.
The Iranian fans are no less enthusiastic than their American counterparts, he said.
"Right now, hours before kick-off, I am hearing the singing and chanting of the Iran fans outside of our hotel encouraging our players," he said. "It reminds me that our players play for two reasons: for the passion of the game and for the people of Iran."
Both sides could face difficulty getting out of their respective groups and into the knockout stages. But with matches against the superstars of Argentina and the underrated Bosnia Herzegovina, Iran arguably have the toughest task of any side at the competition.
"We have worked incredibly hard," Gaspar said. "We are not a team of stars, we are a team that is humble and willing to sacrifice and suffer to earn the best possible result with the abilities we have."
Gaspar previously spoke to NBC News in October when Iran were training to go to the World Cup. It is his second tournament, having been assistant coach of the Portuguese national team four years ago in South Africa.
But like many participating and spectating this year, he said Monday that the atmosphere is one of the most fervent in recent memory.
"The World Cup atmosphere in Brazil has been electric!" he said. "You can sense their spirit and passion for soccer, especially when Brazil plays. Everything stops to watch their nation play."