NAIROBI, Kenya - Dozens of extremists attacked a Kenyan coastal town for hours, killing those who weren't Muslim and those who didn't know the Somali language, officials and witnesses said Monday. At least 48 people were killed and two hotels were set on fire.
Police said Somalia's al-Shabaab Islamist group was most likely to blame for the assault.
Somali website www.somalimemo.net said the Islamist group had claimed responsibility. It gave no details and the group's spokesman could not be reached for comment on the assault, the latest in a spate of gun and bomb attacks in recent months that have hurt Kenya's struggling tourist industry.
The assault in Mpeketoni began Sunday night as residents watched World Cup matches on TV and lasted until early Monday, with little resistance put up by Kenya's security forces. Cars and buildings still smoldered at daybreak.
Sign up for breaking news alerts from NBC News
Like the gunmen who attacked Nairobi's Westgate Mall last year, the Mpeketoni attackers gave life-or-death religious assessment, a witness said, killing those who were not Muslim.
"They came to our house at around 8 p.m. and asked us in Swahili whether we were Muslims. My husband told them we were Christians and they shot him in the head and chest," said Anne Gathigi.
Another resident, John Waweru, said his two brothers were killed because the attackers did not like that the brothers did not speak Somali.
"My brothers who stay next door to me were killed as I watched. I was peeping from my window and I clearly heard them speak to my brothers in Somali and it seems since my brothers did not meet their expectations, they sprayed them with bullets and moved on," said Waweru.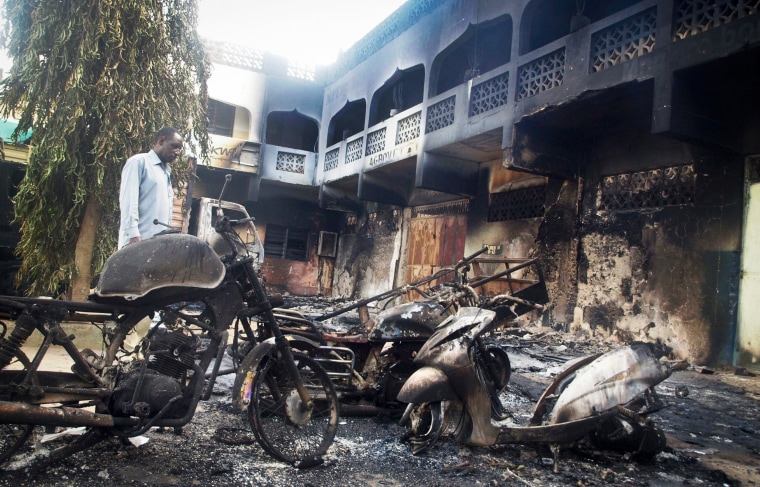 At the Breeze View Hotel, the gunmen pulled the men aside and ordered the women to watch as they killed them, saying it was what Kenyan troops are doing to Somali men inside Somalia, a police commander said on condition of anonymity because he was not authorized to share such details of the attack.
— The Associated Press and Reuters