SAO PAULO, Brazil - Amid the samba rhythms and the swirling dancers featured during the soccer World Cup's opening ceremony on Thursday, one moment is likely to make jaws drop across the globe.
Paralyzed from the waist down, a young Brazilian will rise from his wheelchair, walk a few steps and kick the tournament's first ball.
Sign up for breaking news alerts from NBC News
This scene seemingly from science fiction will involve no trickery. He will do it using his brain power.
NBC News was given exclusive access to a laboratory where the technology was developed and met the doctor who was inspired by the almost-telepathic understanding between the players of the great Brazilian soccer teams he has watched since boyhood.
"It's going to be like putting a man on the moon," said Dr. Miguel Nicolelis, the neuroscientist who has been working for years on transmitting brain signals to make machinery, robots and living creatures move.
He showed off the prototype of the robot-like machine that will be used on Thursday and controlled by a young paraplegic. It was like something from "Star Wars," a cross between a medieval suit of armor and a backpack made of metal.
The man will wear this suit, called an exoskeleton, and a cap with electrodes inside. They will read his brain signals, pass them to the computer in the backpack, which will tell the suit to move.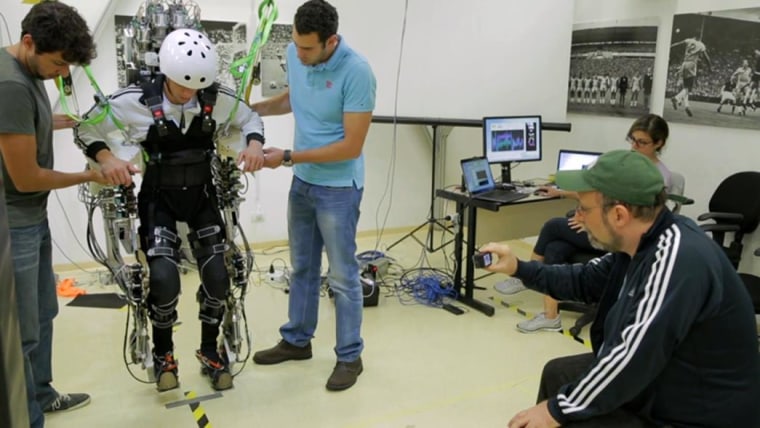 Hydraulic drivers on the suit will then move his legs and give him the sensation of treading on grass. He will feel the vibrations of his footsteps throughout his body.
Nicolelis was overcome by emotion when he recalled the first time he saw this happen in his lab.
"We were all amazed. Many of us in this lab have shed tears watching these patients walking again. It is so moving," said Nicolelis, who leads the international Walk Again Project.
One person will kick the ball on Thursday but seven others will be watching in wheelchairs. In May, two women became the seventh and eighth people to control the exoskeleton. The first woman walked "a total of 132 steps, to the awe of everyone present," Nicolelis recalled.
He said they rehearsed the kick twice at the stadium and it has worked. However, it's possible something might go wrong during the ceremony and Nicolelis will have his heart in his mouth knowing what's coming.
But most of those watching around the world won't guess what they're about to see; a small miracle, a giant leap for mankind and the most amazing kick of the whole World Cup.