American bomb-busting robots. Israeli surveillance drones. German anti-aircraft tanks.
Those are just a few pieces of the security array in place around Brazil to protect players and fans at the planet's most-watched sporting event – soccer's FIFA World Cup – against threats both foreign and domestic. But unlike recent competitions like the Olympics in Sochi, Russia, or the Boston Marathon, authorities are much more focused on the fans, crooks and citizens angry about the cost of the games than terrorists.
There is good reason for their unease: The hundreds of thousands of foreign fans attending the games that begin Thursday -- including nearly 100,000 Americans -- will be parachuting into a country beset by widespread and deadly political unrest that at its height drew 1 million people to the streets last year, a murder rate that is among the highest in the world and a growing drug-trafficking problem.
Brazilian authorities say they are taking those and other threats seriously and are prepared to do whatever it takes to keep fans and players safe during the games, which run through July 13. At the same time, they are distributing safety pamphlets to visitors that advise them not to walk alone at night, not to publicly display certain possessions and not to "react, scream or argue" if they are robbed.
Sign up for breaking news alerts from NBC News.
In addition to high-tech security gear and tried-and-true tactics like bomb-sniffing dog teams, the host country is planning a show of force, deploying 100,000 law enforcement and security personnel along with 57,000 troops to guard stadiums and neighboring hotels and airports, according to the Brazilian government. In Rio de Janeiro alone, there will be 20,000 police and military on the streets, many of whom recently received emergency response and counterterrorism training from the FBI, according to a Brazilian state official.
In a sign of these security-conscious times, the Brazilian government has spent an estimated $855 million to keep the peace at the games, which are expected to draw at least 500,000 foreign tourists -- including the biggest single contingent of 80,000 to 90,000 Americans.
"This is crunch time. It's busy," said Liliana Ayalde, the U.S. ambassador to Brazil. "We're preparing very carefully and trying to predict as much as we can so that we can be ready for our main responsibility, which is all the fans that are coming down from the States."
While any large sporting event is a tempting target for terrorists –- as attacks on the 1972 Munich Olympics by Palestinian terrorists and on the 1996 Atlanta Olympics by a domestic terrorist demonstrated -- the World Cup is especially hard to police. Sixty-four matches will be played at a dozen stadiums around the sprawling South American nation over the next 31 days, and will attract approximately 3.7 million tourists – including wealthy politicians and influential business leaders from around the world.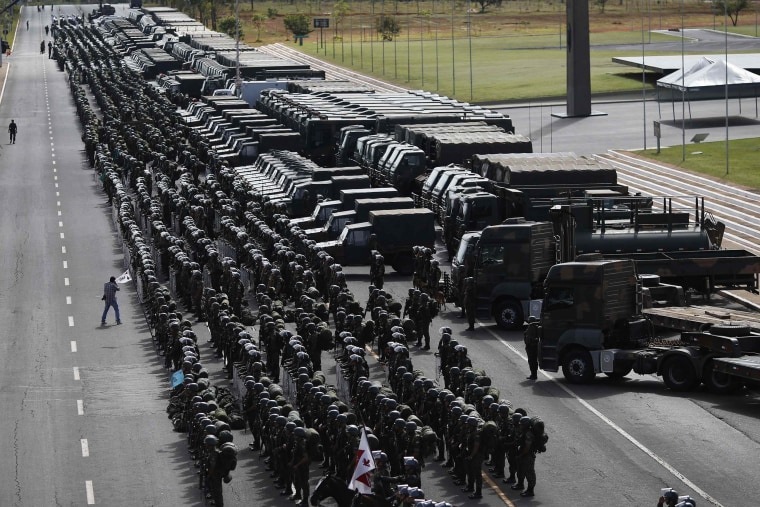 But the U.S. State Department said in a report this year that "there are no known indigenous terrorist groups operating in Brazil. Brazil is a non-aligned country with no significant enemies and is not targeted by any known radical groups."
And the CIA tells NBC News there is currently "no known Islamic threat" – considered the most likely source of an international terrorist attack -- in Brazil, meaning the level of concern is nowhere near what it was leading up to the Sochi Winter Olympics.
If attacks are mounted, U.S. counterterrorism officials say, they would more likely be aimed at match-watching parties outside the country -- such as a pair of 2010 suicide attacks that killed more than 70 people in Kampala, Uganda, during the World Cup final and a suicide bombing that killed three people in Jos, Nigeria, during the UEFA Champions League Final last month.
That leaves political unrest over the estimated $11 billion cost of hosting the World Cup and related economic issues afflicting Brazil's poor and growing middle class as the leading cause for concern among World Cup security officials. Protests are widely expected as the tournament gets underway.
The unease has only escalated in the wake of last year's Confederations Cup in Brazil, when an estimated 1 million protesters clashed with police in many cities where World Cup matches will be held over bus fare hikes. At least eight people were killed.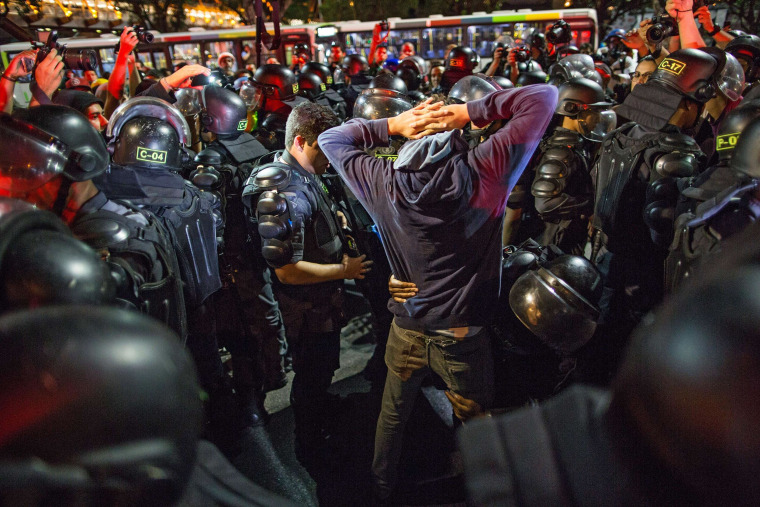 Though Brazil is arguably the world's most soccer-obsessed country, many protesters are frustrated by the billions of government dollars that have gone toward stadiums and infrastructure instead of education and health care. A recent PewResearch study reported that 72 percent of Brazilians are unhappy with the overall direction of the country and 61 percent believe hosting the World Cup is bad for Brazil because it takes away funds from public services.
On alert for the 'barras bravas'
So-called soccer hooligans – particularly among the roughly 50,000 fans from the Brazilian team's archrival Argentina – also are on authorities' radar.
Reuters quoted unidentified police officials in some of the cities where games will be held as saying that security will be beefed up at stadiums when the Argentine team plays, including undercover cops who will look for troublemakers from notorious Argentine soccer fan clubs known as "barras bravas."
"I don't care what they call these people. Brazilian police, in cooperation with foreign police, will be tough in responding to anyone who comes here to commit crimes," it quoted Andrei Rodrigues, Brazil's security chief for the World Cup, as saying.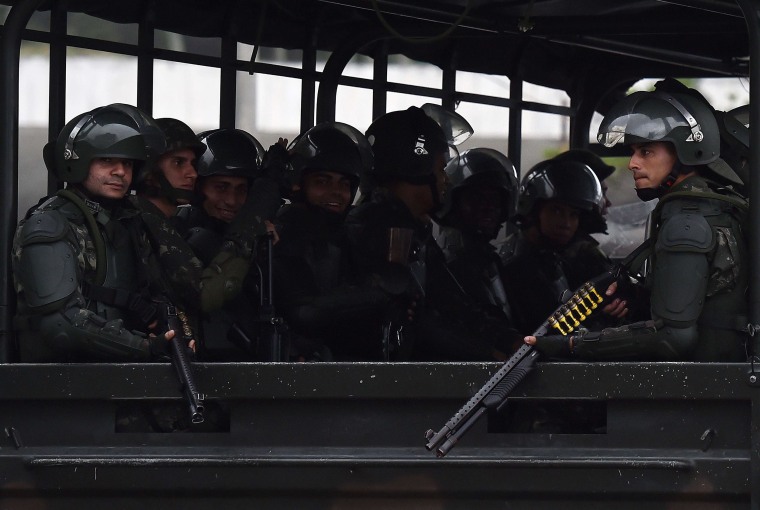 In addition to watching for organized groups, authorities will try to keep a lid on street crime and violence in a country where murder, muggings, carjackings and armed robberies continue to be facts of daily life.
Murder and violent crime rates have been climbing sharply in advance of the games, according to numerous published reports. The Miami Herald reported this week that Brazil has its highest homicide rate in almost three and a half decades, with 56,000 citizens were violently killed in 2012. The increase appears to be linked to an epidemic of crack cocaine and cocaine use resulting from a sharp increase in drug trafficking into the country, according to the State Department.
Robots, drones and tanks at the ready
There will be a U.S. law enforcement presence in Brazil available to assist any Americans who are victimized, as is common with any "mega event," Ambassador Ayalde said. There also will be a control center set up within the U.S. Embassy in Brasilia that will collect information that it can disseminate to Americans should there be a security threat.
In addition to manpower, Brazil's Special Secretariat of Security for Big Events has assembled a substantial technology toolbox to help spot possible threats.
With frustration running high and bomb-making materials and recipes widely available, authorities will be on the lookout for possible improvised explosives like those detonated at the 2013 Boston Marathon.
In addition to teams of bomb-sniffing dogs, police will use 30 bomb-detecting robots purchased for $7.2 million last year from a Bedford, Mass., company called iRobot to safeguard venues and other public-gathering areas.
The machines, known as "PackBots" because they weigh 60-pounds and can be carried in a backpack, will be used to examine and – if necessary – transport and disable suspicious devices, said Tim Trainer, an iRobot vice president.
"It's a dangerous world and when dangerous situations happen, it's much better to put a machine in those situations than to put a human life at risk," he said.
Related
Brazil Scrambles to Get Ready for World Cup
Infographic: Brazil's Massive Security Plan
Complete World Cup coverage from NBC Sports
The remotely controlled devices, which were deployed in Brazil during recent papal and presidential visits, can cruise at 6 mph and have tank-like treads and flippers that allow them to climb slopes of up to 60 degrees and navigate rugged terrain. They also carry four cameras, a GPS system and temperature sensors and, if equipped with a "pan disruptor," can fire a jet of water at up to 3,000 feet per second to deactivate explosive devices.
Brazil also purchased 34 German anti-aircraft tanks, to be used this summer at the World Cup, as well as the Rio Olympics in 2016. The tanks are capable of shooting down planes, helicopters and drones up to 15 miles away, according to the Brazilian newspaper O Globo. And in the air, Brazil will employ Israeli drones to provide surveillance above the stadium crowds. The Elbit model Hermes 900 can reach an altitude of 30,000 feet, and is widely used by the Israeli Air Force.
Traffic is also a security concern, particularly in the city of Rio de Janeiro, since it could prevent police or first responders from quickly reacting to an incident.
In Rio, cops will monitor smart phone app
To help ease some of the world's worst traffic congestion in the best of times, Brazilian security forces have partnered with the Israeli-based computer application maker "Waze" to help drivers avoid accidents or bottlenecks. The free, crowd-sourced tool for smart phones allows users to report everything from accidents and roadwork to low gas prices or a heavy police presence, so that other users can adjust their routes accordingly. It also gives officials another way to monitor conditions in specific areas.
Security officials in Rio also will be monitoring the city in real time using a video wall of 80 46-inch high-definition screens, which can be switched to receive feeds from more than 560 video cameras. It also will be integrated with Waze's user updates. This is the first municipal partnership for Waze, which was purchased by Google for more than $1 billion last year.
Follow NBC News Investigations on Twitter and Facebook.
"Simply put, it's a pretty amazing way for a city to leverage its existing infrastructure by taking advantage of current technology and citizens who are willing to better their own backyard," said Waze spokeswoman Julie Mossler.
Despite the worries that always accompany any event of this size, Ambassador Ayalde is cautiously optimistic that everything will go according to plan.
"I want to be able to talk to you after the final game, whoever becomes the champion, and be able to say, 'Everyone had a good time, everyone had a safe time,'" she said.
Mike Brunker and Robert Windrem of NBC News contributed to this report.