Florida reported a new homegrown case of Zika virus Wednesday, this one in Palm Beach County.
The state's now running 10 different investigations into 43 local cases of Zika infection, including two outbreaks: one in Miami and one in Miami Beach. On Tuesday, a case was reported on Florida's Gulf coast.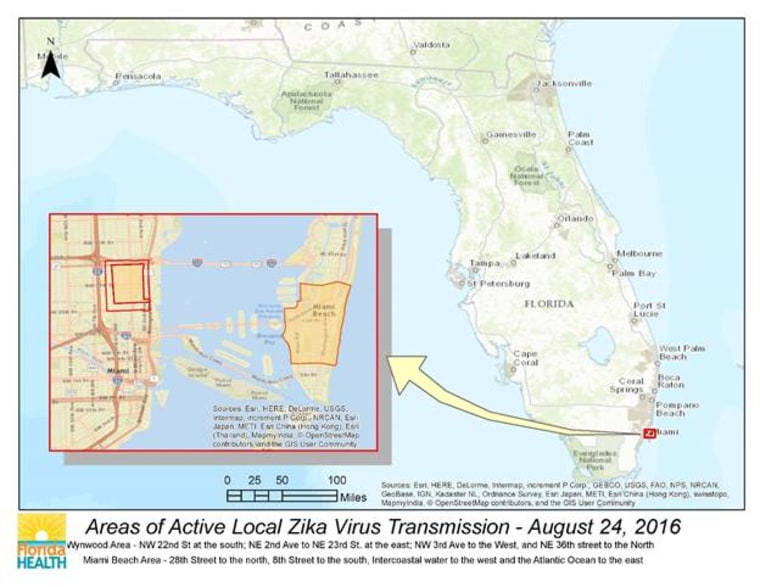 It's not a surprise that Florida has cases of Zika. The Aedes mosquitoes that spread the virus thrive in the warm, humid state almost year-round, and Florida has many travelers back and forth from the badly affected countries in Latin America and the Caribbean.
But the appearance of so many cases in such a short time is worrying for a state that relies heavily on tourists, and the governor's office has been in heavy damage-control mode, stressing mosquito control efforts.
Related: Should I Worry About Zika?
"This case is not connected to the investigation into an individual in Palm Beach County that was announced earlier this month," Florida's Department of Health said in a statement.
"DOH has begun door-to-door outreach and targeted testing in Palm Beach County and mosquito abatement and reduction activities are also taking place around the locations that are being investigated," it said. "One case does not mean ongoing active transmission is taking place."
The statement added that more than 3,900 people had been tested for Zika. If one person is diagnosed but their family members, friends, neighbors and other close contacts do not become infected, it's not considered an outbreak.
Related: Doctors Report on Zika's Destruction of Growing Brains
"DOH still believes ongoing transmission is only taking place within the small identified areas in Wynwood and Miami Beach in Miami-Dade County," the department said.
Florida now has 43 homegrown cases of Zika virus infection and another 523 cases brought in by travelers. Seventy of the patients are pregnant women.
The Centers for Disease Control and Prevention cautions pregnant women or those who may become pregnant to stay away from areas with widespread Zika infection. The virus causes devastating birth defects when a pregnant woman is infected.
"Florida's small case cluster is not considered widespread transmission, however, pregnant women are advised to avoid non-essential travel to the impacted area in Miami-Dade County," the department said.
Related: Zika Stayed in Newborn's Blood for Two Months
To spread, Zika needs infected people. Mosquitoes don't fly very far but if an Aedes aegypti mosquito bites an infected person, and if it lives another week or so, it can bite someone else and spread the virus. Aedes mosquitoes often bite several people at a time.
"Our job here to protect all of the pregnant women in the state and all of their developing babies," Florida Governor Rick Scott said in a telephone briefing. That means, he said, everyone should protect against Zika so they don't risk infecting anyone else.