Brazilian babies born with a birth defect blamed on the Zika virus may also often have serious eye problems on top of brain damage, doctors reported Tuesday.
They found troubling eye defects in more than a third of the babies they examined in December, and say they ruled out other known potential infections that could have caused them.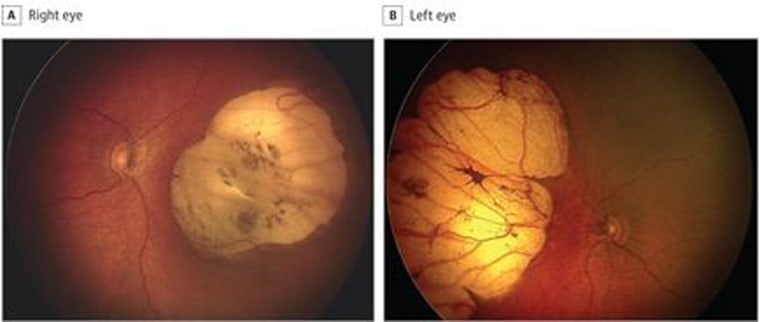 The discovery adds to a growing body of evidence that the babies suffering microcephaly in Brazil have a serious and unusual pattern of brain and nerve damage. Doctors and scientists are working to measure just how bad the surge in microcephaly cases in Brazil really is, and whether Zika is directly causing it.
But officials at the Centers for Disease Control and Prevention say there's no doubt something unusual is happening with microcephaly in Brazil, and it coincides with the arrival and explosive spread of Zika virus.
And it's clear that, whatever has happened to the newborns in Brazil with brain damage, the effects will be lifelong and and severely disabling.
The findings only involve 29 infants, but they were carefully examined and have had a battery of tests, Dr. Bruno de Paula Freitas and colleagues at Federal University of São Paulo in Brazil reported.
The babies all had microcephaly, defined as having a head that's 32 cm or less in circumference. When babies have such small heads, their brains are also underdeveloped.
"Twenty-three of 29 mothers (79.3 percent) reported suspected Zika virus infection signs and symptoms during pregnancy, 18 in the first trimester, four in the second trimester, and one in the third trimester," the team wrote in the Journal of the American Medical Association's JAMA Ophthalmology.
"Of the 29 infants (58 eyes) examined ocular abnormalities were present in 17 eyes (29.3 percent) of 10 children (34.5 percent)."
"We are concerned that these lesions are going to have an effect on vision as the babies get older."
Dr. Lee Jampol, a professor of ophthalmology at Northwestern University's Feinberg School of Medicine, in Chicago, said it's not clear how much the lesions will affect the children's vision as they grow.
"It is very difficult to measure visual function in a newborn baby," Jampol told NBC news. "We are concerned that these lesions are going to have an effect on vision as the babies get older. There is a lot of testing that not been done yet."
On top of the lesions, found in several parts of the babies' eyes, the damage done by the microcephaly itself could affect their vision, Jampol said.
"If you look at some of the images, you will see little clumps of black pigment. Those shouldn't be there," said Jampol, who with his colleague Dr. Debra Goldstein wrote a commentary on the JAMA Opthalmology paper.
Some of the babies have scarred retinas, and that will affect their vision as they grow, he said.
It's not unexpected. The eyes are an extension of the brain, Jampol said. Other viruses known to damage the brains of developing babies, such as West Nile virus, cytomegalovirus and rubella, can also affect the eyes.
And sometimes adults infected with dengue virus, a close relative of Zika, also suffer damage to the retina, Jampol said.
"We don't know with 100 percent certainty that the virus is causing retinal lesions, but we think it likely," Jampol said.
Dr. William Dobyns, a geneticist at Seattle Children's Hospital, has said his examinations of some brain scans of kids with microcephaly from Brazil show "very severe, destructive injury to the brain".
Related: Answers to Your Questions About Zika
The CDC has advised pregnant women to stay away from countries where Zika is newly spreading; the World Health Organization has declared the outbreak of microcephaly to be a global public health emergency and Brazilian authorities are working to eradicate as many of the mosquitoes that carry Zika as possible.
Scientists are also teaming up to see what connection there is between Zika and microcephaly and whether the infection is causing a paralyzing neurological condition called Guillain-Barre syndrome in some patients.
There's no specific treatment and no vaccine for Zika, which was considered an extremely mild infection before Brazil called the alarm last year. About 80 percent of people who are infected don't even know it. Symptoms in the other 20 percent are usually mild and include a rash and fever,
One thing De Paula Freitas and colleagues noticed was that the mothers they've interviewed seem not to have had many instances of conjunctivitis, or pinkeye, which was considered a classic symptom of Zika.