A baby born in New Jersey with birth defects caused by the Zika virus was delivered early on purpose by Caesarian section, doctors said Wednesday.
Doctors at Hackensack University Medical Center said they decided to deliver the baby surgically after an ultrasound last week showed there were serious birth defects, including microcephaly. The baby, a girl, was delivered Tuesday.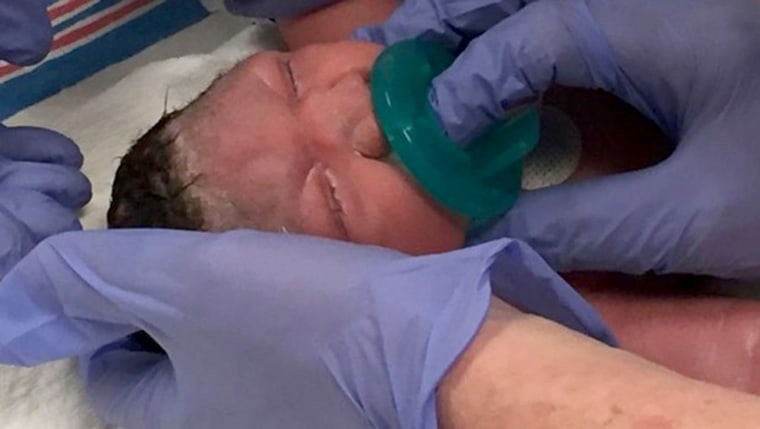 The 31-year-old mother had traveled from Honduras to stay with relatives and get medical care after she suspected something might be wrong with her pregnancy, the doctors told a news conference.
"She is trying her best to cope with this emotionally," Dr. Abdulla Al-Khan, section chief for Maternal Fetal Medicine and Surgery at Hackensack, told the news conference.
"She is trying her best to cope with this emotionally."
Zika virus infection is known to cause a range of serious birth defects. The virus can get through the placenta and into a developing fetus, where it then seems to home in on developing brain cells.
The most obvious effect is microcephaly, a smaller-than-normal head that's caused when large sections of brain are destroyed. Zika also causes other brain and neurological damage to the babies at affects. It can cause miscarriages or stillbirths as well as vision and hearing problems.
Related: Your Questions About Pregnancy, Sex and Zika
Experts expect subtler birth defects will become obvious as babies get older.
Honduras is one of more than 40 countries being swept by the Zika virus in recent months. The virus is carried by Aedes aegypti and Aedes albopictus mosquitoes — common in tropical and sub-tropical regions. It's also transmitted sexually.
The baby girl was delivered at 35 weeks — a month early — so she's being fed intravenously and is being kept at the hospital for care.
Brazil has by far the most microcephaly cases linked to Zika, but health officials expect more in all the countries being hit by the virus. It's not clear what percentage of pregnancies are affected and whether a mother has to have symptoms for the baby to be affected.
Related: Zika Birth Defects May be Tip of the Iceberg
The Centers for Disease Control and Prevention and World Health Organization both caution pregnant women to stay out of Zika affected areas if they can. Women who cannot avoid them are advised to use insect repellents such as DEET, to cover up to protect themselves from bites and to stay indoors in air conditioning if at all possible.
They also advise that pregnant women or women who may become pregnant avoid unprotected sex and that men who might be infected avoid having unprotected sex with their partners.
"It just underscores the importance of trying to protect pregnant women."
But many of the people in the Zika-affected regions have no access to such protective measures. In many of the heavily Catholic countries affected in Latin America, birth control may be frowned on and difficult to get.
Related: CDC Reports 279 Pregnant Women With Zika in U.S.
U.S. health officials say they expect more cases to turn up in the United States. More than 40 million people travel to and from Latin America and the Caribbean and U.S. territories such as Puerto Rico are having their own Zika epidemics.
"We now have in the United States, close to 600 travel related cases, and there are also a considerable number of women ... close to 160 pregnant women who have gotten infected. It just underscores the importance of trying to protect pregnant women," Dr. Anthony Fauci, director of the National Institute of Allergy and Infectious Diseases, told NBC News.
There will also almost certainly be local outbreaks in the U.S., the CDC predicts, but not epidemics.
Southern states have the mosquitoes that can spread Zika, and the insects circulate as far north as New York in the summer.
Just this week, Texas reported its first locally acquired case of chikungunya, a virus closely related to Zika that's spread by the same mosquitoes.