About 5 percent of women in U.S. territories such as Puerto Rico who got infected with Zika virus while pregnant have gone on to have a baby with birth defects, federal researchers reported Thursday.
It's the first look at how Zika affected pregnancies in the territories, which are more likely to be affected by Zika than the U.S. mainland because they have more tropical climates.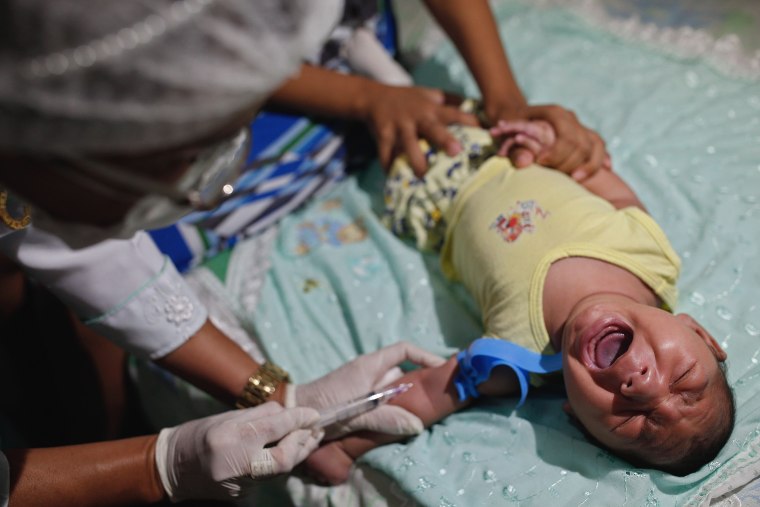 The CDC reported in April that 10 percent of women with Zika-affected pregnancies in the 50 U.S. states ended up having babies with birth defects.
It may seem like the rate in the more affected territories is half that seen in the U.S. states, but because of the nature of data, it's actually comparable, the Centers for Disease Control and Prevention said.
The new report is a good reminder that mosquito season is starting up again in the Northern Hemisphere, said acting CDC director Dr. Anne Schuchat.
Related: Zika Raises Birth Defect Rate 20 Times
"With a new mosquito season and summer traveling beginning, we cannot afford to be complacent," Schuchat told reporters. "We must continue preparing for another mosquito season."
Zika was first noticed in Brazil in 2015 and its effects on babies are now indisputable as the mosquito-borne virus has spread across the Americas.
Once considered boring to the few scientists who had even heard of it, Zika has turned out to be a major cause of profound birth defects. It's also surprised researchers in other ways, including how it spreads. Not only is Zika spread by mosquitoes, but it can be spread by all types of sex.
"Zika virus poses a serious threat to pregnant women and their babies," Schuchat said.
It's taken a while to get consistent data from the U.S. territories, which include American Samoa, Puerto Rico, the Federated States of Micronesia, the Republic of Marshall Islands, and the U.S. Virgin Islands, the CDC said.
Related: Zika-Affected Babies Can Cry 24 Hours a Day
It shows 3,930 women living in the territories tested positive for Zika virus while pregnant. Of them, 2,549 have either had their babies, or had a miscarriage or abortion.
"In this report, more than 120 pregnancies resulted in Zika-associated birth defects," the CDC said in a statement.
"Among the women with confirmed Zika infection during the first trimester, 8 percent or nearly one in 12 had a baby or fetus with Zika virus-associated birth defects."
Another 5 percent infected in the second trimester of pregnancy had a baby with a birth defect and 4 percent of women who tested positive in the third trimester of pregnancy.
"Zika virus infection during any stage of pregnancy can cause birth defects," the CDC said.
Related: Answers to your Zika questions
"Among the 122 fetuses or infants that met the surveillance case definition for possible Zika-associated birth defects, 108 (89 percent) were classified as having brain abnormalities and/or microcephaly."
Microcephaly is the abnormally small head that is the hallmark of Zika-caused birth defects. But Zika can cause many other, less-visible brain defects.
"We know that it causes brain abnormalities, vision problems and other devastating consequences of brain damage that might require a lifetime of care," Schuchat said.
"Zika virus infection during any stage of pregnancy can cause birth defects."
"Some babies have seizures while others have little to no control of their limbs."
Puerto Rico declared its Zika epidemic over earlier this month, but Schuchat said there are still cases there.
"We continue to urge pregnant women to avoid travel to areas where Zika is spreading and that includes Puerto Rico," she said.
"We can't predict exactly how much Zika will be spreading these next several months or the next several years. But cases continue to occur. The vector is there."
Related: Zika Destroyed This Woman's Pregnancy
Zika is carried by Aedes aegyptus mosquitoes, which thrive across the U.S. South and live year-round in places such as south Florida and the Texas Rio Grande valley. Both places have had local transmission of Zika, which means mosquitoes there have been infected with the virus and spread it.
Cases elsewhere in the U.S. have been spread by travelers bringing the virus back with them.
One unsettling finding: It doesn't seem to matter whether a woman has symptoms from Zika. The virus does not cause symptoms in most people it infects and most people who do have symptoms suffer little more than a rash, and perhaps headache, fever and general achiness.
"This report highlights the threat of Zika virus infection in pregnancy, particularly the risk of damage to the baby's brain."
So all pregnant women who might have been infected need to be tested, Schuchat stressed.
"I think the bottom line for women is that there is no doubt that Zika virus during pregnancy diagnosed during any trimester can lead to birth defects," she said.
"It's very important to get tested … and to have the baby followed up carefully. This is a very dangerous virus in the pregnancy setting."
In the 50 states and Washington, D.C., the CDC has had reports of 1,883 pregnant women with Zika. Of them, 72 have had babies with Zika-linked birth defects and eight have been stillborn, miscarried or aborted because of Zika damage.
"This report highlights the threat of Zika virus infection in pregnancy, particularly the risk of damage to the baby's brain," said Peggy Honein of CDC's Zika task force.
"To help us fully understand and plan for Zika's effect, we must continue to monitor babies for any problems with vision, hearing, or other disabilities."