HOUSTON — The mosquito virology lab at the Harris County health department is crowded and that's only about to get worse.
The five staffers who spend their days checking "mosquito juice" — pulverized mosquito samples — for various harmful viruses have already had to add a batch of new tests to their daily routine as the county gets more serious about fighting Zika. Soon, they will also be sharing their tight lab space with some new staff.
As of now, they're already navigating around giant cartons filled with the equipment needed to directly test mosquitoes for Zika virus.
Harris County, which encompasses Houston and its spread-out suburbs, is one of 183 U.S. counties known to be home to the Aedes aegypti mosquito that transmits Zika to people. And as one of the main U.S. gateways to Latin America and the Caribbean, it has more than its fair share of travelers carrying the virus.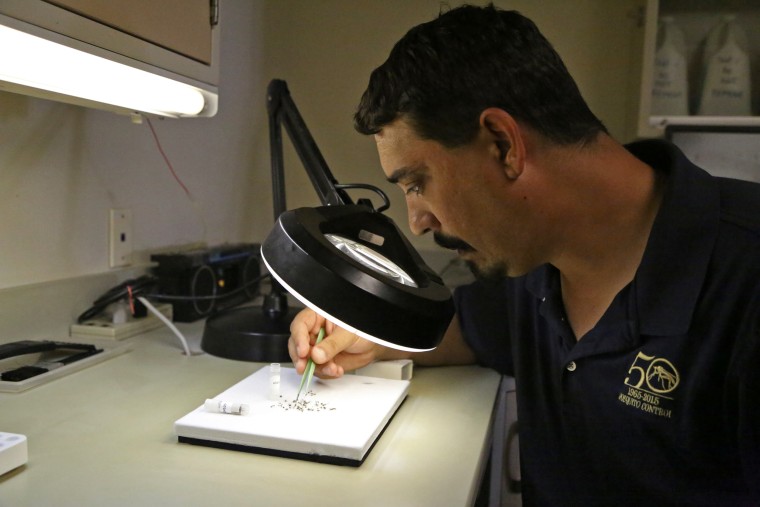 That makes the perfect formula for local Zika outbreaks.
"We believe it is only a matter of time before we have Zika in mosquitoes in Harris County," said Dr. Umair Shah, executive director of Harris County Public Health and Environmental Services.
If and when someone infects a local mosquito, this lab is where it will likely be discovered.
Related: Delay in Congress is 'Simply Inexcusable'
Harris County already has an extensive mosquito testing and control program, but it has to shift gears for Zika, which doesn't infect the same mosquitoes as West Nile virus, the main foe up to now.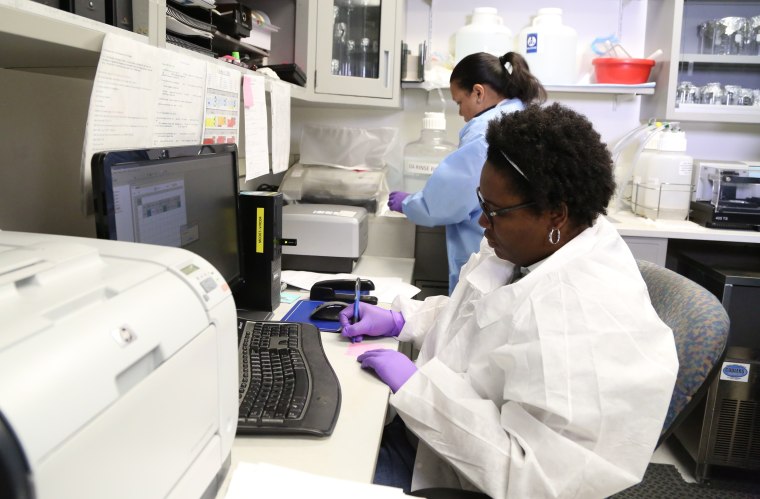 Virologist Cheryl Freeman, virology specialist Sharon Mack, lab coordinator Monique Jackson and lab techs Lauren Bonilla and Jhoanna Cardozo are already plenty busy liquefying mosquitoes in a centrifuge, pulling out the results (they call this "mosquito malt" or "mosquito milkshake") and pipetting them into trays where they are tested for West Nile virus, St. Louis encephalitis virus, dengue virus, chikungunya virus and, soon, Zika virus.
"Are they hot with any virus?"
Right now they cannot test for Zika — they have to send the samples to the University of Texas Medical Branch in Galveston to run the specific Zika test. Results then come back anywhere between two to four weeks later — time that's precious if pregnant women are at risk of being infected.
"Are they hot with any virus? It behooves me to know right away, instead of waiting two weeks or a month," said Dr. Mustapha Debboun, director of mosquito control for Harris County.
Related: Is DEET Safe? Your Questions About Zika
So two storage rooms are being cleared out and refurbished to become testing labs where the virus team can do a test called real-time polymerase chain reaction (PCR) to see immediately if a mosquito sample is "hot" with Zika.
And then things will get really busy, Debboun said.
"Once we add real-time PCR, we will need to bring in more mosquitoes to be isolated and diagnosed," Debboun said.
"We need more trucks, more equipment, more educational materials," he added.
"We will need more people to set up and bring back traps. We need people to sort mosquitoes. The more you do, the more you need resources."
Related: The Funding Isn't Coming
The county, like others across the country, has been waiting for Congress to send money to help them do this. But Congress is at a standoff with the White House. President Barack Obama asked for $1.9 billion back in February, something most Democrats and the entire public health infrastructure supports. Most Republicans — with the exception of a few from areas most at risk of Zika — want to limit that funding and cut other programs to pay for it.
This is the last week Congress is in session before taking a big break until September, and there's no sign of agreement.
"We are still waiting for the money," Debboun said. As things stand now, they'll have to wait until mid-August to start testing on-site for Zika — months into steamy Houston's peak mosquito season.
"We are still waiting for the money."
In the meantime, they are doing what they can.
It starts with the traps.
On the Hunt
Maximea Vigilant pulls his truck up to an intersection in a neighborhood that appears to be in transition. Neat ranch-style houses sit next to wooden frame homes with peeling paint and overgrown lawns.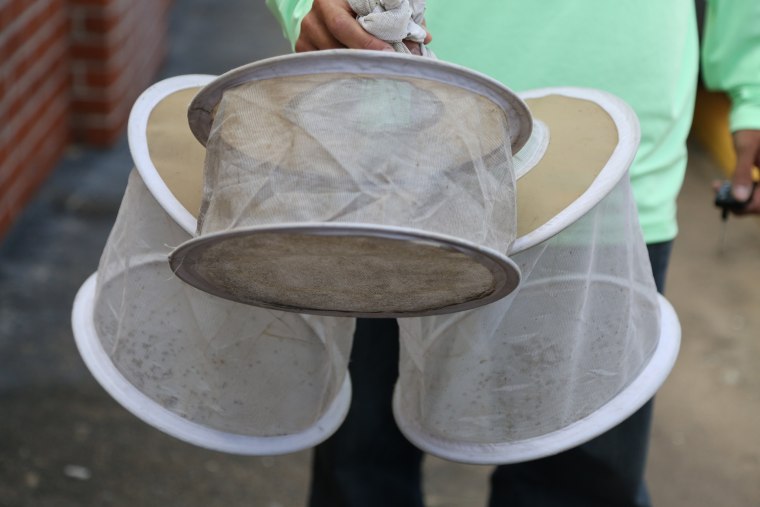 He hefts a pickaxe and pulls up a manhole. Beneath the intersection, a mosquito trap has been releasing carbon dioxide from dry ice. The carbon dioxide attracts the mosquitoes that live in the sewer. A chemical lure brings them into the trap, where a fan runs on batteries. "They are sucked up into the net and we trap them," Vigilant explained.
These traps are specifically designed to catch the Culex species that spread West Nile — itself a potentially deadly virus that should be taken seriously. Harris County has 134 of these traps above ground and 134 more in the sewers.
Related: Studies Point to Zika's Tricky Nature
The traps are collected and carried back to the barnlike structures that house the county mosquito control offices and labs, tucked in behind a county corrections division facility in southwest Houston.
There, staffers freeze the insects to kill them and stabilize any virus they might be carrying, and then sort them by species. Jeremy Vela is adept at this, using tweezers and a large magnifying glass as he quickly flips the mosquitoes one by one into jars. He's fast, but the contents of hundreds of traps mean a lot of mosquitoes to sort through manually.
From there, they go to the lab to be juiced.
A different type of trap is needed to catch the Aedes aegypti and Aedes albopictus mosquitoes that spread Zika, yellow fever, dengue and chikungunya viruses. The county has just 70 now to cover an area larger than Rhode Island that's home to 4.6 million people.
"The Zika virus has forced us to expand our traps all over Harris County," Debboun said.
"If you are looking for Aedes, you need to go closer to the homes."
"If you are looking for Aedes, you need to go closer to the homes," Vigilant explained. Most people think of mosquitoes biting in the night and hanging out in the bayous and other large bodies of water, but Aedes mosquitoes are sneaky. They bite in the daytime and lurk close to the ground, where they are harder to spot.
"It likes to bite you on your legs and feet," Shah said. That makes them tougher to spot and smack into oblivion.
"It really is very hard. They don't fly out there for you to see them. They are in tires, in the gutters or even small jars. Believe it or not, they can even breed in a spoon," Debboun said.
They can also breed in homes — in pet dishes, in bird baths. Most of the time, they breed in containers.
"They would rather be close to humans," Vigilant said.
And while several days of 100-degree highs have dried up much of the standing water in Houston, Vigilant said the eggs are there, waiting for just a few drops of water so they can hatch.
"Some mosquito eggs can withstand drying for up to a year," he said.
And given half a chance, they'll live inside even the cleanest homes, biting everything in sight.
"Some mosquito eggs can withstand drying for up to a year."
"When they feed, they don't just feed once. They will be feeding on you, on me …This mosquito in actuality will infect several people at one time," Debboun said.
Related: Hot Year? Watch Out for West Nile
Clear and Present Challenges
It's been difficult getting people to understand this, said Becky Riley, education coordinator at the mosquito control division. They often don't believe their own flowerpots or sprinkler systems might be adding to the problem.
"People say, 'Oh, it's that birdbath?' And I'm thinking, what other birdbath did you think it was?" Riley said.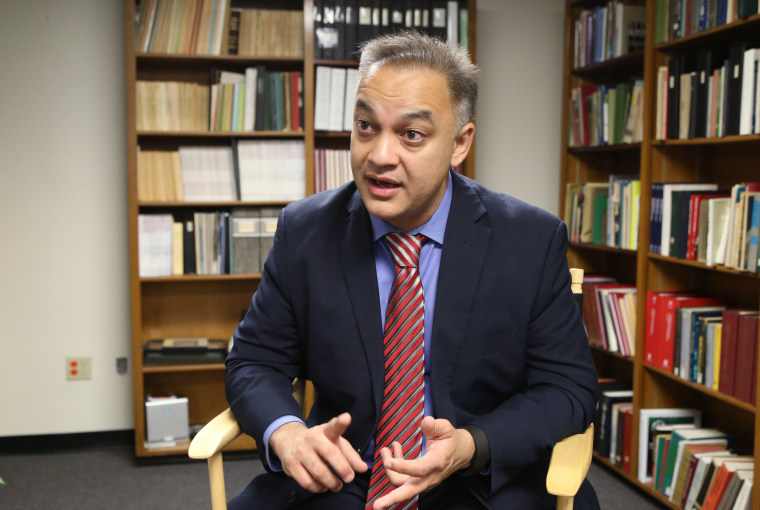 Shah said residents expect the city or the county to just take care of the Zika risk as part of regular mosquito activities. People mistakenly look for mosquito trucks coming down their streets at night spraying pesticide, he said. "We don't have the ability to fight this with spraying at night. That's not going to work against Zika," he said.
"It's not just what is happening on your property. It's what's happening on the property next to yours."
One reason: the spray doesn't get into homes, where Aedes mosquitoes like to stay, Freeman said.
"They like to stay in utility rooms," she said.
If Zika is found in a sample of mosquitoes, the eradication strategy is different. "Spraying won't work," Freeman added. "We would have to carry hand-held foggers into the homes."
If Zika turns up in a mosquito, she continued, the county is ready to spray in a 100-square-mile area around it.
"It has to be targeted. A lot of people don't understand how immense this is. It's a huge plan," Freeman said.
And then education efforts will intensify even more.
"It's not just what is happening on your property. It's what's happening on the property next to yours," Shah explained. "This has become a person-by-person, neighborhood-by-neighborhood challenge."
Video by Jennifer Weiss