Republicans and Democrats in Congress say they are going to the mat this week to get some kind of funding deal to pay for Zika preparations.
The White House said chances of a proper funding deal looked "destined to fail" and while Senate aides said they hoped they could come up with some money, aides in the House said prospects were looking less certain.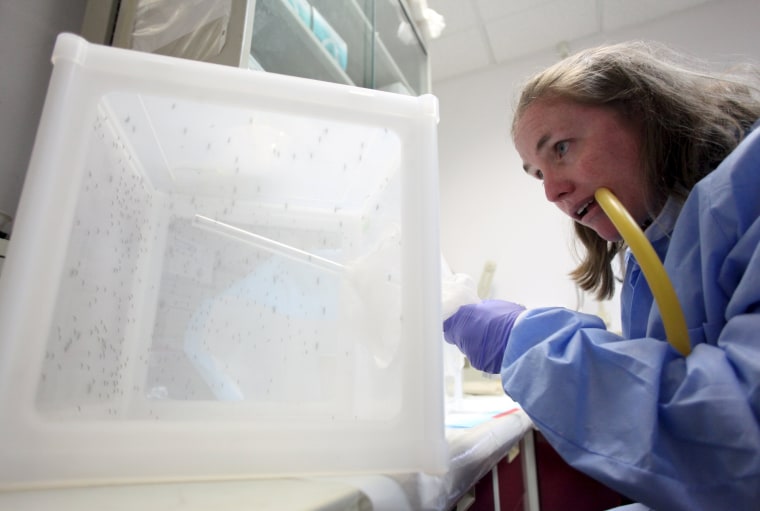 Zika's spreading fast across Central and South America and health officials say there will certainly be cases and probably limited outbreaks in the United States once mosquito season starts.
The virus is harmless to most people who get it, but it's causing severe birth defects when pregnant women get infected and it's also becoming obvious that it can cause severe neurological effects, including a paralyzing condition called Guillan-Barre syndrome, in some adults who get it.
The top U.S. health officials say it's an emergency and the White House has asked for $1.9 billion to pay for preparations, to develop vaccines, tests, treatments, to fight mosquitoes and to train health experts to recognize and deal with cases.
Republicans in Congress say the money's not there and have urged the Health and Human Services Department to use money left over from about $7 billion allocated to fight Ebola. The Centers for Disease Control and Prevention, the National Institutes of Health and others there is not leftover money — that all of it is spoken for, and needed to help prevent another Ebola epidemic.
They've scratched up $589 million for now but say it's not nearly enough.
"The American people are counting on the Congress to act. And instead we have gotten bureaucratic excuses from Congress as to why they have done nothing," White House press secretary Josh Earnest told reporters Tuesday.
"This is an emergency," he said.
Sen. Roy Blunt of Missouri, a Republican who chairs the Senate Appropriations health subcommittee, says he has been working with Sen. Patty Murray, a Washington Democrat, to reach a deal. "There's never been a debate about whether to do this, but we need to do it in the right way," Blunt said.
"Zika remains a public health concern that we should take seriously," he said. "I look forward to continuing to work with my colleagues and the administration to fully understand the funding needs to ensure we provide what is necessary to protect Americans."
Murray said she hoped for a deal within days.
"We need to get an emergency funding agreement through the Senate this week, send it to the House, and then get this package signed into law by the President to respond to the most urgent and pressing needs involved in the Zika response effort," she told reporters Tuesday.
Senate Appropriations Committee chairman Thad Cochran, a Mississippi Republican, has said he would look for an upcoming appropriations bill to attach it to.
Earnest said he doubted that would work.
"The suggestion that Republicans are just going to tie Zika funding to a totally inept budget process is also destined to fail," he said. "What evidence is there that regular appropriations bills are going to pass either house of Congress?"
In the House, three Democrats — Rosa DeLauro of Connecticut, Nita Lowey of New York and Debbie Wasserman Schultz of Florida — introduced an emergency supplemental appropriations bill Monday to pay the full $1.9 billion. An emergency supplemental bill would bypass the budget process.
"Every day that goes by where Congress makes excuses, that's a day lost to preparing for the Zika fight."
"This bill helps protect pregnant women, travelers and the general public as we get into mosquito and travel season, and it's time for House Republicans to stop making excuses and work with Democrats to short circuit this rapidly evolving crisis immediately," Wasserman Schultz said.
But staff said they were not sure House Republicans would buy it.
House Majority Leader Kevin McCarthy, a California Republican, said there is enough Zika money for now. "So we'll go through the proper appropriations process this year," he told reporters.
"It's the best way to handle it ... the best place to get the answers," McCarthy said.
That would mean the money couldn't be freed up until the 2017 fiscal year starts in October — and that would be assuming Congress could even agree on a budget, something it has not done since 2010.
"Every day that goes by where Congress makes excuses, that's a day lost to preparing for the Zika fight," Earnest said.