It took a double dose of pesticides that kill both adult mosquitoes and their larvae to stop the first outbreak of Zika virus in Florida, health officials said Friday.
They said while aerial spraying of pesticides may be controversial and frightening to some people, they've shown it's safe when done right and that it killed off the mosquitoes that were spreading the virus.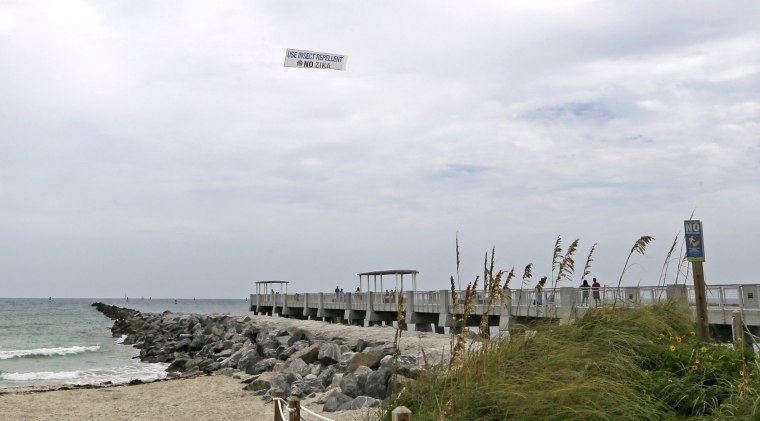 "Aerial spraying is an effective addition to mosquito control on the ground. In fact, it's been the most effective tool," Dr. Tom Frieden, director of the Centers for Disease Control and Prevention, told NBC News.
Florida is still fighting a second outbreak in Miami Beach. There are also individual cases across the state. Three new local cases were reported Friday, bringing Florida's total count to 105 cases — 95 in residents and 10 among people infected while visiting the state.
"As soon as aerial spraying was done, mosquitoes plummeted and transmission slowed."
The CDC and Florida's department of health on Monday declared the Zika outbreak over in Miami's Wynwood neighborhood. Thirty people who lived, worked or visited there had tested positive for Zika. Most had been in or around a work zone with many areas of standing water.
It took several weeks to get the outbreak under control, and aerial spraying of the pesticide naled, plus use of ground sprays that disperse larva-killing bacteria, is what ended the outbreak, the CDC says.
Officials started out using sprayers loaded with Bacillus thuringiensis israelensis (Bti), a species of bacteria that can kill developing insect larvae in water. It is sold in mosquito dunks and pellets that homeowners can buy to treat ponds or other standing water. It's effective but takes time to work.
Related: Activists Protest Mosquito Spraying in Miami Beach
"Despite extensive ground-based efforts, Zika continued to spread among people. As soon as aerial spraying was done, mosquitoes plummeted and transmission slowed," Frieden told reporters in a telephone briefing.
"Aerial application appears to be our strongest tool. Aerial spraying with Bti that controls the young mosquitoes and naled is currently the most effective tool in the Zika prevention toolbox."
But aerial spraying alone doesn't work, either, Frieden said. "In the areas that only used naled, mosquito populations rebounded," he said. "So the one-two punch is important."
The Aedes aegypti mosquito that carries Zika is especially hard to kill. Frieden likes to call it the "cockroach of mosquitoes" because it's so difficult to control. It lives in and around houses and can breed in tiny amounts of water.
Aedes spreads not only Zika, but dengue, yellow fever and chikungunya viruses. No one's been able to eradicate populations since governments stopped spraying DDT in the 1970s.
Related: Study Rules Out Birth Defect Doubts
The CDC and state health department officials said the naled spray that was used is not dangerous to people when sprayed in ultra-low doses.
"Less than one ounce of naled per acre is used for aerial spraying, which might explain the absence of observed negative health effects during and after aerial spraying," they wrote in a joint report. Other studies have tested people after naled has been sprayed and find little evidence of it in their bodies.
"In the areas that only used naled, mosquito populations rebounded."
Zika is a threat mostly because of what it does to developing babies. It attacks their brains and nervous systems, causing a wide range of birth defects, from horrific brain damage to subtler effects on vision. There's no way to protect a fetus if the mother is infected.
Travelers from other Zika-affected areas carry the virus with them — often unwittingly, because most people infected don't have symptoms. Zika can cause a rash, headache and fever and, rarely, it can cause neurological side-effects.
Zika can spread sexually but it only causes outbreaks where Aedes aegypti mosquitoes live.