The first commercial U.S. test to diagnose Zika virus won emergency use authorization from the Food and Drug Administration Thursday.
It's a rare piece of good news as states and the federal government struggle to get out ahead of the Zika virus epidemic as it makes its way north to the U.S.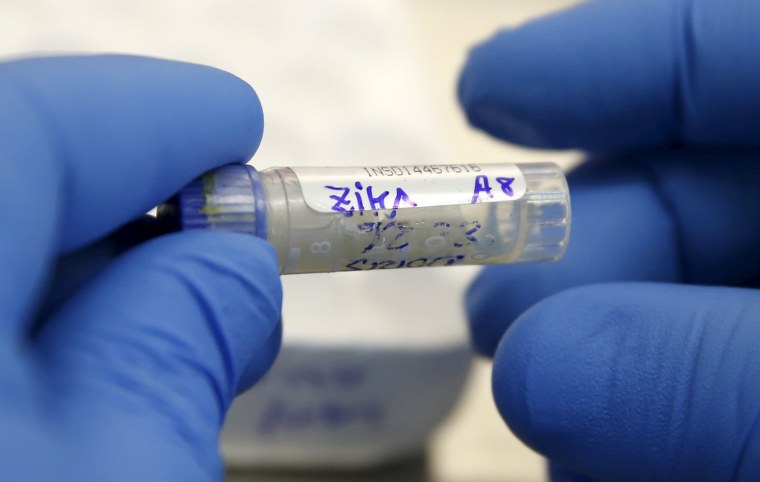 Quest Diagnostics says it should be able to handle any demand for the test, which uses the same method that government labs use to look for Zika virus in a patient's blood.
"Having a commercial company like Quest involved in testing is essential," said Dr. Rick Pesano, an infectious diseases specialist who is vice president of research and development for Quest.
Related: Five Questions About Zika
Right now, people who suspect they are infected with Zika don't always find it easy to get tested. Only government labs have had approved tests and doctors wanting to test patients have to go through their state or local health departments.
The Centers for Disease Control and Prevention recommends testing for pregnant women who have symptoms of Zika, who have traveled to areas where Zika is spreading while they are pregnant or who have had sex with someone who has Zika.
"Quest Diagnostics plans to make the new test broadly available to physicians for patient testing, including in Puerto Rico, early in the week of May 2, 2016."
Now doctors can order the $500 test through Quest, which says it can get results three to five days after it arrives. Quest has its own system of vans that pick up samples and get them to an airport for quick, refrigerated shipment.
"The test is the first from a commercial laboratory provider to be granted an EUA (emergency use authorization) for testing patients for Zika virus RNA," the company said in a statement.
"Until now, the only Zika tests authorized by the FDA under EUA were available from the CDC and were only used in qualified laboratories designated by the CDC. Quest Diagnostics plans to make the new test broadly available to physicians for patient testing, including in Puerto Rico, early in the week of May 2, 2016."
The test uses a technique called RT-PCR to find pieces of the virus in blood. It only works while a person is actually infected — it cannot find evidence of past infections.
Related: New Map Finds 2 Billion At Risk of Zika
"We expect most patients to be in a health plan and may therefore receive some coverage benefits depending on the type of health plan, region and other factors," a spokeswoman for Quest said.
"We also offer an uninsured patient price of $120 for patients who lack health insurance and whose providers have verified their patient is eligible."
Zika is spreading across dozens of countries in Latin America and the Caribbean, and it's been causing severe birth defects, including brain damage that results in microcephaly. It's also suspected of causing nerve conditions including the paralyzing Guillain-Barre syndrome.
Zika has already been reported in 426 travelers in the United States, including 36 pregnant women, according to CDC's latest count. With 40 million people traveling between the U.S. and Zika-affected regions every year, CDC expects more travelers to turn up infected with the virus.
It's spreading locally in Puerto Rico, the U.S. Virgin Islands and American Samoa, where 596 cases have been reported, including 56 pregnant women.
"We can increase capacity as needed."
But the CDC does not expect an epidemic in the continental U.S. The virus is spread mostly by Aedes aegypti mosquitoes, which only thrive in very warm areas. And because most Americans live with screens and air conditioning, there's unlikely to be enough mosquito-human contact to sustain an epidemic, although there may be small, local outbreaks.
All confirmed cases of Zika must be reported to the CDC so it can track them.
The U.S. government is battling to get Congress to approve $1.9 billion in emergency spending for Zika. It says part of that money would go to help step up testing capacity.
"We can increase capacity as needed," Pesano told NBC News.
Related: Zika Spreads Though All Types of Sex
One struggle now is testing enough people to know how many are infected with Zika and what percentage of them have symptoms, and what percentage of pregnant women who get infected end up having babies with birth defects.
Zika causes vague symptoms — a rash, a fever, headache and muscle aches. In past outbreaks, most patients do not even know they are infected, and the virus is related to and resembles dengue virus and chikungunya.