A company that genetically engineers mosquitoes to produce "dud" offspring says an experimental program has reduced the number of mosquito larvae by 80 percent in one small Brazilian city. Now they plan to expand production of the insects to fight Zika, dengue and other dangerous viruses.
Oxitec, based in Britain, started developing the mosquitoes to fight dengue, a potentially deadly virus that circulates in many countries around the world and that's especially bad in Brazil. But the same mosquitoes also carry the chikungunya virus, the yellow fever virus and Zika, the once little-known scourge that's spreading rapidly across the Americas and that doctors suspect may cause birth defects.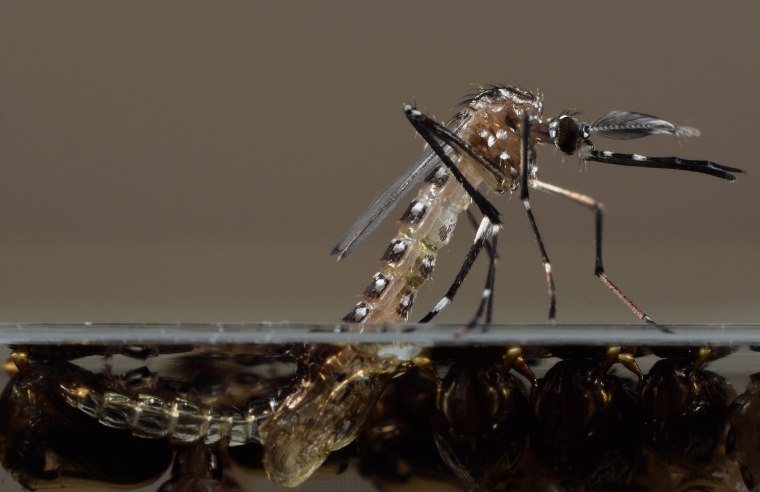 City officials in Piracicaba, Brazil, agreed to work with the company to expand its production facility in the town, which operates in a region that produces sugar cane near the coastal city of Sao Paulo.
"We decided to extend the project … for another year and also signed a record of intent to expand the project to the central area of Piracicaba," Gabriel Ferrato, mayor of Piracicaba, said in a statement released by the company.
"We decided to extend the project … for another year."
The company's scientists genetically alter the male mosquitoes so that any offspring they father don't develop properly. These genetically modified males mate with the females, which lay dud eggs.
Oxitec is waiting for permission to test their mosquitoes in the Florida Keys, where dengue and other viruses could also take hold in the mosquito populations.
Mosquitoes carry many different viruses. The most common is dengue, which threatens 40 percent of the world's population and which infects close to 400 million people each year. It kills about one in every 2,000 people infected, according to the U.S. Centers for Disease Control and Prevention.
Related: Baby in Hawaii Born with Zika-Linked Defect
The same Aedes aegypti mosquitoes that transmit dengue also spread Zika, which is now expanding in 18 countries in the Americas, according to the Pan American Health Organization (PAHO). Once thought harmless, Zika is now strongly suspected of causing a severe birth defect called microcephaly, in which a baby's head and brain are underdeveloped.
Zika may also cause neurological complications, including Guillain Barré syndrome.
It's hard to tell exactly what is happening because Zika is not easy to test for. Symptoms, as well as test results, can easily be mixed up with dengue. And many people may be infected with both at the same time.
The U.S. Centers for Disease Control and Prevention has issued a travel advisory suggesting that pregnant women put off travel to affected countries if they can until more is known.
There's no vaccine or treatment for either Zika or dengue, although an experimental vaccine for dengue is being tested now. Experts agree the best way to prevent infection is to reduce mosquito populations and for people to avoid being bitten by using repellants, wearing protective clothing and staying indoors.
Spraying can kill off mosquito populations — and even some beneficial insects, too. What's more, the widespread spraying of DDT in 1950s and 1960s greatly damaged bird populations.
Other teams are working on ways to genetically engineer mosquitoes. One group genetically modified mosquitoes so they only produce male offspring. Male mosquitoes don't bite. It's the females that need blood to produce healthy eggs.
Another team is infecting the insects with a bacteria called Wolbachia that kills the mosquitoes while they are young and also seems to prevent them from carrying dengue. It's being tested in Vietnam.
"The success of Oxitec's efforts in Brazil could go a long way in helping to counter certain misconceptions about mosquito genetic control technologies."
Altered mosquitoes are probably only one part of what should be a wider approach to control disease-carrying mosquitoes, experts say.
For one thing, no matter how successfully local populations are reduced, it's likely numbers would rebound after a few years, so researchers would have to continually re-introduce genetically engineered mosquitoes.
But in theory, the approach could be used to fight all types of mosquitoes, including the Anopheles gambiae mosquitoes that transmit most malaria.
Experts said if nothing else, the experiments may help reassure people that the GM mosquitoes aren't harmful.
"The success of Oxitec's efforts in Brazil could go a long way in helping to counter certain misconceptions about mosquito genetic control technologies involving genetically altered insects by showing that it can be effective and not necessarily risky or dangerous," said David O'Brochta, an expert on insect genetics at the University of Maryland who himself breeds transgenic mosquitoes.
"I do not think that Oxitec's expansion of their area of operation is surprising and in my opinion is generally an encouraging sign that this and related genetics-based technologies for the control or local elimination of mosquitoes is moving towards the mainstream. "